As much as I love anti-ageing products, I'm also very careful when using them. I want to age gracefully and anti-ageing products give you that promise. My problem? Since most of these products are all about moisturization, a lot of them result to my exagerrated oil production. Note that I have oily skin, so heavy moisturizers do not really work for me. So when I was invited to Max Factor's press launch of Ageless Elixir 2 in 1 Foundation + Serum, I was excited but a bit doubtful on the product. I seldom use foundation with serum or anti-ageing ingredients for myself as it makes my face really oily. I just thought it might be a good option for my more mature clients. But after an afternoon of beauty with Max Factor, I thought it would be worth a try. I need to use it anyway to give an honest review. Here's what I think after several usage: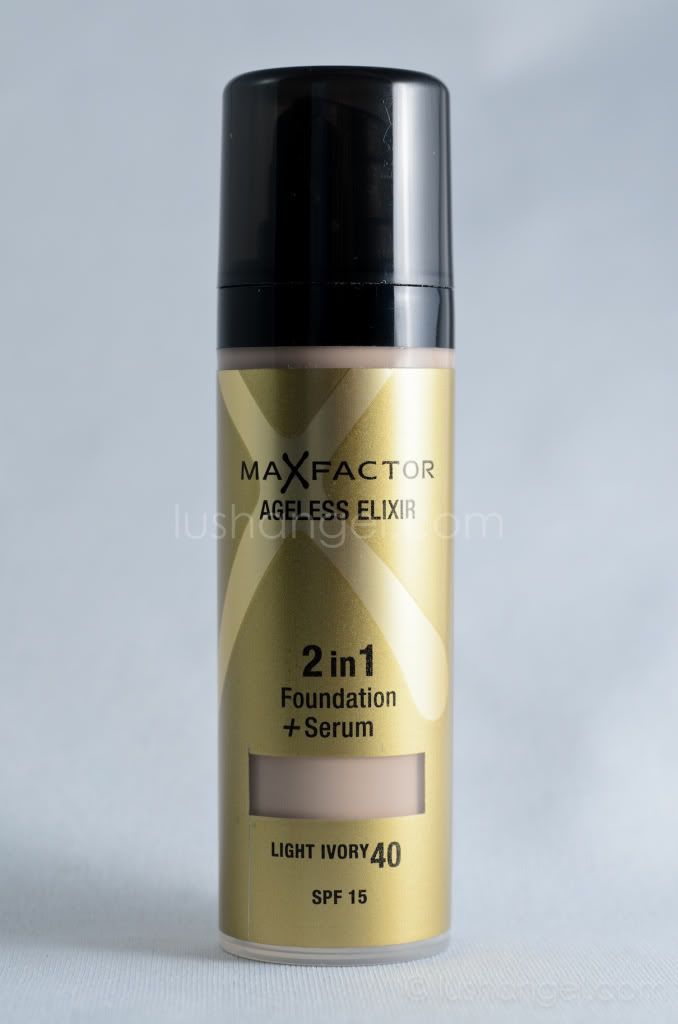 Product Information
The silky-soft fluid formula gives effortless coverage of fine lines and wrinkles whilst the the serum with SPF 15 works to protect against daily UV damage. The result? A beautiful finish today. A naturally flawless skin for tomorrow.
I love it because…
it's well-sealed upon purchase. You are assured it has never been used.
it promises dual benefit- a makeup and a skincare in one. It's a foundation that instantly addesses wrinkles, fine lines and skin discoloration. It also helps protect skin from overexposure to the sun, hence preventing more skin discoloration.
it has well-blended, oil-free elixir formula, which has silky/ mousse-like finish upon application. I have to say, I was surprised by this. Usually, when a product has serum or anti-ageing ingredient, it tends to be oily and heavy. Max Factor Ageless Elixir has a smooth, silky finish and feels light on skin.
it has medium to heavy coverage. You can see from the photo below.
despite its heavy coverage, I didn't crease.
it has a nice fruity scent. Although it's very mild, not all may appreciate it.
I didn't oil up that much. I expected my face to be really oily after a few hours of application knowing it has serum, which can be very moisturizing. Surprisingly, I didn't need to keep on blotting oil on my face.
it's thick and pigmented. A little goes a long way.
there's no white cast on photos. In fact, it turns out to be really nice in pictures.
it's affordable at PHP 895. Take note that this has added skincare benefit already, which normally only premium products have.
I wish…
it sets pretty fast. We were advised to get a shade or two lighter than our skin tones as the foundation can get darker. I got the Light Ivory, which is a shade lighter than my original shade. I noticed that it takes a while for it to really set.
it comes in more shades. They actually have 7 shades already- Light Ivory, Warm Almond, Natural, Beige, Sand, Golden, and Bronze, but their pink and yellow tones can be a bit confusing. I have the Light Ivory, but I find it too white even after it sets. You can see how I managed to match my shade in my Grey Smokey Eyes makeup tutorial HERE.
Application Tips
Even if the product has SPF 15, it's still advisable to apply your usual sunblock after cleansing, toning and moisturizing.
For those with oily skin, use a primer that can control oil prior to the application of foundation.
Use a foundation brush to apply the product thinly. It's easily buildable, so you can just add more if you wish. Then, pat a non-absorbing sponge to blend and to take out any streaks. You can also choose to apply it with a damp sponge.
Apply concealer, if still needed, on top of the foundation.
Using a powder puff, lightly pat loose powder to set the concealer and foundation. Make sure to remove excess powder first by swirling the puff on your palm, before patting it on your face.
If the foundation turns out to be whiter than your shade, like the one that I have, use a darker setting powder.
Overall
Having the dual benefit of makeup and skincare, I wouldn't say Max Factor Ageless Elixir 2 in 1 Foundation + Serum is only for those with mature skin. As they say, it's better to start using anti-ageing products early. Anybody who wants or needs anti-ageing product would definitely love this- and yes, even those with combination skin. I have oily skin, but I still use it (something that surprised me). Of course, using a primer that can control oil helped. Also, because of its silky texture, the foundation doesn't feel oily and heavy. My skin even feels smooth once I apply the foundation. But since the coverage is quite thick, I'd rather use it for events or night outs only. This is where it becomes perfect for those with mature, dry skin. The coverage makes lines less visible, while keeping the skin moisturized through its added skincare benefits. Those with dry, wrinkled skin can actually use it for everyday. Although I'm not so impressed with the shades, I can easily adjust by mixing two shades or by setting it with a darker powder (since the foundation is too light for me). For PHP 895, the quality is good enough and definitely worth a try!
one pump
blended using a foundation brush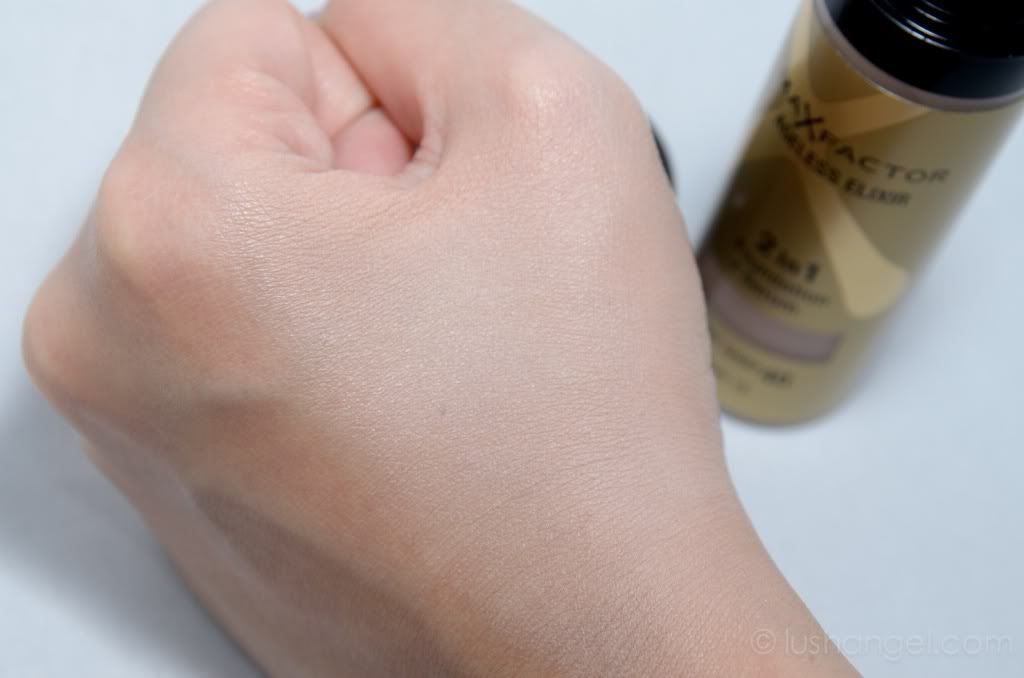 You can see how it looks on my face in my Grey Smokey Eyes tutorial post.