A lot of oily-skinned individuals skip putting on moisturizer either because it can feel sticky or it can make them look shiny. It can be a pain looking for the right moisturizer. I know that for a fact since I used to be one of them. Well, I still try out different kinds of moisturizers. I guess that's the beauty geek in me that pushes me to try various skincares and makeups all the time. 😀 Here a review of the new Pond's Age Miracle Cell ReGEN Day Moisturizer for Combination/Oily skin. Note that the Pond's Age Miracle line has day moisturizers for normal/dry skin and for sensitive skin. This review is for the combination/oily skin variant.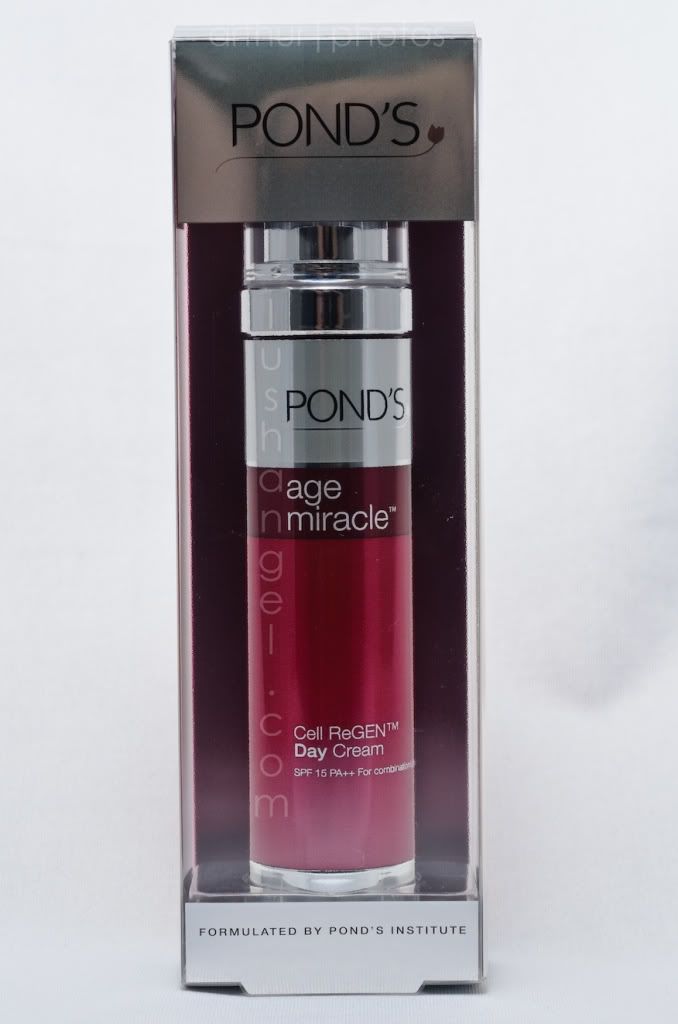 Product Information
Helps renew skin cells so rapidly, age simply cannot catch up. Use daily for visible reduction in wrinkles, fine lines, sagging and age spots- in just 7 days.
I love it because…
it comes in a pump packaging. For sanitation purposes, I like pumps more than dipping fingers in a jar.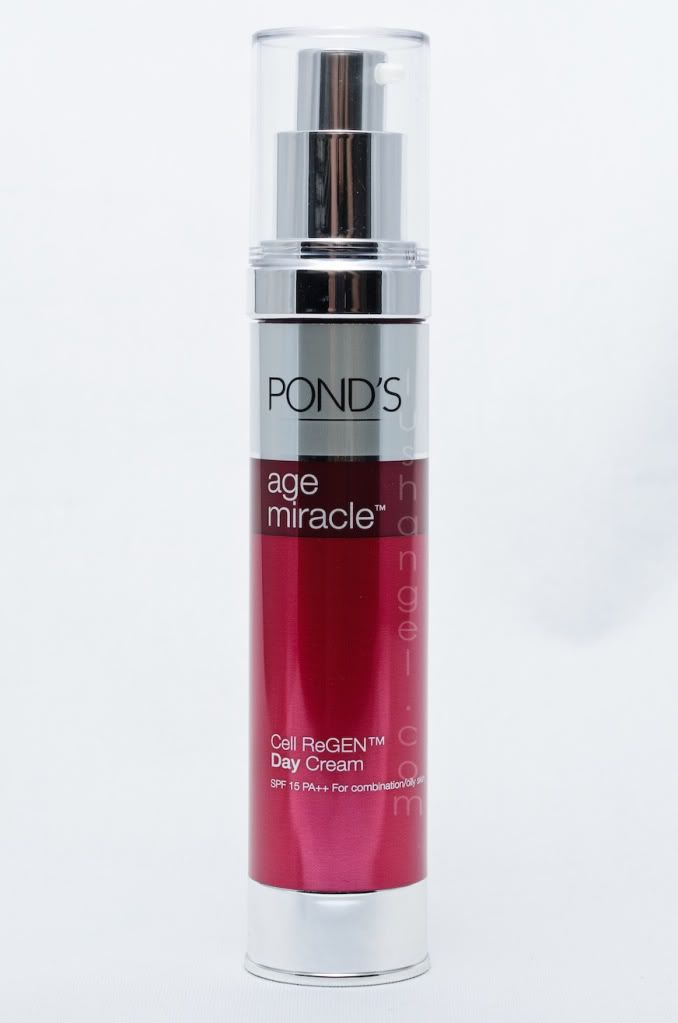 it's not sticky, even right after application. It's absorbed by the skin in an instant.
it feels silky or velvety when applied.
it's a light moisturizer, perfect for those with combination or oily skin. As said earlier, Pond's Age Miracle Day Cream is also available in two other formulations- for normal/dry skin and for sensitive skin.
it's the new and improved Pond's Age Miracle with Cell ReGEN, which helps renew skin cells rapidly.
it has a nice floral scent. This can be a turnoff to some though.
I can also use it as a night cream. During the launch of the new Pond's Age Miracle, Dr. Helen said that this day cream can also be used at night by oily-skinned individuals who are looking for a light moisturizer.
I don't breakout. Not all of Pond's variants work for me. Just like any beauty product, what works for me may not work for others, and vice versa.
it's affordable at PHP 649 for a 50ml pump of Pond's Age Miracle Day Cream. Anti-aging products can be really pricey. It's hard to find an anti-aging cream that works for less than a thousand pesos.
I wish…
it doesn't have shimmers. I'm not really bothered by them since they're not that obvious. They're very light, like a "pearlized" cream. Besides, I put makeup on top. It's just that not all are a huge fan of shimmers as they can have the tendency to make the face look oily.
shimmers not obvious in the photo below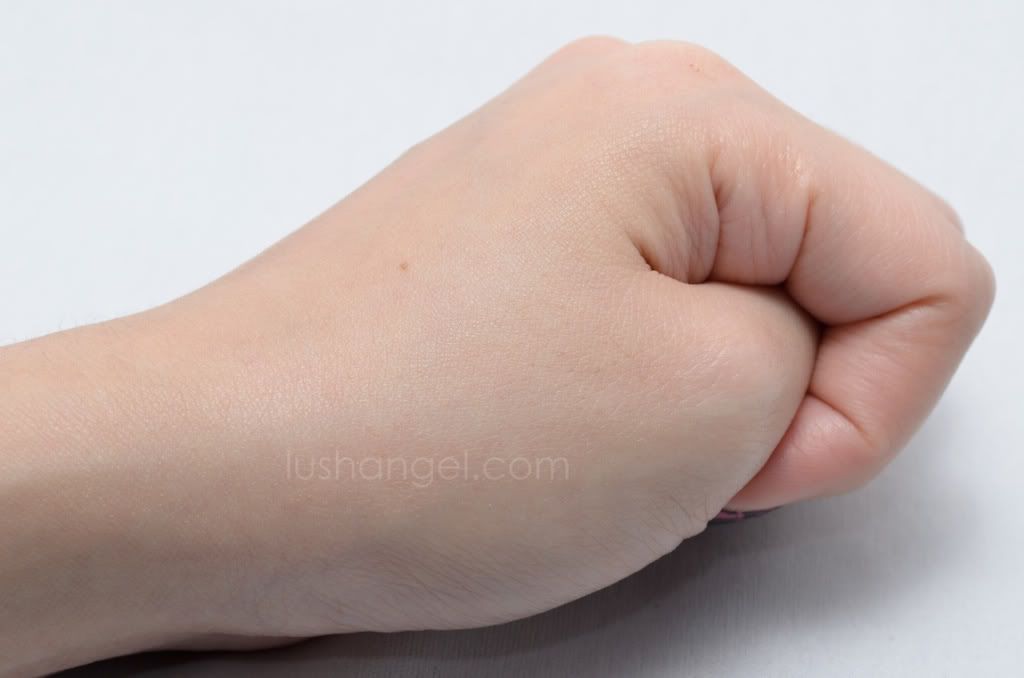 it's easy to control the amount of moisturizer coming out. Yes, I love that it's in a pump packaging, as I mentioned above. The downside of it though is it's quite hard to control the amount of cream coming out. No matter how light you press, it's like a one whole pump.
Application Tips
Use daily after cleansing and toning.
Apply sunblock after putting on the moisturizer. SPF15 PA+++ isn't enough.
If you find Pond's Age Miracle Night Cream too thick for your combination/oily skin, you can opt to use this Day Cream for a light formulation.
Overall
A lot of people have been raving about Pond's Age Miracle, but this is actually the first time I tried a product from this range. Looking at my review above, obviously, I'm very satisfied with the product. I love how light and velvety it feels on my skin! Heavy moisturizers can make my face excessively oily, which I hate the most. Of course, I still get oily, but definitely not like the oiliness I get with thick creams. Another plus, it's not just an ordinary moisturizer. It has anti-aging benefits that I crave for. It's quite hard for me to get satisfied with anti-aging products as they are usually made for normal to dry skin. They normally have thick formulation, making my skin too oily. Thankfully, Pond's Age Miracle made an anti-aging cream especially for combination/oily skin.
I couldn't vouch for its promise of wrinkles, fine lines, sagging and age spots reduction in 7 days as I still see my visible lines. They may have lightened, but it's not an obvious difference in my case. I guess anti-aging products are made to slow down aging and not really to erase those lines completely. Also, I couldn't really review its anti-aging effectiveness now. Maybe I'd know in a few years. Hehe! But when it comes to the moisture my skin gets, it's definitely the right amount that my already-oily skin needs.
For those with combination/oily skin who are looking for a light moisturizer and value for money, this Pond's Age Miracle Day Cream variant is worth a try.
Pond's Age Miracle Day Cream for combination/oily skin is available at all leading department stores, drugstores, public market stalls, groceries, and personal care stores nationwide.