Have you ever wondered how you'd look with the perfect nose, more luscious lips, higher cheekbones, flatter tummy, bigger breasts, etc.? What if I tell you that you can actually see yourself in a way you have always imagined- for FREE? This is what the Belo Medical Group introduced in a Bloggers Night last Friday at Kasbah, The Fort Strip, Bonifacio Global City.
Cristalle Henares, the daughter of Dra. Vicki Belo, started the fun night by welcoming all of us. Can I just say, she's really very pretty! And her skin, oooh… it's TDF! 😀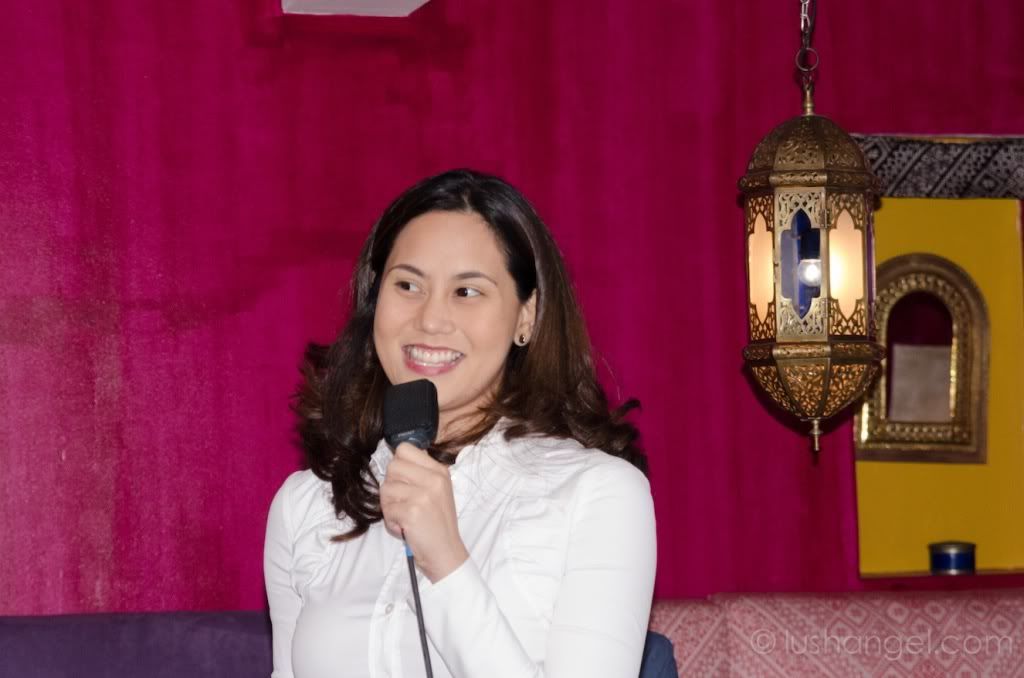 She wasted no time by presenting the newest from Belo Medical Group, Belofied. It's the newly launched app for iPhone and iPad users.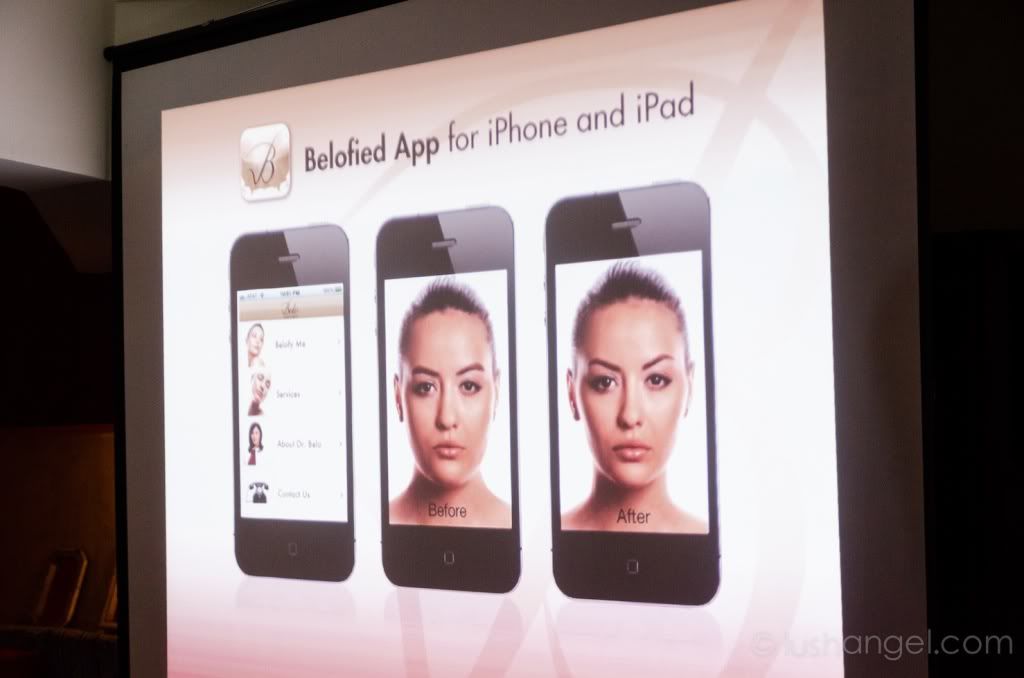 Do you know that just a week after it was launched, the Belofied app immediately cornered the number one spot of FREE iPhone app ranking under Medical Category in the Philippines? It has also banked the top 3 spot of the Free Apps Overall category in the Philippines with a bullet. The app has even placed 17th on the list of free iPhone apps under the Medical Category worldwide. It was such a hit that it was the top app (Medical Category) in 6 countries after two weeks – Bahrain, Philippines, Qatar, Saudi Arabia, Singapore and United Arab Emirates!
Al Galang, the developer of Belofied App, showed everyone how easy it is to navigate through its interface.
There are 5 categories- Belofy Me, Services, About Dr. Belo, Contact Us and Disclaimer. The last four are pretty much straightforward. The star of the night and probably the most intriguing is the Belofy Me feature. Start by taking a photo of yourself or selecting from your photo gallery. Then, with the shrink, expand and mold buttons, you get to play with your own features. Think of photo editing just by tapping the screen. Whether you're actually thinking of undergoing cosmetic surgery or whether it's for entertainment purposes only, you'll surely get hooked! Com'on, aren't you curious how you'd look with a bit of changes on your face or body? It's very interesting! Hmmm… Can I read your mind now??? Yeah, it's time to bond with our girlfriends!!! 😀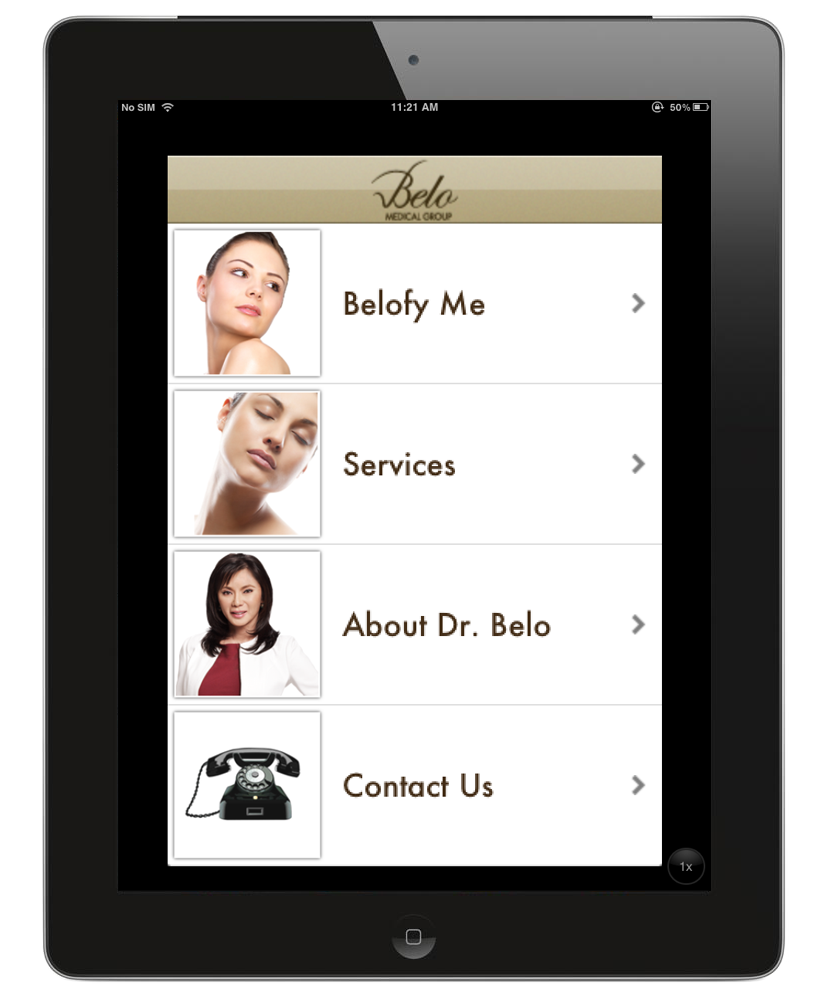 Oooh, check this out! Even Coco Martin Belofied his own photo! Coco fans out there, which do you like better? 😉
We all had first-hand experience of the Belofied app through a very exciting and fun game. We were grouped by teams and were challenged to Belofy a specific photo. I was with Nikki, Shen and Earth and it pretty much showed how meticulous we were- zooming in, zooming out, tilting the iPad to landscape for a split-screen view of before and after shots, and checking the portrait shot from a far. We  tried our best to make all features symmetrical whenever we enhance something. It was obvious how much of a beauty enthusiast we are that we even tried to improve the model's eyebrow. LOL! It was so much fun, but then I realized how hard it is to be a surgeon! Haha! Well, our team's hardwork paid off when we won the game! Weee! 😀
Want to get Belofied? The app is totally FREE, so simply type the word Belofied on the search bar of the Mac App Store to download. The app is compatible with iPhone 4, iPhone 4s, iPod Touch (4th generation), iPad 2 wi-fi, iPad 2 wi-fi + 3G, iPad (3rd generation) and iPad wi-fi +4G. Requires iOs 5 or later.
Before the night ended, Cristalle shared more good news. Belo Essentials has a new addition to the family- Belo Essentials Whitening Anti-Perspirant Deodorant, with Toni Gonzaga as the endorser. After 2 years in the making, finally they've got a Beauty Deo. What took them so long? Check out the benefits:
Whitens in just 7 days and controls darkening even before it starts
Minimizes pores and smoothens underarm skin
Prevents redness and soothes skin after shaving, waxing, or plucking
Alcohol-free that guarantees non-darkening
Hypoallergenic and dermatologist tested
It pretty much addresses all common underarm problems, which is why they can claim this- "Other deodorants may solve one, but only Belo solves all."
How much? It's affordable at PHP 84.75 for 40ml and PHP 49.75 for 25ml.
Actually, Cristalle also shared another new product from Belo, but I'll have to reveal in a different post. Hint: It's exclusive in Watsons! Sorry, I have to take a photo first!
It was definitely a fun night of beauty. I had a great time! Thank you KC and to the entire Belo team! 😀
more photos
Mic of fashionpulis.com sharing his experiences of Belo's services
mother and daughter
Awww… They're so cute- as if they're just friends/ sisters fooling around. 😀