I'm not really into hand lotions. I just use the same lotion for my body and my hands. I don't have dry skin to start with so I don't really re-apply my lotion through out the day, unless I'm in a cold place. When I received this EOS Hand Lotion, I thought it's worth a try, especially with its cute packaging. Again, I'm a sucker of pretty little things. Tihihi! 😀 I'm starting to love EOS because of their unique packaging, just like their lip balm which I reviewed in THIS POST. Well, let's see if this EOS Hand Lotion is more than just its cutesy tube.
Product Information
Leave your skin feeling touchably soft for hours with this natural, fast-absorbing hand lotion.
Designed to fit in your purse, your pocket, or on your desk, eos looks as good as it feels on your skin. Infused with moisturizing shea butter, oat extract, and a generous helping of antioxidants and vitamins C and E, eos hand lotion will leave your skin feeling soft, supple and radiantly healthy long after you apply it.
97% natural formula
For all skin types
Paraben-free
Phthalate-free
Lanolin-free
Dye-free
Dermatologist tested
Hypoallergenic
1.5 fl.oz (44 ml)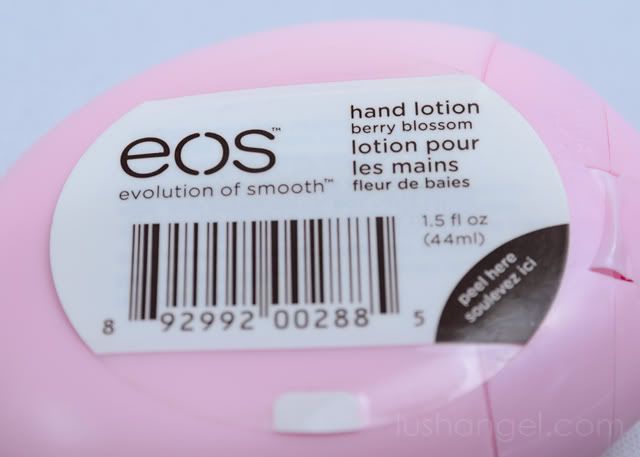 I love it because…
it has cute squeeze tube packaging.
the size is perfect for travel. I can easily slip it in my purse.
it's 97% natural, paraben-free, and hypoallergenic.
it has sweet, fruity scent. It's a bit strong, which can be a con to those who are sensitive to fragrance.
it's easily absorbed by my skin, leaving it smooth to touch.
it's not sticky or oily.
through its shea butter and oat extract ingredients, it hydrates and moisturizes my hands in an instant.
I wish…
it's available anywhere. You can get this at online resellers here in Manila.
I can easily know if I'm running out of product. Since it's in a non-transparent tube, it's hard to determine if I'm about to finish up the lotion.
Application Tips
Before using lotion, make sure to have clean hands.
You can buff away dry skin with a dry brush or exfoliate with light scrub once a week. This would allow better penetration of moisture into the skin.
You can use EOS Hand Lotion for everyday and a richer lotion at night.
Overall
EOS Hand Lotion is a pretty good hand lotion for everyday use. It can hydrate and moisturize hands in an instant, but this may not be enough to those with extremely dry hands, which need richer hand creams. I also appreciate the small and slim packaging, which I can easily slip in my purse.
I recommend EOS Hand Lotion in Berry Blossom to those who are looking for an everyday travel-friendly hand lotion. I suggest Berry Blossom scent if you're into fruity fragrance.
EOS Hand Lotion can be bought online through Urbanista Co. The 44ml tube is priced at PHP 290.
For instant beauty, fashion, travel, foodie, or random updates from me, LIKE lushangelblog on FACEBOOK, FOLLOW lush_angel on TWITTER and lush_angel on INSTAGRAM.