When I first heard about Nivea Body UV Whitening Serum, I was a bit hesitant at first. Serum for the face can have oily or gel-like texture so I thought serum for the body can feel greasy, especially with our humid weather! But when I first squeezed some product on my palm, I was surprised it's actually white and on the watery side! It was explained to me that this product is called a "serum" because it's packed with more potent and concentrated ingredients. Nivea Body UV Whitening Serum is enriched with 95% anti-oxidant Vitamin C from Camu Camu derivative. Camu Camu (Myrciaria Dubia) is a native fruit from the Amazonian rainforest that has the highest recorded amount of natural ascorbic acid (Vitamin C) than any known fruit on the planet! Compared to Lemon, it has 50x more Vitamin C power. It also has a full complement of minerals and amino acids that help the absorption of Vitamin C. Promising right?! Now, here's my review after weeks of using it.
Product Information
The 1st body serum for intensive whitening and repair of accumulated dull and sun-damaged skin. The new NIVEA UV Whitening Serum gives 11 benefits in just 1 product:
Advanced UVA & UVB cell protection with SPF25 and PA++
Nourishes sun-damaged skin
Enriched with Licorice for fairer skin tone
Enhances and supports the skin renewal process
Infused with Hydra IQ and Red Seaweed to produce soft, smooth, and supple skin
Enriched with natural Vitamin C from Camu Camu (50x Vitamin C from Lemon Extract)
Enriched with 95% anti-oxidant Pure Vitamin C derivative for healthy and fairer skin
Light and non-sticky texture provides fast and easy absorption
Gives more radiant and fairer skin tone all over the body
Gives smooth and even skin tone all over the body.
Skin compatibility dermatologically approved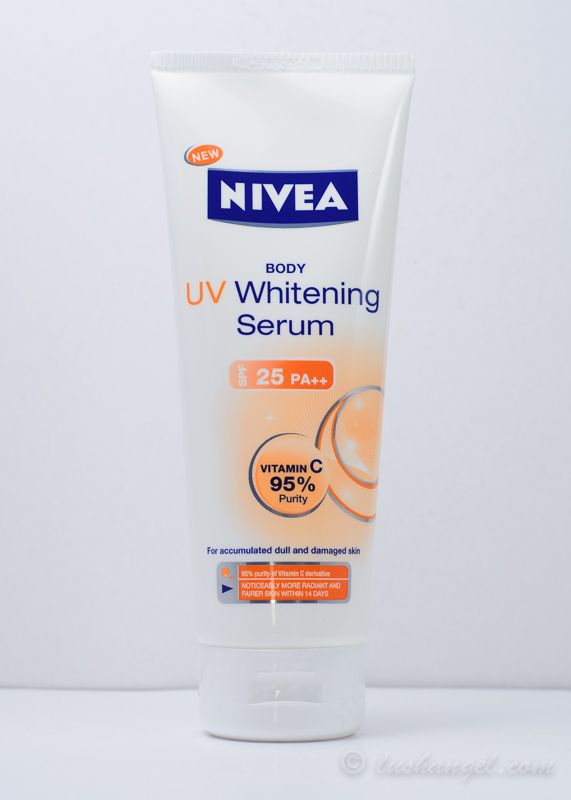 I love it because…
it has very nice citrus scent.

there's no sticky or greasy feel at all. It's very light that I can use it even during the day.

it's easily absorbed by my skin.
it has advanced UVA and UVB cell protection with SPF 25 PA++.
there's no white cast at all!
with its watery texture, it's very easy to distribute all over the body.
skin feels really soft and smooth.
it's affordable at only PHP 219 for 200ml.
I wish…
it can work with really dry skin.
Tips
After shower, apply body serum day and night.

For those with really dry skin, apply a more intensive body moisturizer on top of this body serum.
If going for outdoor activities, I still recommend applying water-resistant sunblock.
Overall
I'm very particular with the texture of lotions/ creams that I put on my body. I seriously cannot take the greasy feel. It's a no-no. It's amazing how this body serum is not sticky at all. I can apply generously all over my body even during the day. Considering that it has SPF, it doesn't give any white cast too. It may not be enough for those with really dry skin though, but for its price, you won't go wrong with it. I cannot vouch for its whitening effect as I didn't see any noticeable difference.
I recommend Nivea Body UV Whitening Serum to all lotion lovers! Those who are looking for an affordable non-greasy body lotion with SPF, this is for you!