Our hands can be considered the most "overworked" part of our body, so it's just important to give them special care. Hand creams wouldn't be around for nothing. Although our body lotion can also be used to moisturize our hands, they actually need a more intensive cream to keep them extra soft. You wouldn't want your love one to hold rough and dry hands! LOL! My problem with hand creams is that they're usually thick and sticky- something I really hate. Let's see how the new Bobbi Brown Extra Hand Cream works for my tiny hands.
Product Information
"The perfect combination of intense moisture and serious repair, plus an amazing texture and scent." – Bobbi Brown
Delivers instant and long-term moisturization

Strengthens hands' natural moisture barrier

Reduces appearance of thin, crepey skin

Soothes skin

Softens skin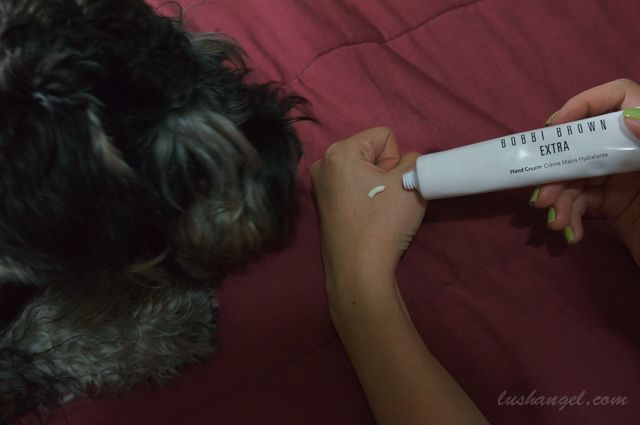 I love it because…
it comes in tube packaging. Easy to carry around- inside the handbag or during travels. It's also sanitary compared to jars since the product is not exposed to dirt or bacteria.
it has super relaxing scent. It has unique blend of essential oils – Geranium, Grapefruit, Rosemary, Chamomile, and Bitter Orange.
Look who's addicted to the scent!!! LOL!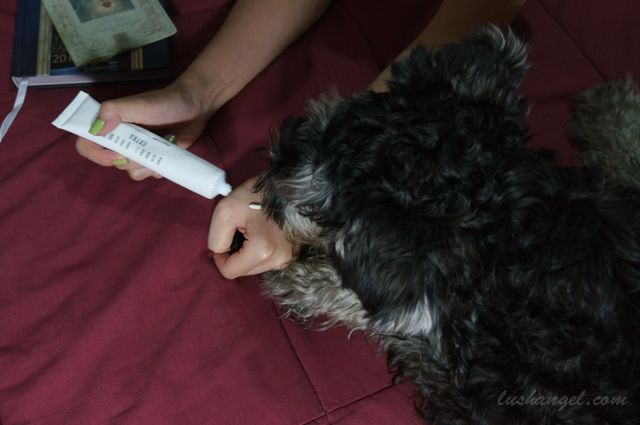 it has thick texture for intensive hydration.

it's easily absorbed by my skin. After 1-2 minutes, the heavy-feel is gone.

it leaves my hand really soft and smooth.

my skin looks so healthy.
I wish…
it's cheaper. It's quite pricey at PHP 1,700 (USD 30) for a 50ml tube.
Tips
Apply Bobbi Brown Extra Hand Cream on clean and dry hands.

Massage excess on knees and elbows.

Reapply when needed or after every wash.

For those with excessively dry and rough hands, layer more product.
Overall
Honestly, I don't use hand creams that much because they usually feel heavy and sticky. They are really made to be thick for intensive hydration to renew lost moisture from frequent washing of hands and from all hard work. When I first lathered the Bobbi Brown Extra Hand Cream, I thought I'll be washing my hands after a few minutes to remove the cream. It has thick texture and can be a bit sticky at first application. I was surprised the product was completely absorbed by my skin in just about a minute or 2 and my hands were left soft and smooth, without a trace of stickiness and heavy-feel. The scent is so relaxing too that I can consider it as an ultimate pampering cream! Unfortunately, it doesn't last long but at least the soft and smooth-feel of my hands last for a couple of hours. Now, I tend to keep on reaching for it whenever I'm infront of my computer, inside the car, before going to sleep, while shopping… in other words, all the time! Finally, a non-sticky hand cream that works for me! 😀
I recommend Bobbi Brown Extra Hand Cream to those who are willing to spend for a hand cream that doesn't have the sticky and heavy-feel. It works best if you have normal to dry hands.
For instant beauty, fashion, travel, foodie, or random updates from me, LIKE lushangelblog on FACEBOOK, FOLLOW  lush_angel on TWITTER and lush_angel on INSTAGRAM.