Your favorite fashion and beauty bloggers are all set for the 5th installment of Bloggers United!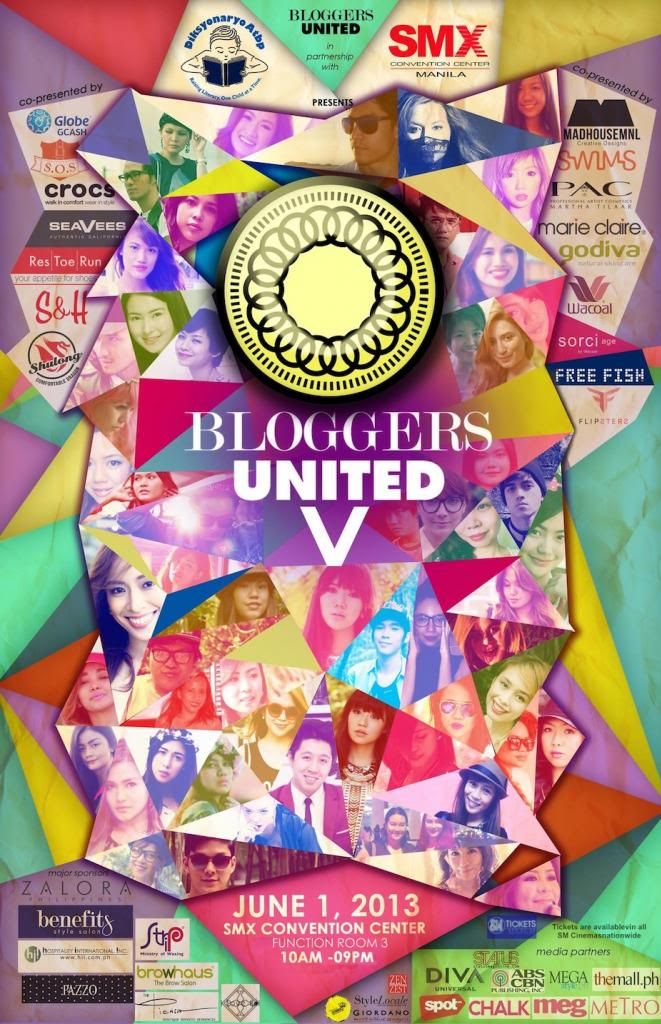 Get ready for another round of intense shopping experience as 60+ of Manila's top fashion bloggers open their closets once again in a big bazaar this June 1, from 10am to 8pm at our best venue yet, the SMX Convention Center (Function Room 3)! Bloggers United gets even BIGGER with our partner bazaar The Great Luxe Sale of Mall of Asia and SMX, happening from May 31 to June 2 at the SMX Hall 1.
Celebrity bloggers Divine Lee, Victor Basa, Laureen Uy, Camille Co, Nicole Anderson, and Maggie Wilson will all grace the event, plus international blogger Maya Kibbel of Elle Girl Japan!
End summer with a bang at BU5! What to expect:
1)     Great finds for less, perfect for revamping your look as another school year starts!
2)     Meet and interact with style bloggers and online friends!
3)     Contribute to Bloggers United 5's partner charity Diksyunaryo Atbp (https://twitter.com/DiksyonaryoAtbp ). Bring old (or new) books as we will accept donations at the registration booth!
4)     Lots of games, music, and other exciting surprises from our BU5 partners!
Don't forget to charge your cameras, stash some extra cash, and dress your best as we celebrate another day of personal style and expression! Tickets will be sold for P100 available in all SM Cinemas nationwide. You could also buy at the event venue.  Use GCASH to purchase your tickets to get 50% discount, plus awesome freebies! See you there!
WAIT!!! There's more!!! Can't get enough of BU5?
Right after the bloggers bazaar, Bloggers United, together with SMX Convention Center's Great Luxe Sale, will be holding The Fashion Blogger, the team's very first seminar/workshop on fashion, photography, and blogging!
Meet and learn from fashion bloggers Camille Co, David Guison, Laureen Uy, Kryz Uy, and Lissa Kahayon on June 2, Sunday, from 1-5pm, at the SMX Meeting Rooms 4-6. BU organizers Aisa Ipac and Ana Gonzales will also be giving a talk on uncluttering your closets, styling tips, and fashion writing. Tickets are available for P400 in all SM Cinemas nationwide, and during Bloggers United 5.
First 200 participants will receive special gift bags from our sponsors! Tons of prizes await!
As promised, I'm giving away BU5 passes so you can enter for FREE! I'm selecting 20 winners! Just follow the 5 simple steps below:
1. Follow Lush Angel on Facebook (https://www.facebook.com/lushangelblog)
2. Follow Bloggers United on Facebook (https://www.facebook.com/bloggersunitedph?fref=ts)
3. Follow Lush Angel on Twitter (https://twitter.com/lush_angel)
4. Follow Bloggers United on Twitter (https://twitter.com/bloggers_united)
5. Leave your Full Name on the comment form below.
Reminders:
Giveaway will end on May 30, 2013 (Thursday) 11:59 pm.
Make sure you're available on the day of the event, which is on June 1, 2013.
The free pass is only for the BU5 event and NOT for the The Fashion Blogger workshop.
Now, are you ready for Bloggers United 5??? I'll see you all there!!! 😀
For more information and updates, follow Bloggers United:
Facebook | Twitter | Instagram
Official Hashtag: #BU5
In Partnership with:
CO-PRESENTERS
Marie Claire
PAC The Professional Artist Cosmetics
MAJOR SPONSORS
Hospitality International, Inc.
The Picasso Boutique Services Residences
MINOR SPONSORS
MEDIA SPONSORS
DONORS