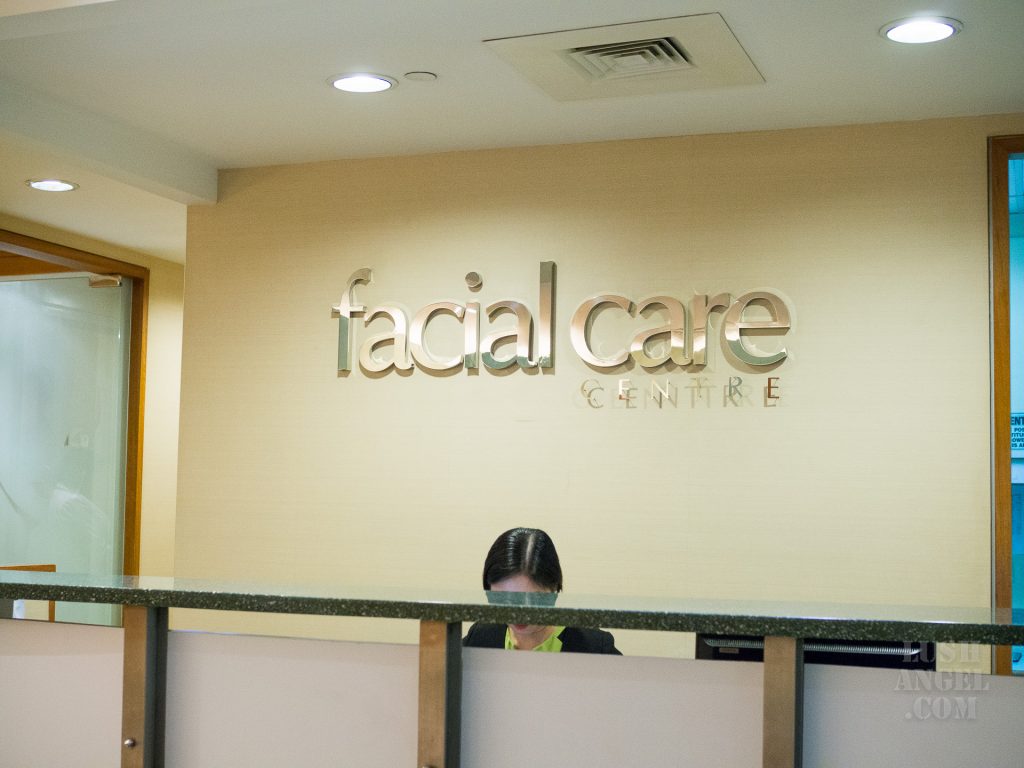 If you're a beauty enthusiast, you have probably heard about Thermage, one of those facial treatments that celebrities rave about. Looking at the before and after transformations of those who have tried it can be unbelievable because it is non-invasive and non-surgical.
What does Thermage really do? Who is a good candidate for it? And of course, does it really work? There is only one way for me to find out– that is, for me to try it.
Seven months ago, July 22, 2019 to be exact, I tried Thermage at Facial Care Centre. It took me a while to do this review because it takes a few months to see the full effect of Thermage and I wanted to see how long this would last.
Anyway, I won't keep you any longer. Read on to know more about my Facial Care Thermage experience, the step-by-step process, and the actual results, with my before and after photos. I also included a video towards the end of this post.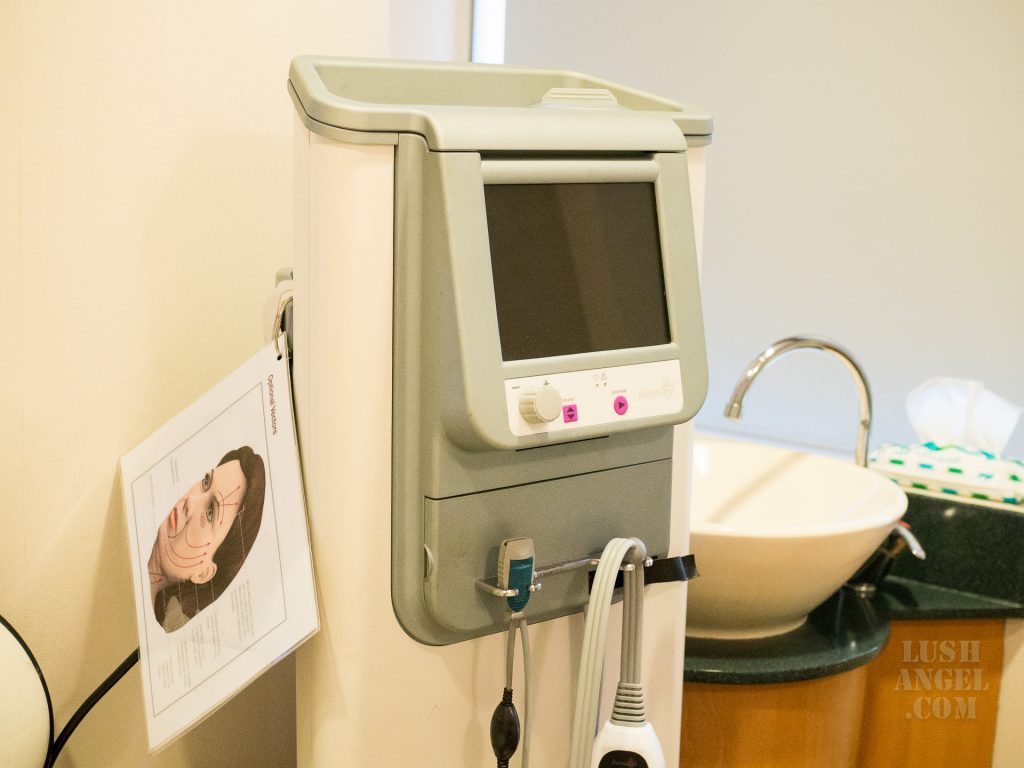 What is Thermage?
Thermage is an anti-aging treatment that delivers bulk heating to the skin's deepest layers, causing collagen contraction and addressing the visible signs of aging. The heat treats deep tissue while the cooling effects protect the skin's surface, making the treatment more comfortable. The results? Skin tightening, face firming, neck toning without surgery. A proven effective non-invasive way to lift skin back to youthfulness.
Who is the best candidate for Thermage?
If you are looking for a non-surgical, non-invasive anti-aging treatment or facelift that gives long-lasting, visible results, Thermage is for you.
It's ideal for treatment of fine lines, wrinkles, and sagging jowls or cheeks.
Misconcesptions about Thermage Treatment
Misconception: My mom has been discouraging me to do Thermage, thinking I'm not "too old" for the treatment. She would always tell me, if I get older and I need a more intense anti-aging treatment, Thermage would not work on my skin anymore.
Truth: Collagen is the key to look youthful. It keeps our skin lifted and plump. But as we grow older, our body produces less and less collagen, which is why we need the help of treatments, like Thermage, to help boost collagen growth.
Even if you start doing Thermage in your 30s and until you're older, it would still do its job to stimulate new collagen. It's not like skincare or haircare that could possibly lose effectivity after some time because your skin/hair got used to it already. Also, Thermage is for any age, as long as your skin concern is fine lines, wrinkles, and/or sagging skin.
Misconception: Skin will sag once you stop Thermage.
Truth: Thermage can make you look 5-10 years younger through it's lifting effect. If you stop doing Thermage, your skin will just go back to your normal aging process. Your previous treatment will not go to waste because you're still able to delay your aging process for a few years. But of course, if you want to age gracefully, you need to do Thermage every year to maintain it.
Facial Care Thermage Procedure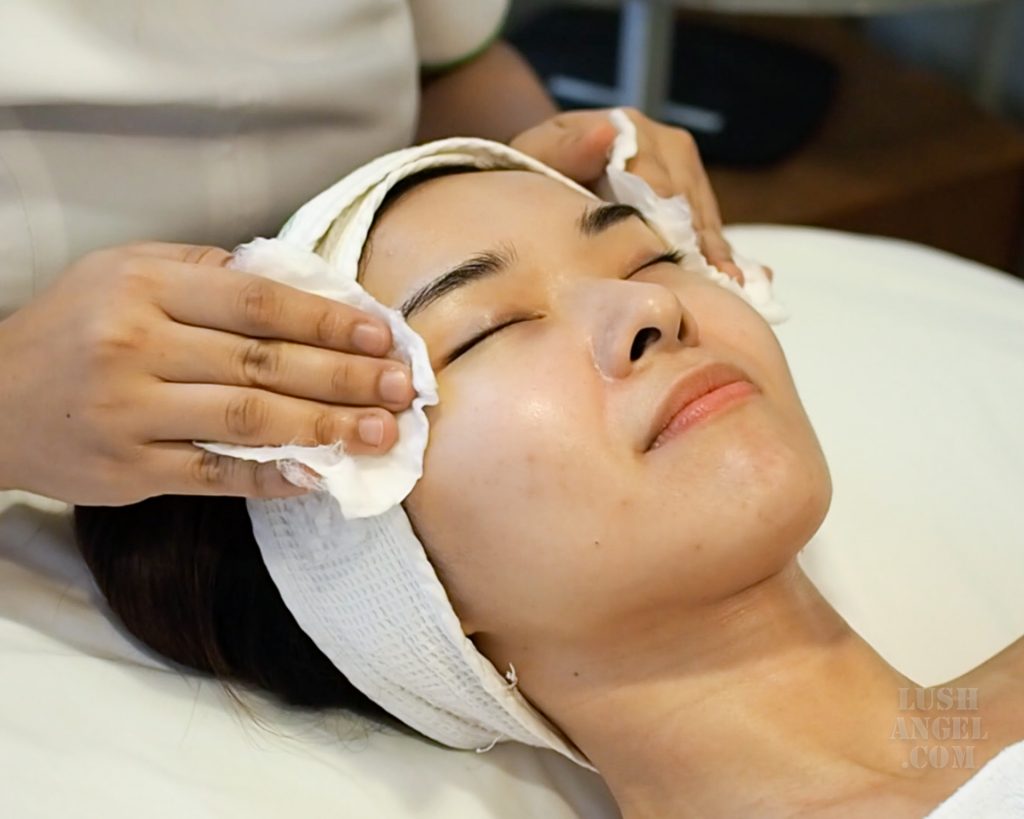 Cleanse face.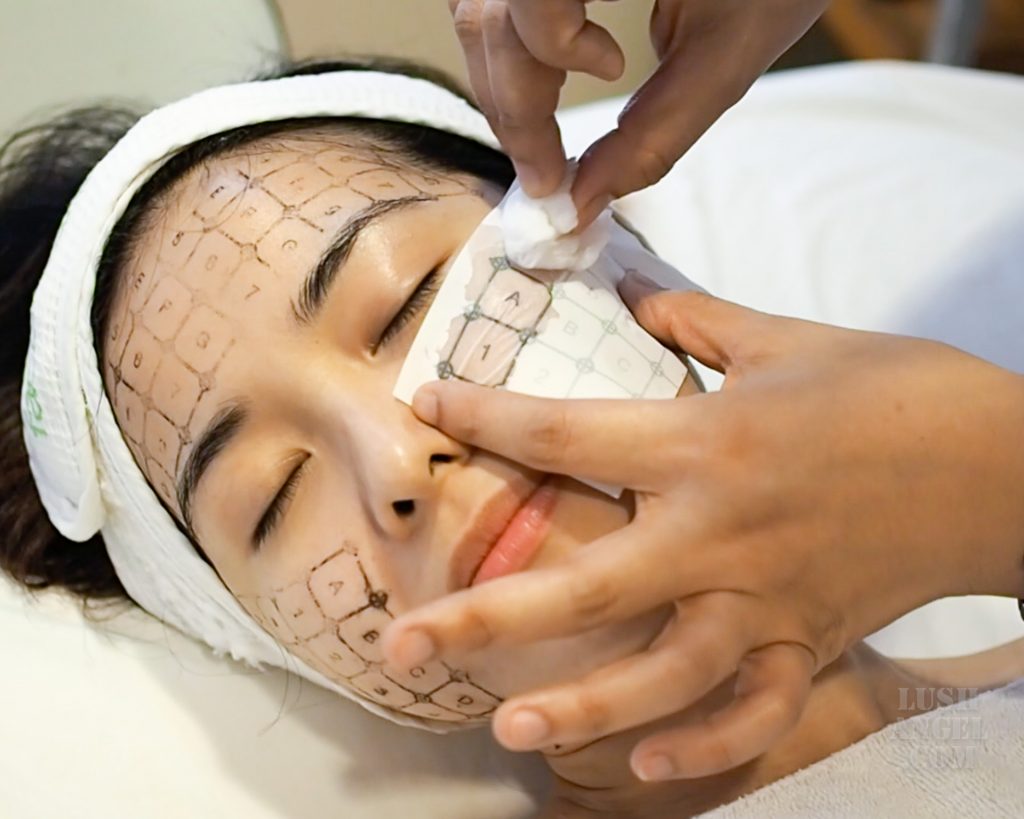 The aesthetician applies the gird on the face.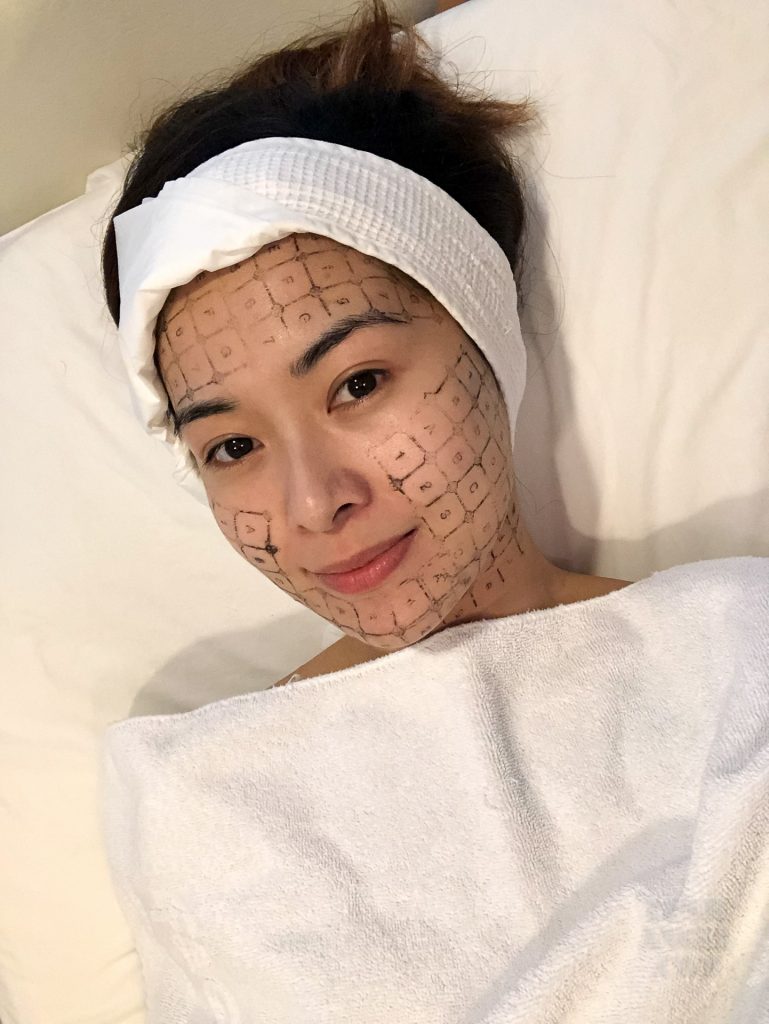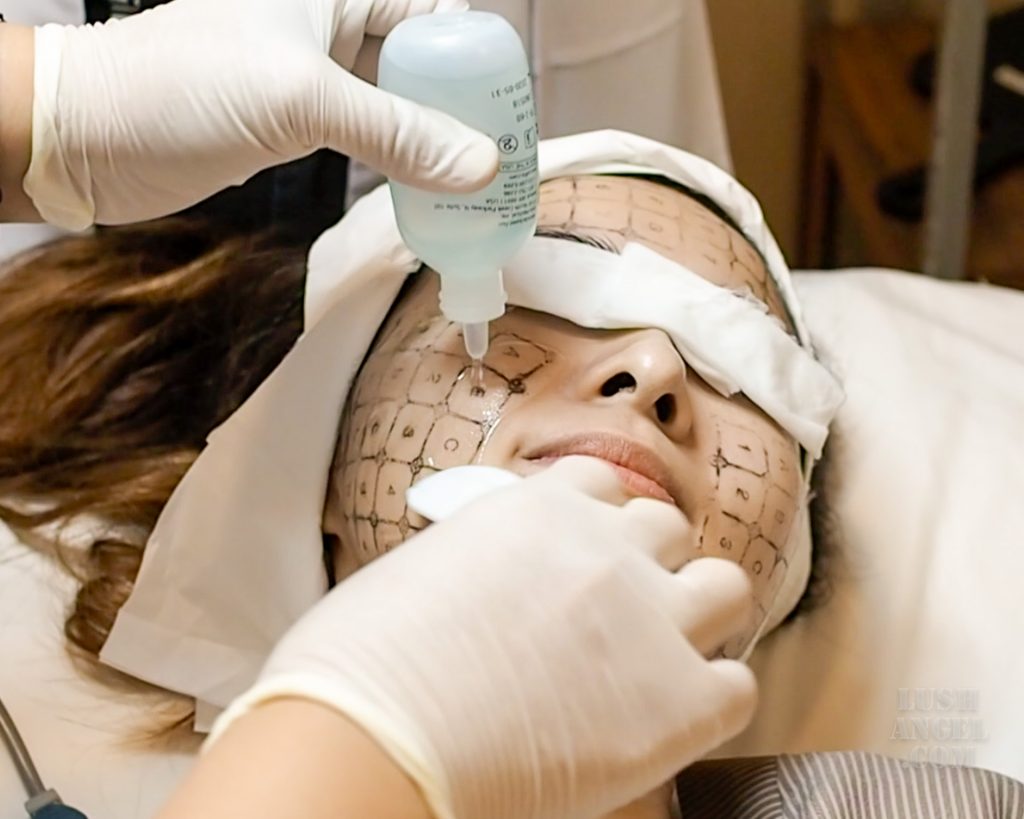 Then, the doctor uses the device to deliver pulses on each grid to tighten and contour my face and neck. The aesthetician also applies cooling gel to counter the heat from the device.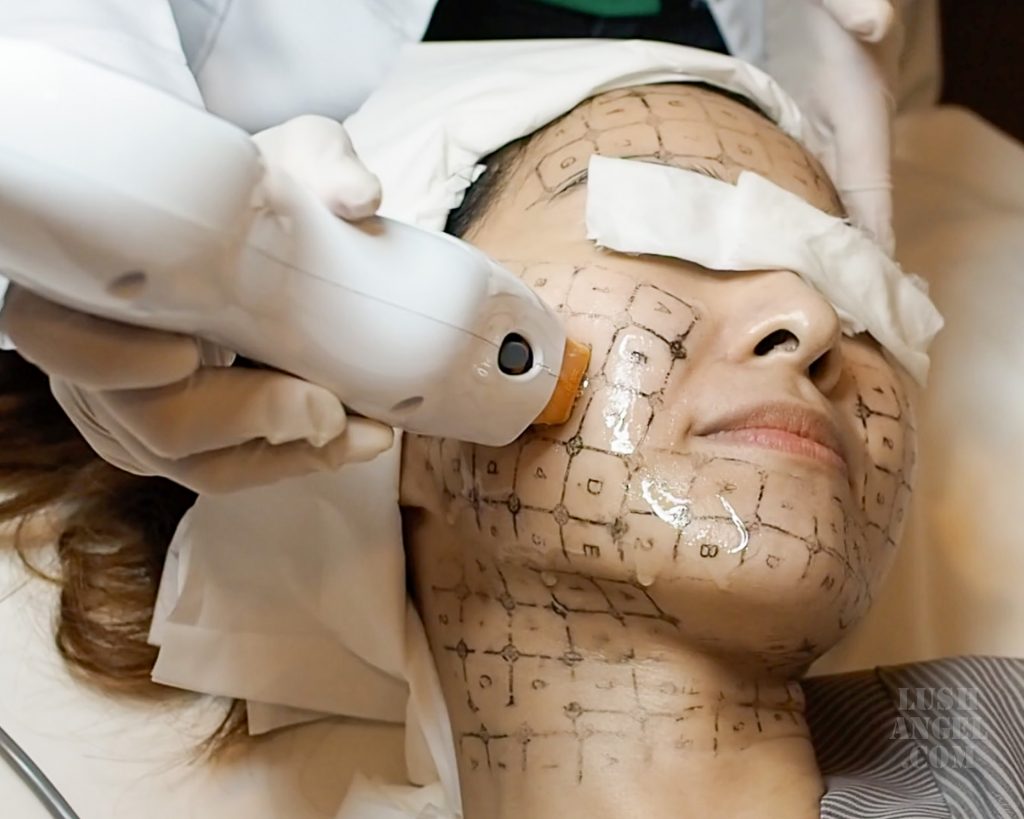 There's no downtime. My skin did not turn red despite the heat delivered into my skin. The entire process took about 2 hours. I believe Facial Care currently offers the newest Thermage FLX, which has the same benefits as the one I tried (Thermage CPT), but faster and shorter treatment time.
Facial Care Thermage Review + Actual Effects on my Skin
The most frequently asked question: Is it painful? My anwer: N0.
It can feel a little too hot on certain areas, like the jawline, especially on the second pass, BUT you can always inform the doctor about it so she can lessen the intensity on those areas. Don't worry, you would still enjoy the same benefits or results. Apparently, a lot of people doing this treatment do not tell the doctor if the heat is getting uncomfortable, thinking it would affect the results. Again, this is not true.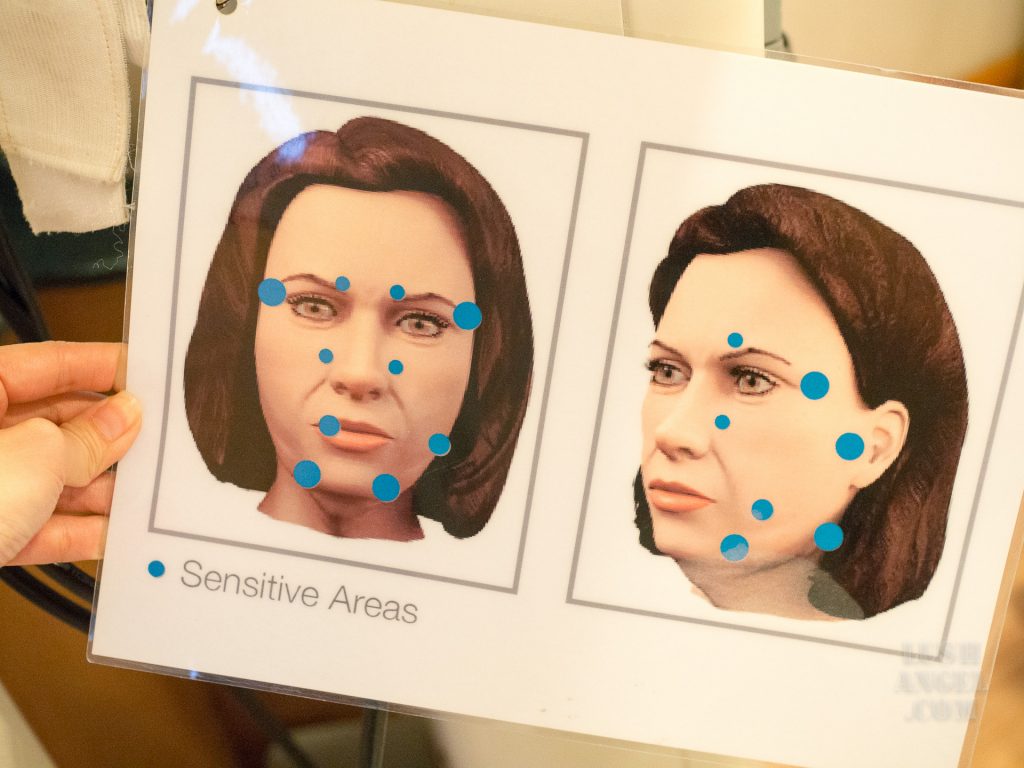 possible sensitive areas
I was going for a month long vacation and I wanted to make sure I have low-maintenance skin by then—glowing skin despite the cold weather, looking fresh despite all the stress from travelling, and getting that jawline in all the photos (Haha!) Therefore, I booked Thermage 3 months before my trip as I was informed that the effects of the treatment could be seen after a few months. TIP: If you have special occasion to attend to, make sure to do the treatment months before!
Right after the treatment, I already noticed that my skin is tighter and brighter (you can see this in the video below) But as weeks and months go by, I was enjoying more the Thermage effect!
Here are the effects I noticed after 2-3 months:
Skin is more low-maintenance. I do not feel the need to do a facial treatment every month.
Skin looks glowing, tighter, and lifted.
Cheeks look lifted.
Eyes are more open.
Lines and wrinkles are less visible.
Face looks slimmer. My jawline is more defined.
Now, here are my photos 2-3 months after the treatment.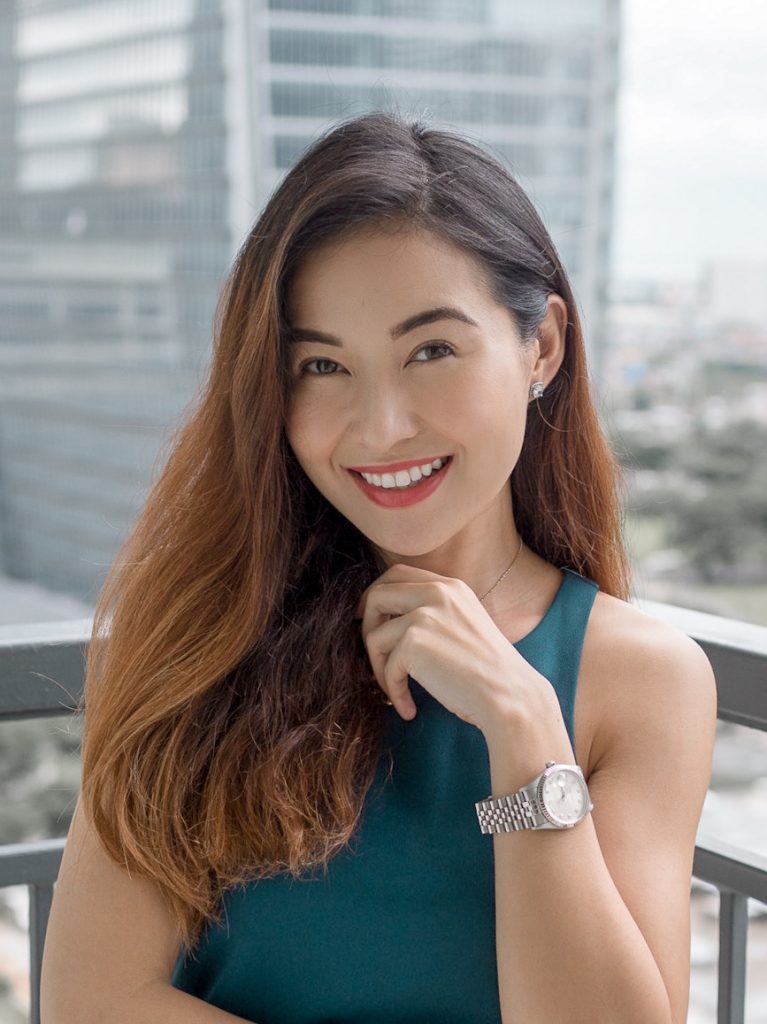 Skin looks more radiant.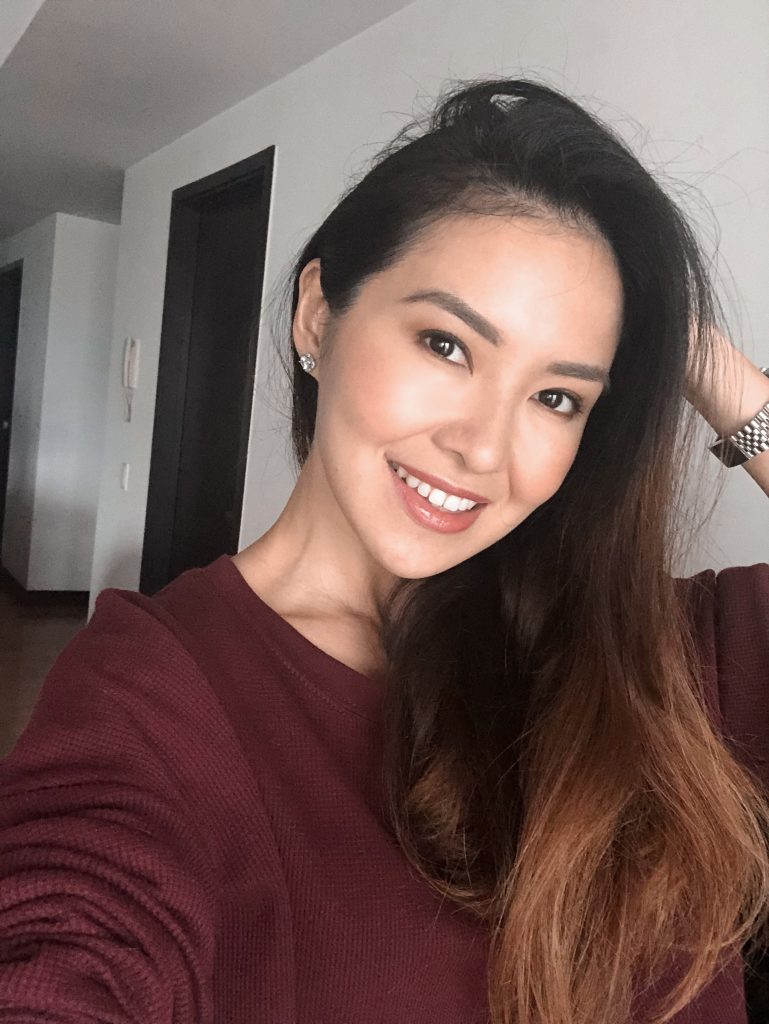 Skin looks tighter.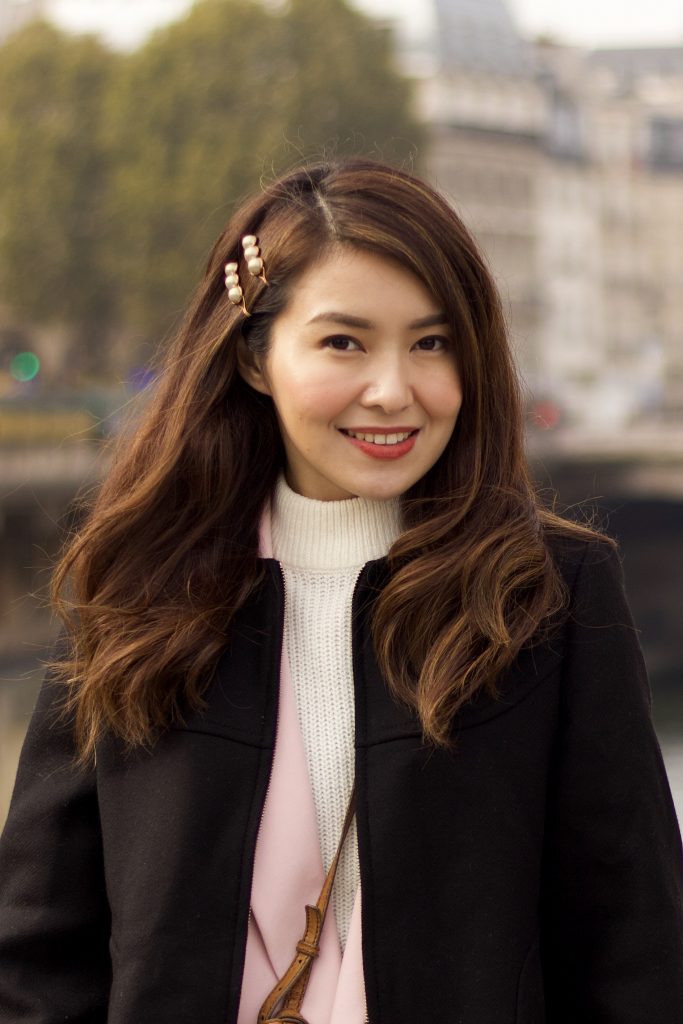 Eyes are more open. Brow area is more lifted.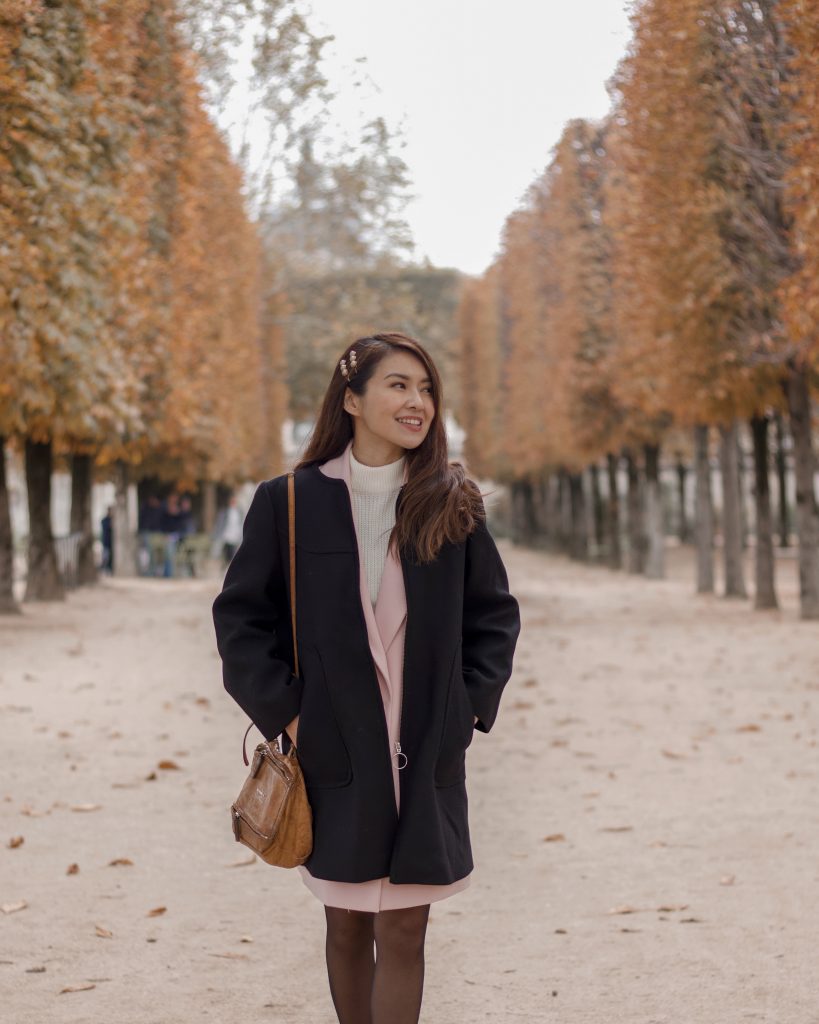 My jawline is more defined.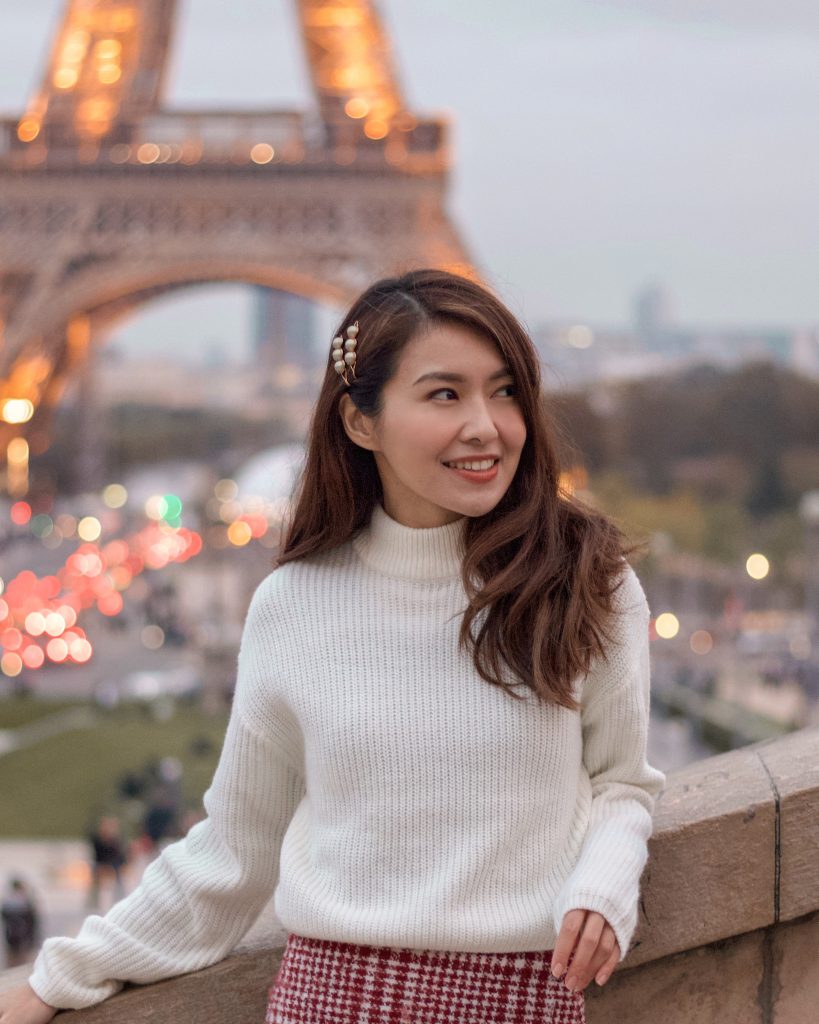 Fine lines around my eye area are reduced.
Before and After Thermage Photos
If you still doubt the Thermage effect, here are my side-by-side before and after photos. Left side photos were taken July 2019 (right before the treatment), while right side photos were taken February 2020. Note that I have maintained my weight during this period, in case you might think I just lost weight.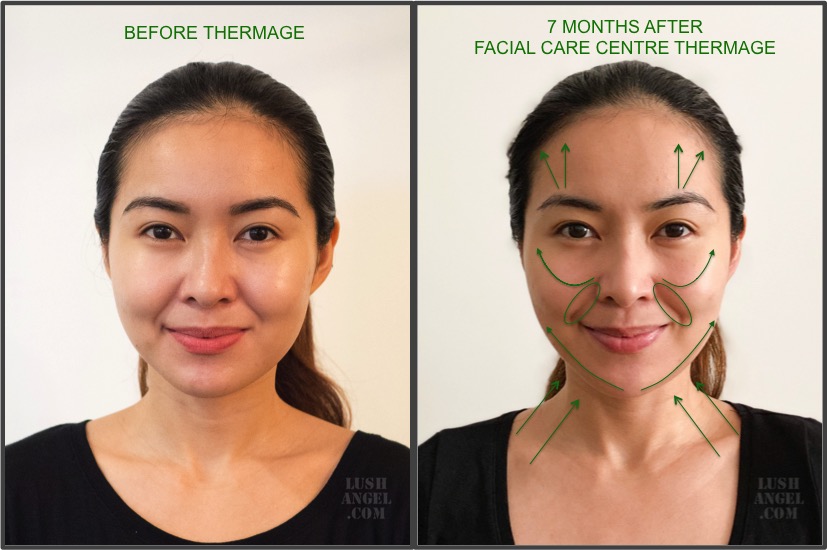 – My eyes are wider and more open.
– My brows are more lifted.
– I look fresher.
– Cheeks are lifted.
– Nasolabial fold reduced
– Face is more contoured and looks slimmer.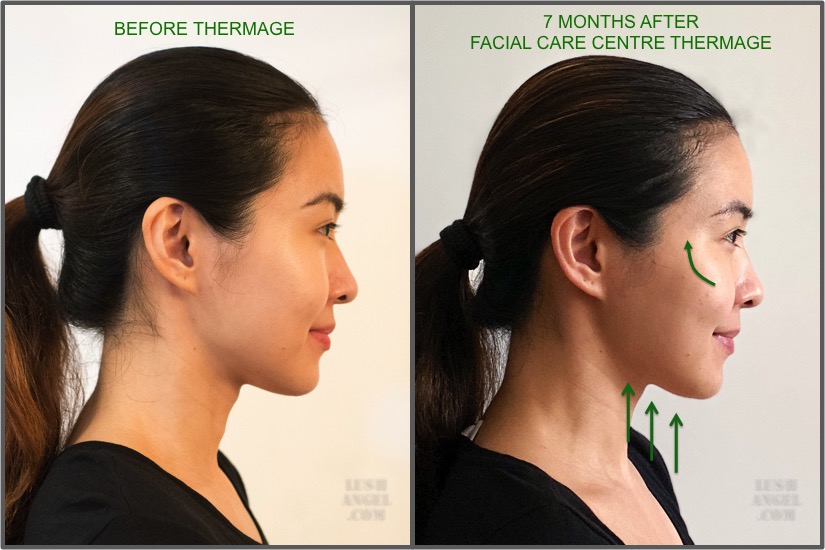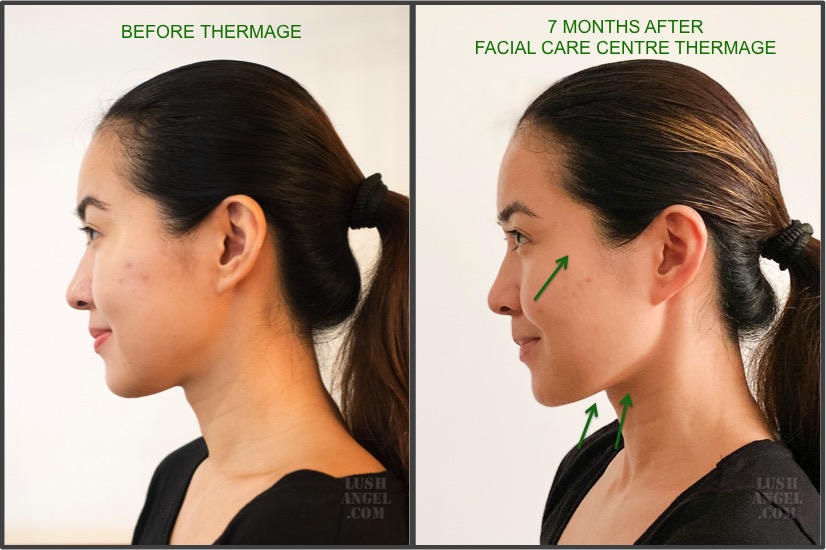 Here's a video of my Thermage experience.
If you are also looking into stepping up your anti-aging skin care, you can visit any Facial Care Centre branch and ask about Thermage. For more details, you can also visit http://www.facialcarecentre.com.ph/
For instant beauty, fashion, travel, fitness, or random updates from me, LIKE lushangelblog on FACEBOOK, FOLLOW lush_angel on TWITTER and lush_angel on INSTAGRAM.