Since I'm still out on vacation right now (as seen in this post), here's a food review first of Eastwood Cafe of Richmonde Hotel. I'll be posting more about my escapade in the days to come so stay tuned. 🙂
Eastwood Richmonde Hotel has been open for several weeks now, but I never had the chance to check it out until my birthday dinner. I ended up eating at Eastwood Cafe in Richmonde Hotel since I couldn't make up my mind where to celebrate my birthday. As I've mentioned in my previous post, I wasn't really able to prepare for my birthday. I didn't even bother to think of a place to celebrate it. Around 6:00pm, my mom kept on calling me still, asking where I wanted to eat. I couldn't make up my mind so eventually my mom decided to eat somewhere near. Hahaha! It was a weekday as well so my brother and my sister had to go home early since they had work the next day. So there we were, trying out Eastwood Cafe at Richmonde Hotel… 🙂
The moment I got inside Richmonde Hotel through the second level of Eastwood mall, I was surprised to see that Basement Salon will be opening there soon. Even The Spa has a branch inside Richmonde Hotel! Ooooh, now that's cool! LOL! 🙂 We then headed to Eastwood Cafe, which is located at the ground floor of Richmonde Hotel.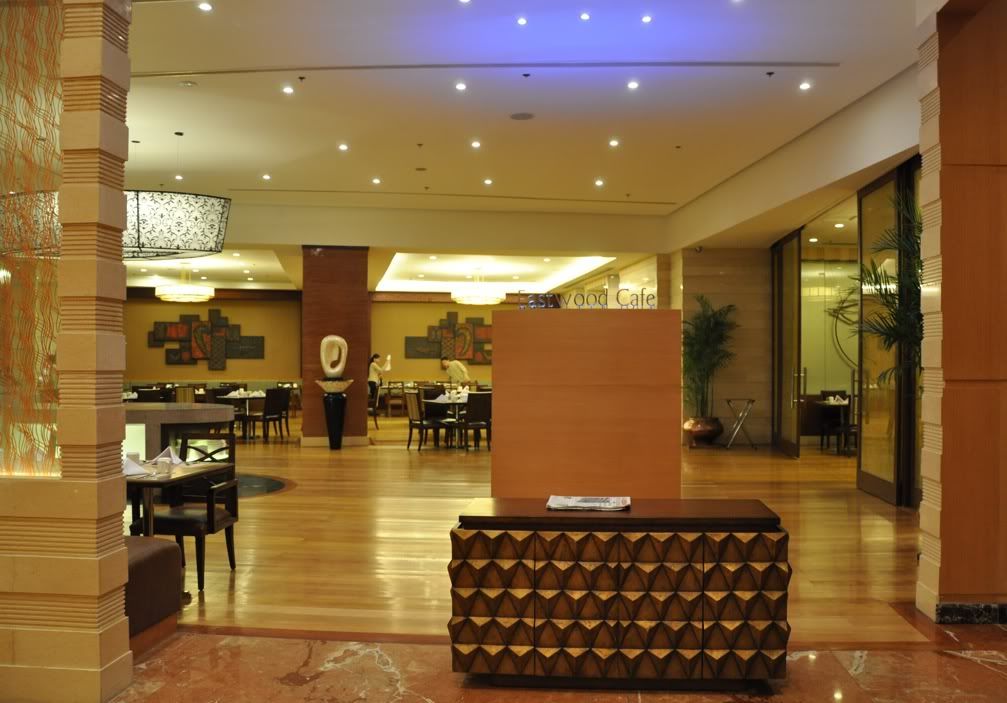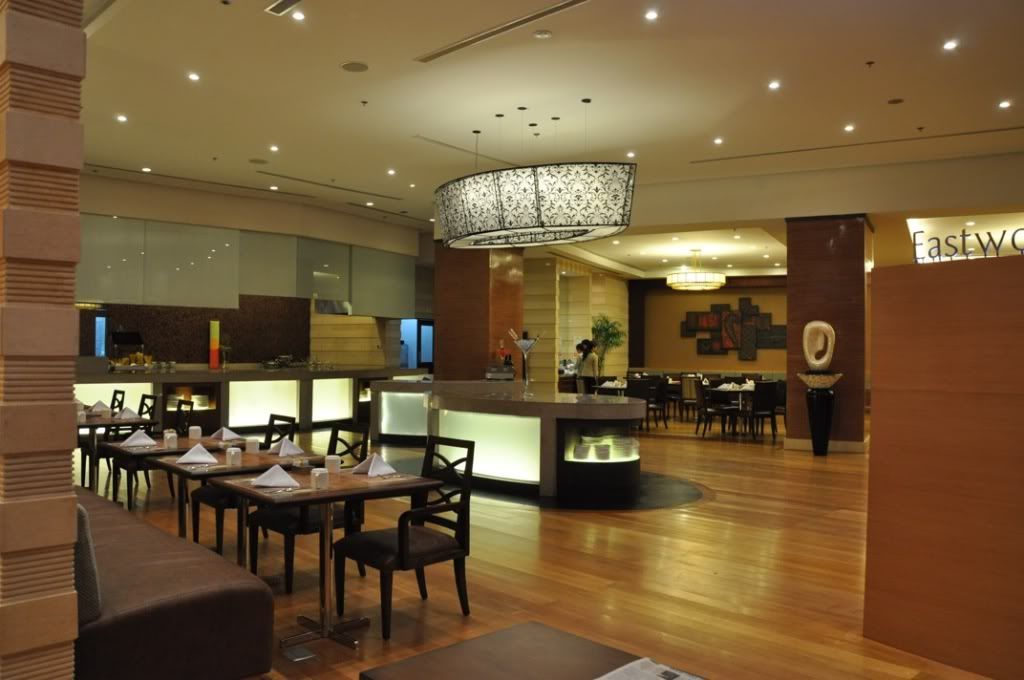 Like in any hotel cafes/ restaurants, Eastwood Cafe has this relaxing ambiance. It is well-lit and quiet, making it a great place for meetings or conversations. 🙂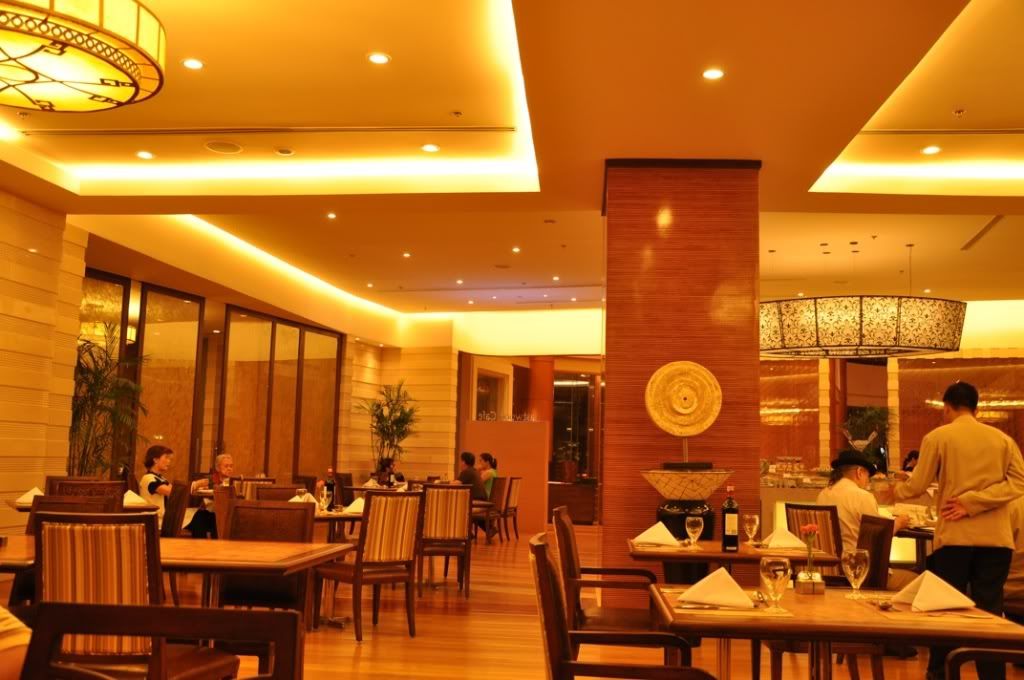 There was no buffet at that time as they only serve dinner buffet every Friday, Saturday and Sunday. No worries as there are a lot of interesting dishes in their a la carte menu. Most of their dishes have huge servings, which can be for sharing. We ended up ordering the following…
Richmonde's Seafood and Bacon Stew (PHP 280) – This appetizer is a mix of clams, mussels, squid, bacon bits and chorizo compote. It is stewed in white wine and cream, served with house bread. The creamy sauce tasted a bit weird for me, probably because of the mix of the seafoods' and the chorizo's flavour into the cream sauce. It had a hint of sourness for me. This appetizer is for sharing, about 2 to 3 persons.
Richmonde's Caesar Salad (PHP 280) – This is the Classic Caesar Salad that we all know, though there was nothing really special with its taste. I still loved it though. Well, the presentation was good. 🙂 Caesar Salad is one of the few salads I eat. Hahaha! The serving is good for one.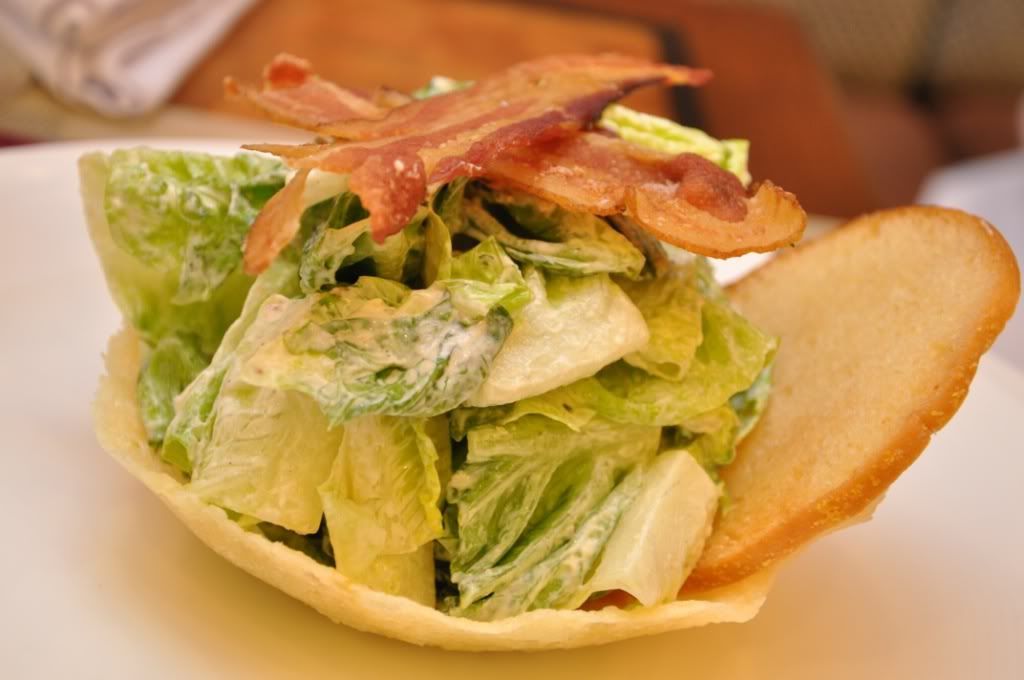 Crab, Arugula in Smoked Cream (PHP 350) – This delicioso pasta had crab meat, arugula, and bacon, with smoked cream sauce on tagliatelle, topped with tobiko. I love this dish! 🙂 It was creamy and it really had a lot of crab meat in it. Take note, real crab meat! 🙂 This dish is good for one, but it can be good enough to share if you are ordering other main dishes as well.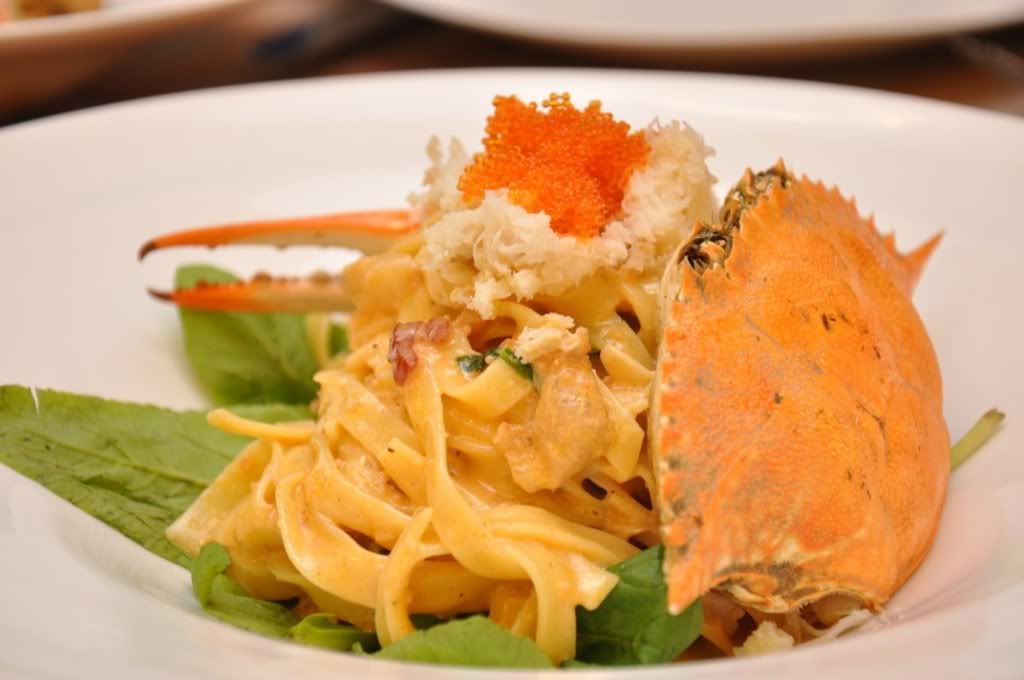 Oriental Beef Stew (PHP 390) – This is Richmonde's take on the classic Korean Beef Stew. Oriental beef stew is served with sauteed red cabbage and bean sprouts. It is not the ordinary Korean Beef Stew we can order in any Korean restaurants out there. Richmonde's version did not have a hint of spiciness in its sauce, though there was a bit of cracked pepper which I was able to taste. The beef was served in a really big chunk, with a little bit of fats on the sides and in the middle. Now that's yummy for me, but I know it's not good for the health! Hahaha! Just like some Korean Beef Stew, Richmonde's version was a bit oily as well. This dish serves two persons.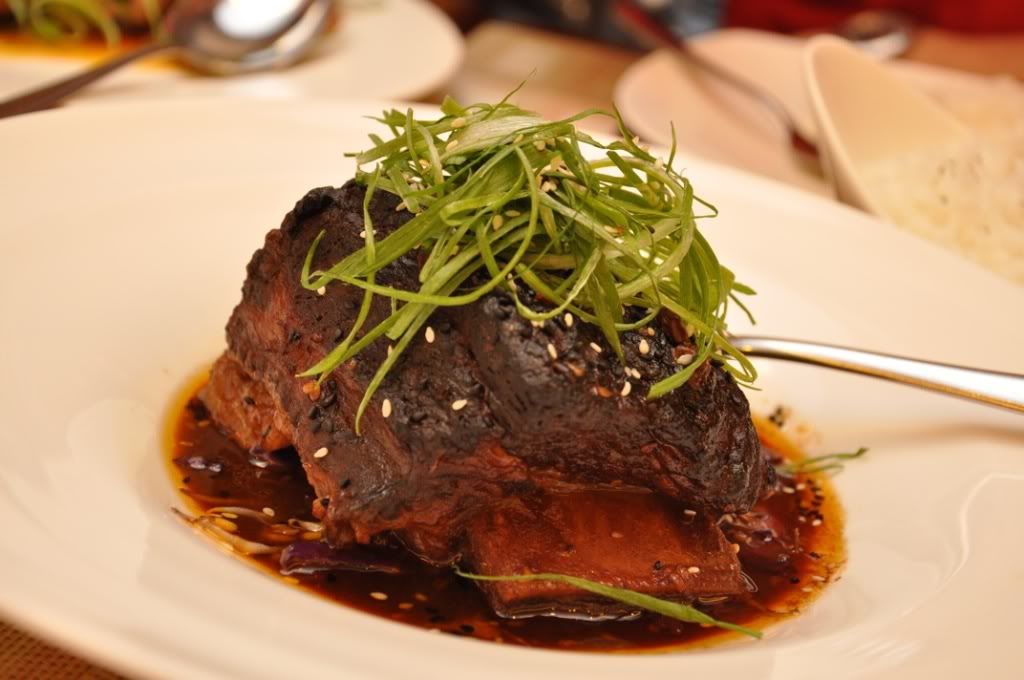 Pork Tenderloin with Apple (PHP 460) – It is Pan Roasted Pork Tenderloin with caramelized apple, fennel and shallots in port jus. I'm not fond of eating apples so I just tried a small portion of the pork. The chopped pork was a bit dry, which disappointed me. Probably, asking for an extra sauce can make it more appetizing. This dish serves two persons.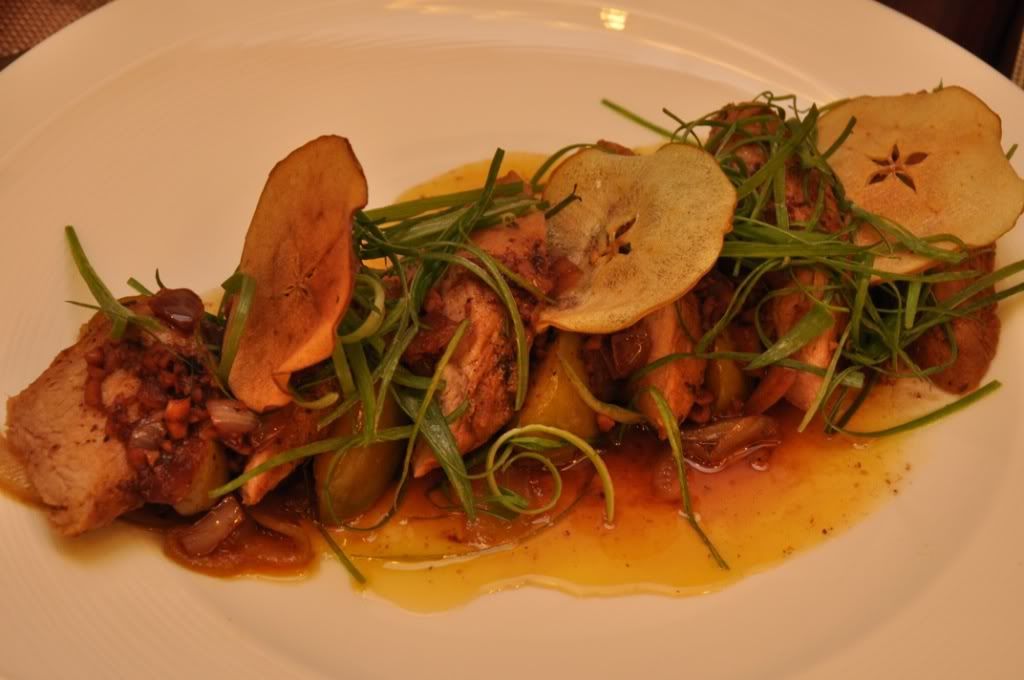 Pork and Coffee (PHP 450) – It is pork scallopini with coffee sauce, served with blanched vegetables, muffins and fried egg. The manager of Eastwood Cafe said, this is one of the chef's most recommended main dishes. Well, judging by its name, it really is one unique dish- breaded pork with coffee sauce. We were definitely intrigued so we had to order it. Well, the pork was a bit dry so we had to ask for an extra coffee sauce. The taste of coffee mixed in the creamy sauce was evident, which was not really for my taste. I love coffee but I guess I don't like it being mixed in my food. 😉 The muffins/ breads that came with the dish was really good. It was soft and buttery, which was just perfect! 🙂  This dish is good for one, but it can be good enough to share if you are ordering other main dishes as well.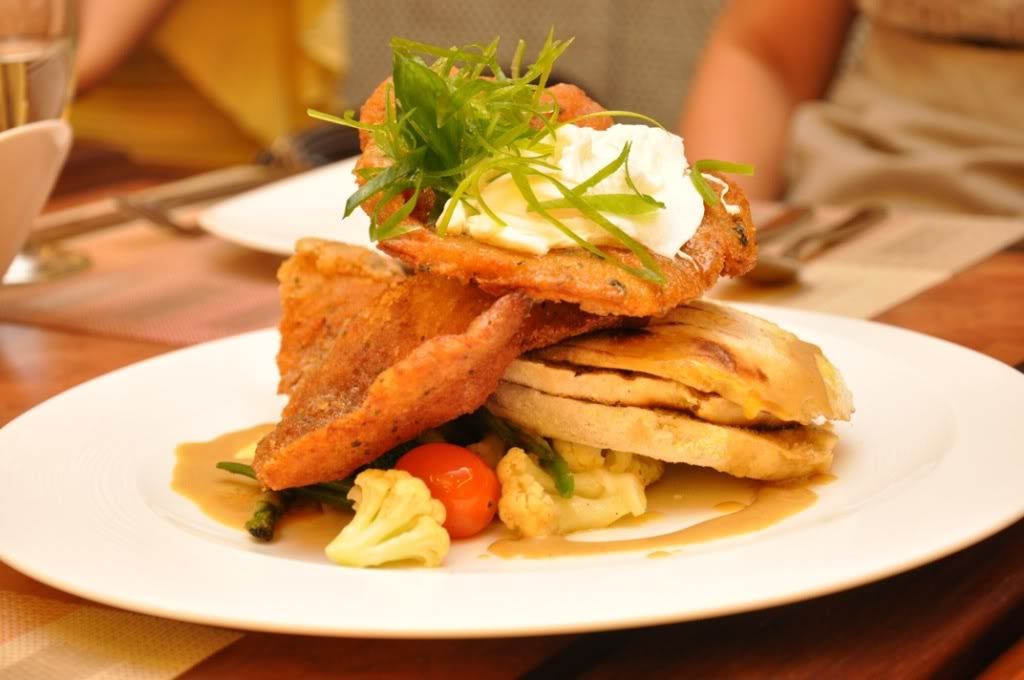 Braised Beef in White Wine and Cream (PHP 480) – This is beef shanks with spinach and mushroom compote, served with sauteed haricots verts. The creamy sauce was full of flavours. It was somehow sweet, sour and salty. Yes, I'm confused, making me unable to decide if I really liked it. It was just too tasteful for me. Hehe! This dish serves two persons.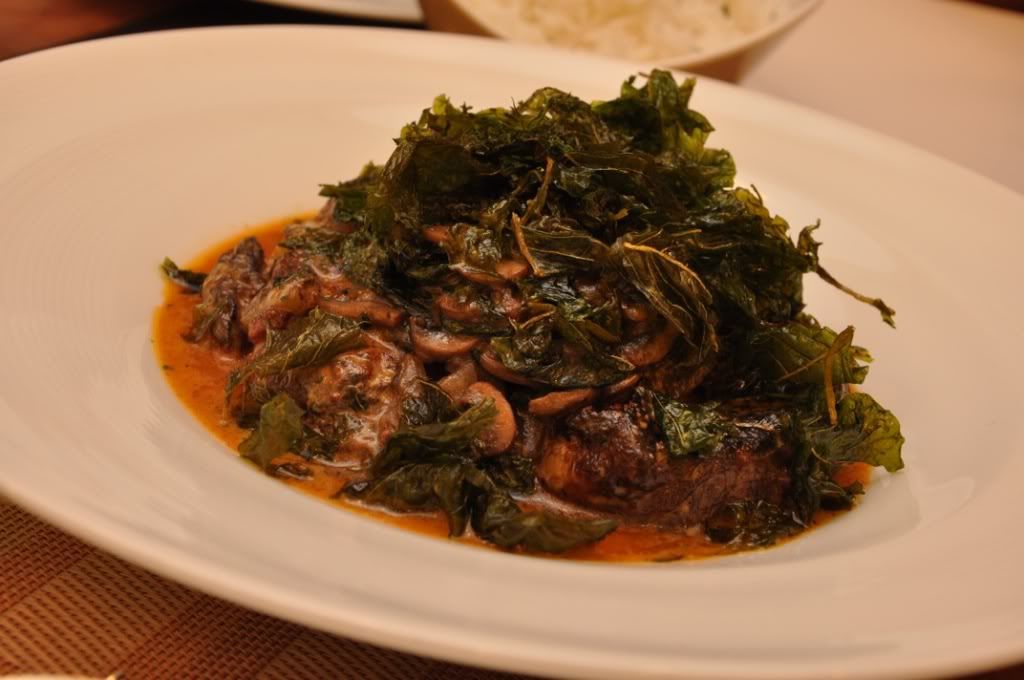 Chicken and Blue Cheese (PHP 390) – It is a herb crusted chicken stuffed with blue cheese, served with sauteed vegetables and basil cream sauce. I'm not fond of eating dishes with herbs, but this one was an exception. The yummy cream sauce and blue cheese somehow concealed the taste of the herbs. They served two huge parts of chicken so you can actually split this dish into two.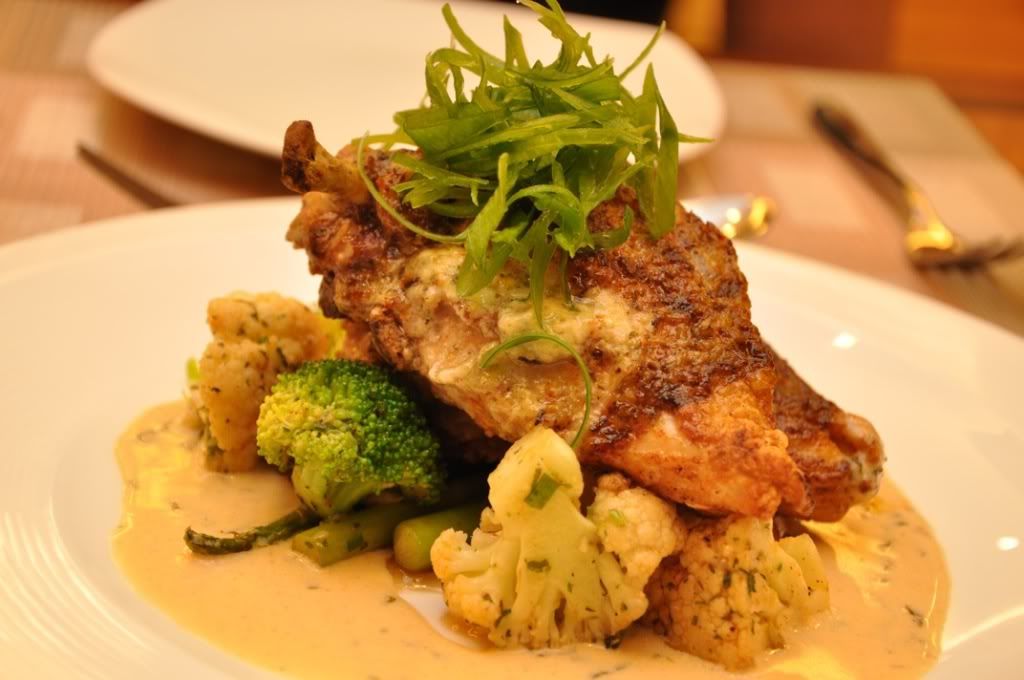 Beef and Summer Vegetables in Peanut Sauce (PHP 420) – This is Richmonde's take on the classic Kare-Kare. It is braised beef shank, crispy beef tripe, blanched bok-choy and haricot vert in peanut sauce, served with Richmonde's native shrimp paste. This is no ordinary Kare-Kare. The peanut sauce made it unique and delicious. You can actually see from its color that it's not the usual orange sauce. It has a mix of something else, making it dark brown (one is soy sauce, I guess). Whatever is in their Kare-Kare sauce, I can say that this dish is one of the must-order. This serves 2 to 3 persons.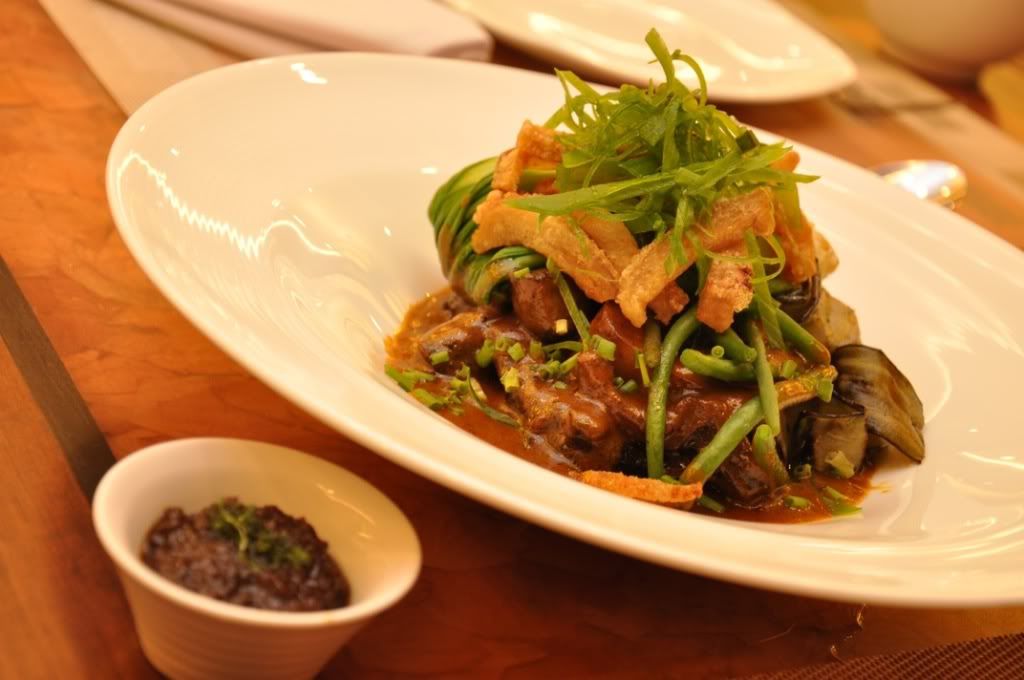 We aren't really big eaters, but we were all so curious on how their food tasted, which is why we ended up ordering a lot. Hehehe! 🙂 Over-all, we weren't disappointed. I was a happy birthday celebrant with a happy tummy when I headed home. Uh… Actually, I didn't really go home yet. I had to grab some coffee first since I was sooo full. Ooops… and I tried my luck at Resorts World. LOL! True enough, birthday celebrants are lucky! LOL! 😉