I've been a loyal liquid foundation user for almost a year now. I used to go for powder  foundation for my everyday makeup, then switched to mineral foundation for a while. I loved the effect of that particular mineral makeup I used once applied, but it's not as appealing anymore after a few hours. I have oily skin to start with, but I end up having even oilier skin by the end of the day when I use that brand. In fact, the makeup doesn't last the whole day. I have to keep on retouching every now and then. Plus, I'm acidic, so naturally my foundation gets darker once it sets. But for some reason, that mineral powder becomes really, really dark after a few hours, even if it's already a shade lighter than my skin tone. This made me stop trying out other mineral foundations, thinking all of them has the same effect on me. But when Revlon sent me the new ColorStay Aqua Mineral Makeup, it was time for me to test another mineral makeup. I used it for a few weeks to make sure I could give my honest opinion about the product.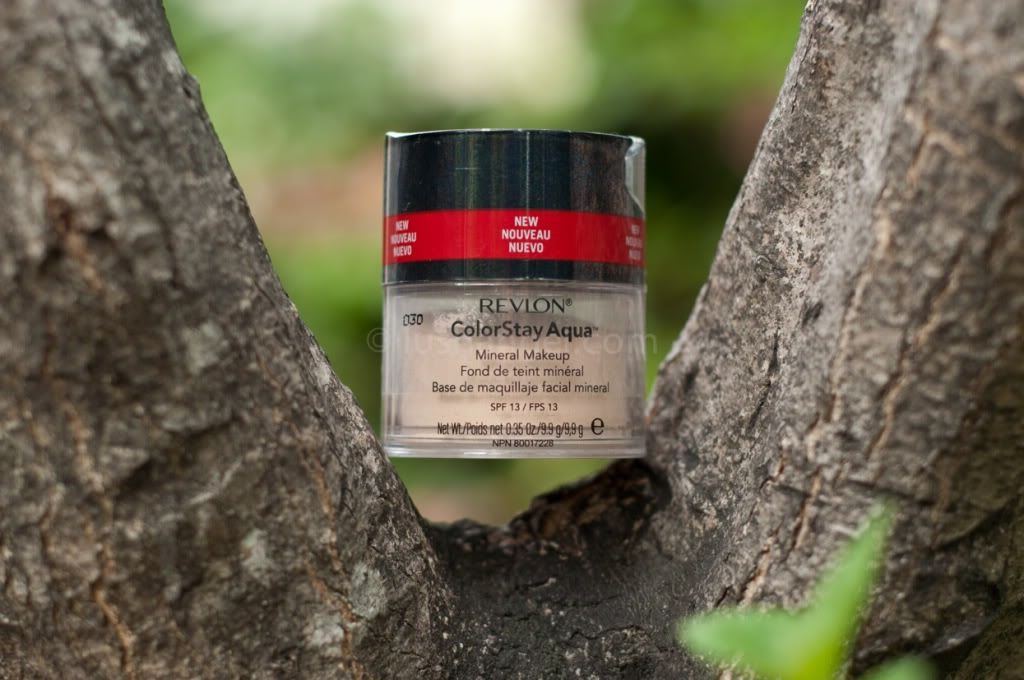 As seen in their website:
NEW Colorstay Aqua™ Mineral Makeup delivers a burst of hydrating coconut water and an instant cooling sensation upon application. The result: your skin looks luminous and its texture smoother. With a shine-free formula that's made with water, not oil, this lightweight powder gives you a fresh, flawless finish that lasts all day.

Fragrance free and non-irritating.

Provides medium coverage in 8 beautiful shades, with SPF 13 protection.
When I first applied it on my face, I was really surprised with the cold tingling sensation. Once you swipe the powder, there's indeed that instant hydrating feel brought about by the cooling sensation of the powder. It wasn't really a selling point for me though. I wouldn't buy the product just because it gave me that cooling effect once applied. It may be a plus for others, but I'm looking for something more than that. Now, let's get into details…
I love it because…
it has transparent packaging,making it easier to see how much product is left.
it comes with a brush, which you can easily slide within its cap.
of the no-makeup-feel when worn. It's perfect for an everyday makeup, or for those days you just want to skip on your liquid or cream foundation. In fact, more than the lightweight-feel, you won't look like you're wearing any foundation at all!
of the sparkles of the powder, which gives that luminous finish. Some people may not like this though, since sparkles can look oily for others. For me, I love the glow and dewy effect on my skin.
with the right shade of foundation, your face won't look white in photos.
it doesn't cake/ crack/ crease.
it's oil-free.
the powder is very fine, which means it's easier to blend.
I wish…
it has more coverage. It has very sheer coverage, which is perfect for those with nice skin. It can barely hide pores. For those with blemishes though, it can be used to set liquid or cream foundation.
the brush provided had a longer handle. The plastic handle somehow scratches my skin when I angle the brush.
it's long lasting. With the humidity here in the Philippines, makeup can easily melt. I had to do some retouches for it to stay the entire day.
the powder is fragrance free. I smell a hint of not-so desirable odor as I apply the powder. I initially thought that it was just the brush, but unfortunately, it's the powder. It doesn't bother me too much though, since it becomes odorless once applied. I just smell it when I brush through the nose area.
The first time I used this Revlon ColorStay Aqua Mineral Makeup, I thought it would be the last time I would be wearing it. I don't have the perfect skin. One, I'm very oily. Two, I have minor blemishes that a sheer foundation won't work for me. Check out how minimal the coverage is…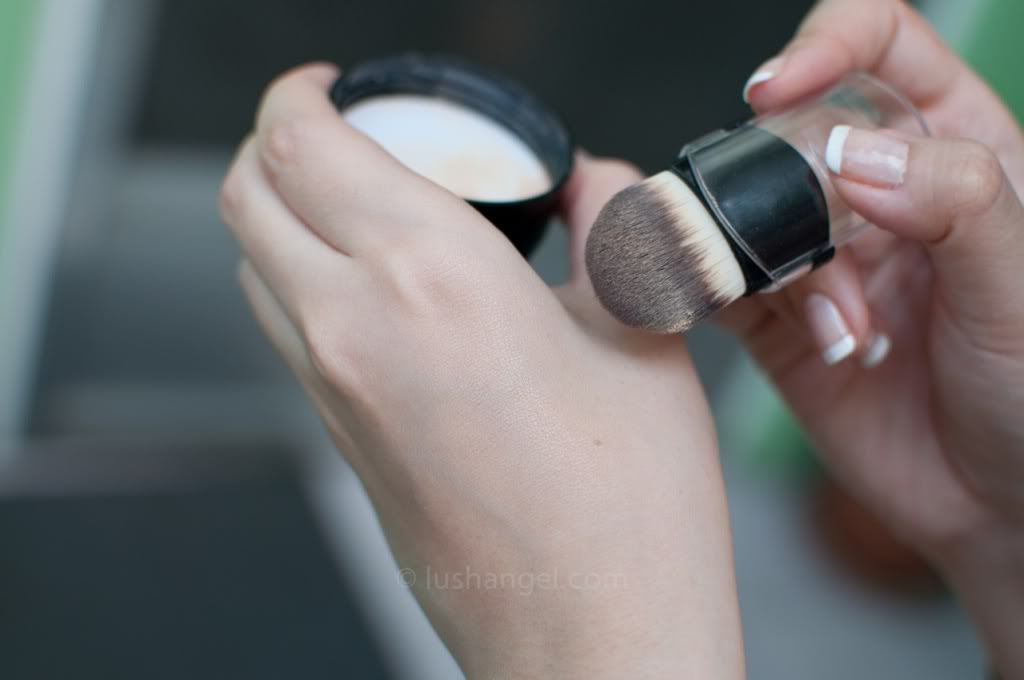 If you see the shiny spot on my hand, that's where I swatched the powder. As I've mentioned above, it has very minimal coverage that it can't actually hide pores. It's really as if you're not wearing any makeup at all. BUT once it sets in, it magically transforms! Yes, it's as if I'm not wearing any makeup, but it gives my skin that dewy effect. It would seem I just have that natural glow! 🙂 Would you believe, I met a friend the day I tested this product and she instantly noticed how glowing my skin looked! She liked it and even asked what kind of makeup I was using that day.
Now, I kinda had a change of heart. I'm actually using Revlon ColorStay Aqua Mineral Makeup almost everyday, especially if I don't have plans for the night. I suddenly feel that my skin needs rest from liquid foundation. And since this is very light, this is just what I need. 😀 I just dab some concealer on my under eye area and blemishes, then brush this powder all over my face! Oh, and I prefer using a powder brush rather than the foundation brush provided.
If you're wondering how it looks on me, I used Revlon ColorStay Aqua Mineral Makeup when I shot this outfit post. I just used a primer and concealer underneath it. 😀