How do you clean your makeup brushes? I'm sorry, but no matter how lazy you are to clean them, YOU HAVE TO! You use them on your face, so hygiene is definitely important. You wouldn't want dirt and bacteria to spread on your face because of unclean brushes! Plus, makeup brushes aren't cheap. You have to take good care of them as if they are your babies. LOL! 😀 The truth is, no matter what brand or how expensive your makeup brushes are, they won't last unless you clean and condition them.
I normally clean my brushes late at night, usually when I get home after a makeup gig. As much as I want to go to bed, I stand in front of the sink making sure all my brushes are soft and squeaky clean. The hardest to clean will always be my foundation, concealer and lip brushes. I have to repeat my cleaning process for these brushes AT LEAST three times. I'm very O.C., so expect me to do more than that. Hehe! Now, just imagine my joy if my brush cleaning time is cut into half! Seriously, it happened, or I mean, it is happening! My new discovery: Cinema Secrets Professional Brush Cleaner! Special thanks to Tiffany for introducing me to this product. 🙂 Here's my review.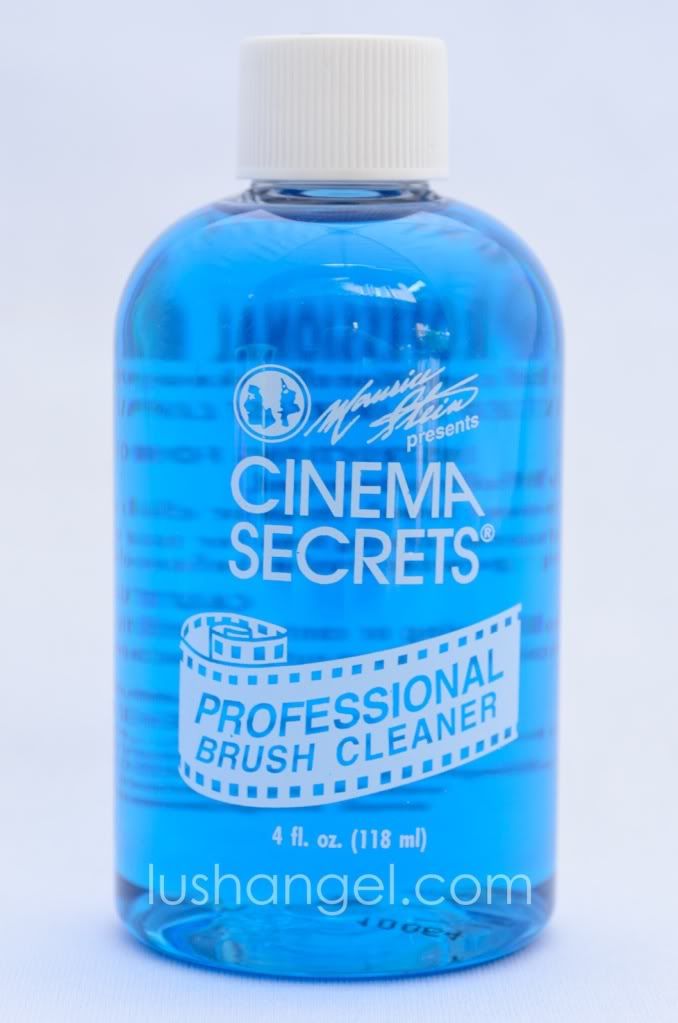 Product Information
Leaves tools with a pleasant vanilla scent
Cleans and sanitizes
Conditions bristles to extend brush life
Environmentally safe, non-carcinogenic
The most requested brush cleaner on the market
The most requested makeup brush cleaner on the market, ours is known for its rich blue color and vanilla scent.
Top professionals rely on the quick-drying formula to clean, sanitize, and leave tools with a pleasant smell. Safe for use with natural and synthetic hairs, the cleaner immediately dissolves all traces of wax, liquid, and powder residue from brushes, spatulas, and palettes. It's the only makeup brush cleaner to remove 99.9% of all bacteria–and it conditions bristles to extend brush life.
Environmentally safe and non-carcinogenic.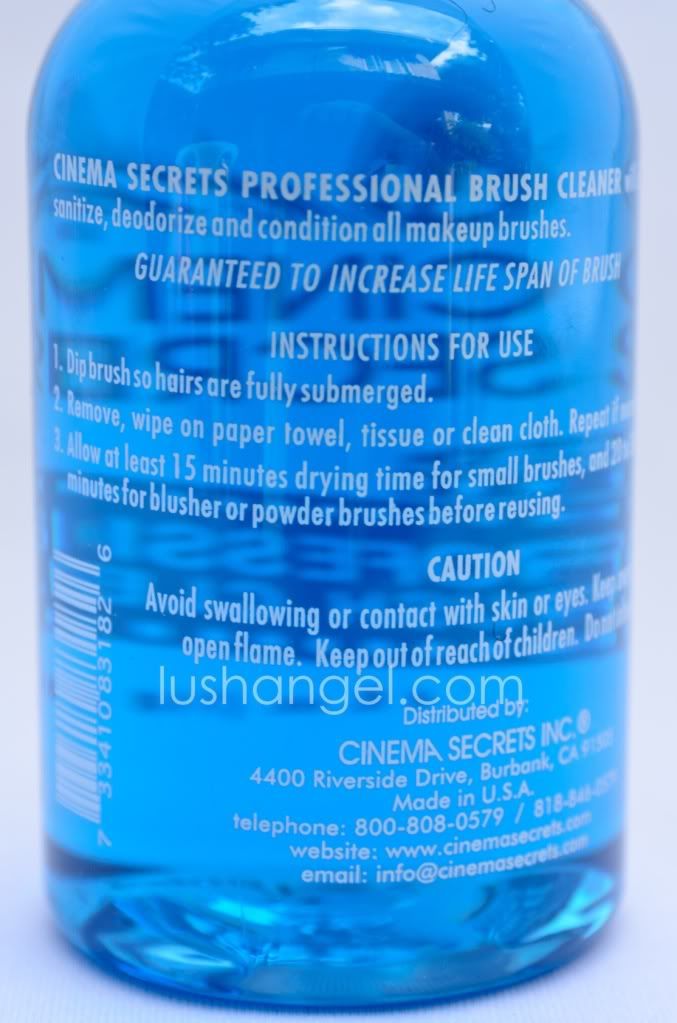 I love it because…
it cleans and removes makeup from brushes easily. When I use the concentrated solution, I only need to clean my foundation, concealer and lipstick brushes once. To be honest, I was in disbelief when I used it the first time. I did my cleaning process twice just to make sure, but my solution was left clear on my second attempt. See photos below on how I cleaned a dirty foundation brush.
leaves a slight vanilla scent on the brushes. This can be a con to some, but it's just a hint of vanilla scent. For me, it's not irritating at all.
it's safe to use for both natural and synthetic bristles.
it conditions the bristles of my brushes. The bristles do not shed and they are left so soft when dried out.
it's non-carcinogenic and alcohol-free.
my brushes dry faster compared to cleaning them with other solutions dissolved in water. It's perfect for makeup artists when there's a need to reuse a brush. This means, you won't need to have different brush sets for different clients. All you have to do is clean the brush with a cleaner that easily dries.
I wish…
it's affordable. It's a bit pricey at PHP 1,540 for 4oz.
it's not wasteful to use. In order for it to be really effective, you'll have to use the pure solution. Although you won't need much to clean one brush, a 4oz. may not last several months if I clean several brushes everyday.
Tips from Cinema Secrets
For finger-sized brushes, use long strokes to gently wipe excess makeup on a tissue or paper towel placed on flat surface. Pour a small amount of brush cleaner in a tin or bowl, and quickly dip brush in cleaner. Remove immediately. (Do not swirl or soak.) Wipe clean on tissue with long strokes. Repeat a second time if necessary. Allow to air-dry for two to five minutes. For faster drying, lay brushes flat on non-porous surface, hold in place by handles, and fan hair dryer from six inches away for a maximum of 30 seconds.
For larger blush and powder brushes, dip only 15% of the brush tip, then invert to allow liquid to flow to the bristle roots at the ferrule. Wipe clean and allow to dry.
Tips from Lush Angel
Since I'm trying to save my 4oz. bottle of Cinema Secrets Professional Brush Cleaner, I clean my makeup brushes first with another makeup brush cleaner or dishwashing liquid mixed in water. I use the Cinema Secrets Brush Cleaner as my last step to ensure my makeup brushes are well-cleaned, sanitized and conditioned.
Conclusion
Cinema Secrets Professional Brush Cleaner does its job in cleaning and removing any kind of makeup from my natural and synthetic brushes. Although the price can be a drawback, it can actually be treated as an investment with its ability to sanitize and condition brushes for them to increase their life span.
I especially recommend this brush cleaner to makeup artists with limited makeup brush sets. It's perfect for on-the-spot cleaning. After letting the brush dry in just a few minutes, you can reuse it for another color or another client.
This product is not only for makeup professionals. Let's face it, a lot of people out there are lazy to clean their makeup brushes. It's undeniable that some products, like foundation and lipstick, are hard to remove, taking more time to clean. It's time to get rid of that bad habit. There are brush cleaners, such as this product, that can clean and remove makeup from brushes in an instant. As I've tried and as you'll see below, it's hassle-free and can save a lot of time.
Lastly, I recommend Cinema Secrets Professional Brush Cleaner to those who want to increase the life span of their makeup brushes. You invested on your makeup brushes, therefore it's especially important to take good care of them with a cleaning solution that works. You don't want your expensive brushes to last for just a few months. For your investment to last as long as possible, cleaning and conditioning your makeup brushes is a must.
dirty foundation brush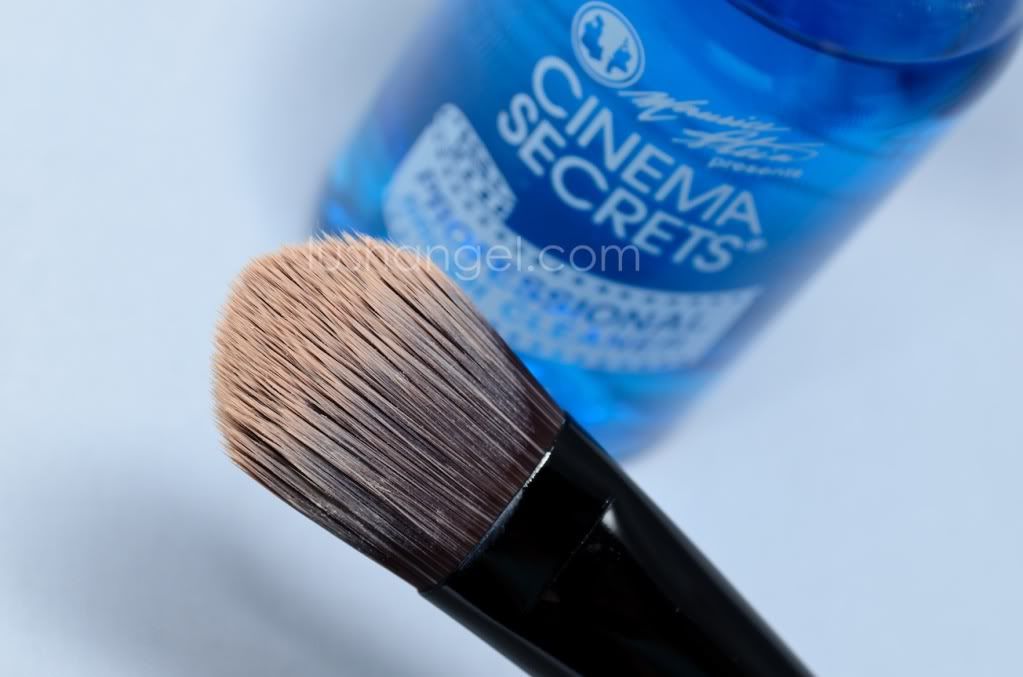 Cinema Secrets blue brush cleaner in a small container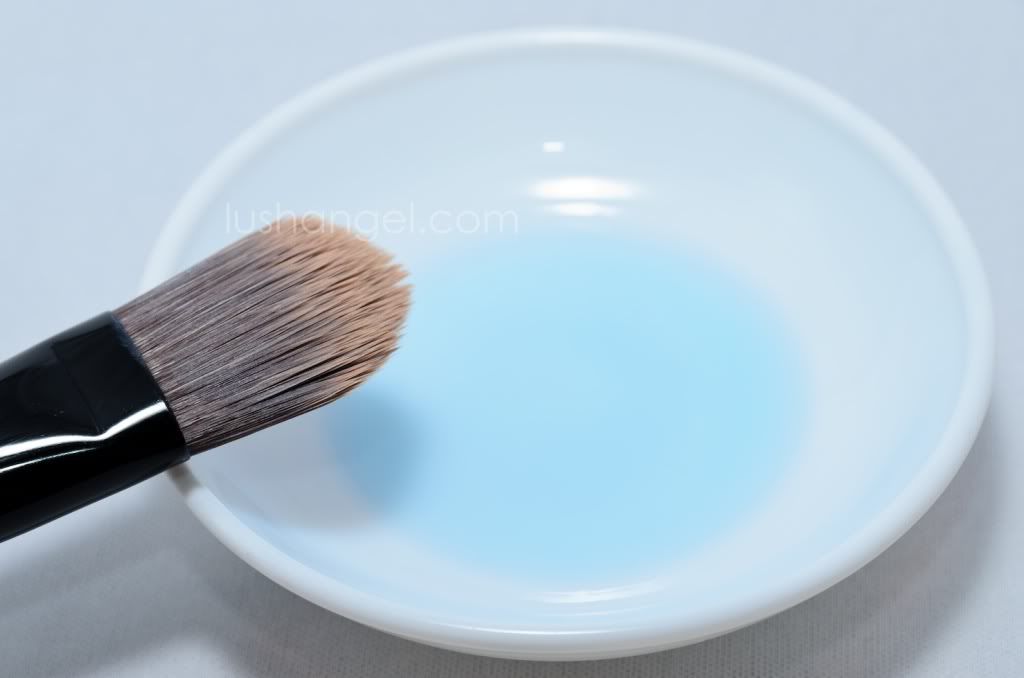 dirty foundation brush dipped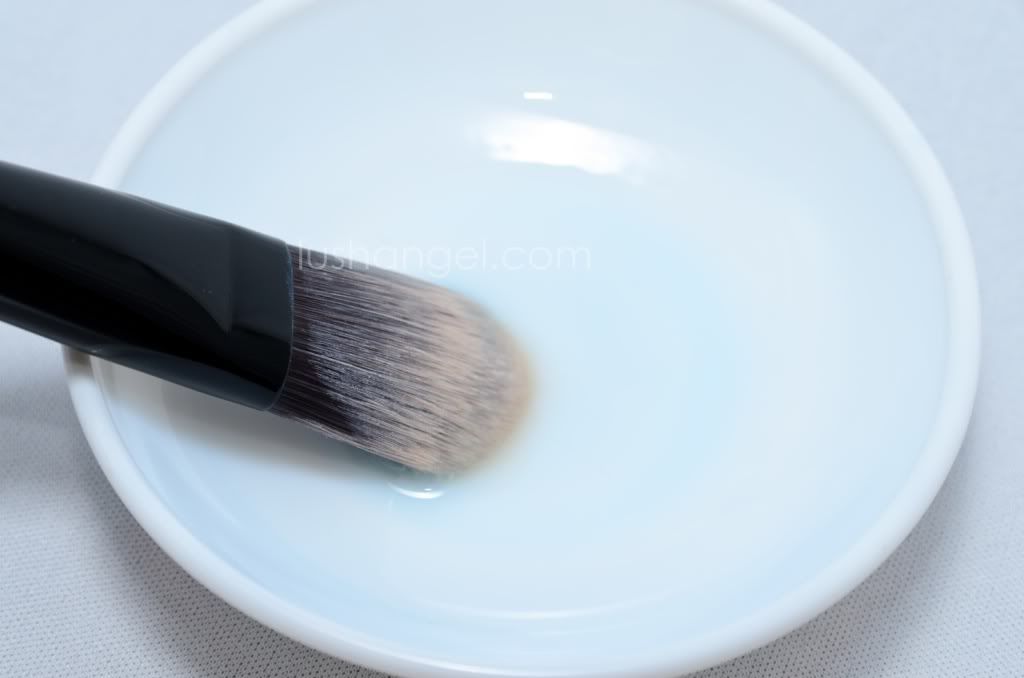 after a few seconds…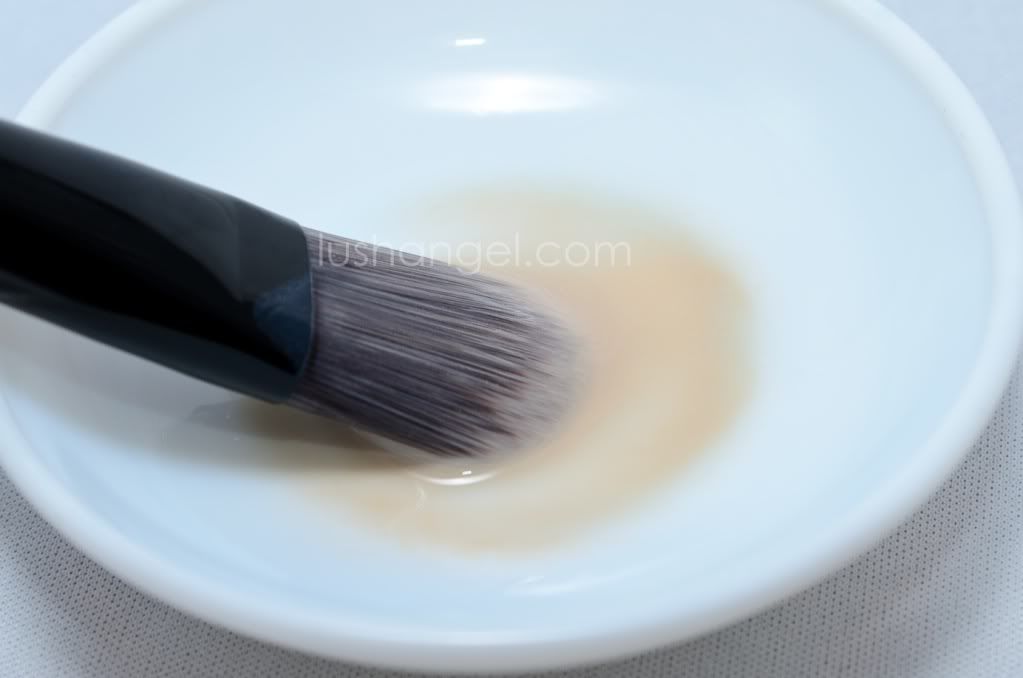 cleaned, sanitized and conditioned foundation brush in less than a minute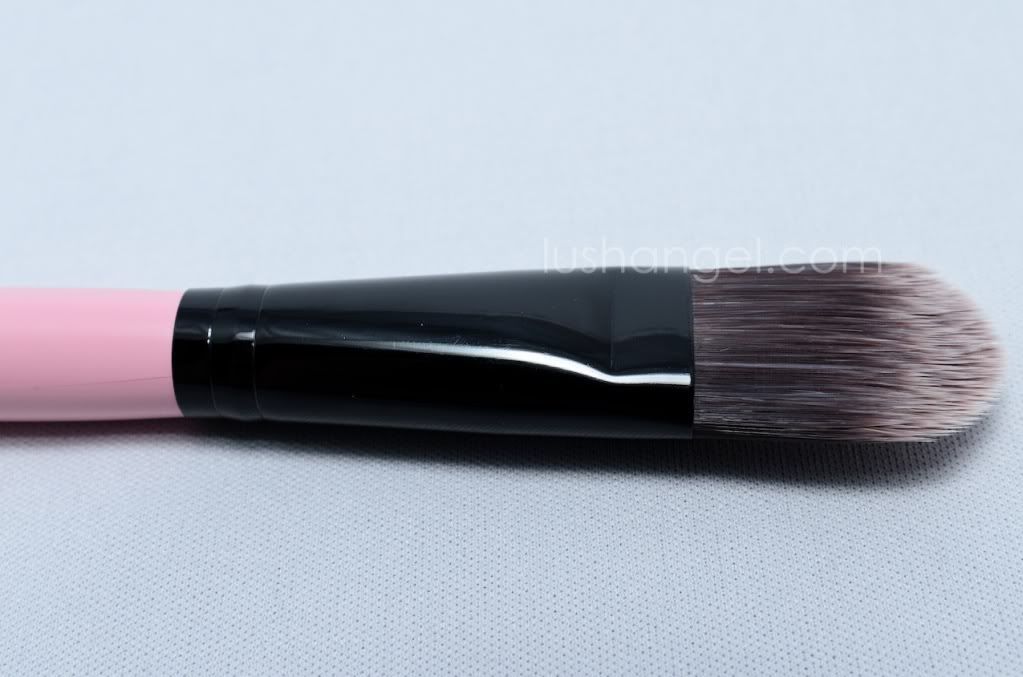 Cinema Secrets is available in the following department stores: SM Makati, SM Mall of Asia, SM Megamall, SM North EDSA, Landmark Trinoma, Landmark Makati, PCX Alabang Town Centre, PCX Rockwell, Crossings Quezon Avenue, Sta. Lucia Mall, Shoppersville (Katipunan Ave.), and Cinema Secrets Main Showroom (Belman Building, 78 Cordillera St. cor Quezon Ave. Quezon City, Philippines)