Summer is not yet over- definitely not for me! I just came back from my happy island, Boracay, and I'll be going around Palawan for more than a week in a few days! 😀 Yes, I'll be a beach bum before summer completely ends! 😀 And my bestfriend and travel companion in all these trips? Sunblock! I can't live without it! As much as I want to get some tan, the sad truth is- sun exposure can be extremely harmful. In fact, sunblock is not something that should only be applied when at the beach. Of course, beauty enthusiasts already know that sunblock is a must everyday, even when staying indoors. This is why you'll see various types of sunblock in the market. Just to give a refresher or to make it clear once and for all, here are some facts about UV and sunblock.
Truth About UV Rays
The sun produces UVA & UVB rays that are harmful to the skin. More than 80% of the sun's UV rays penetrate the earth's atmosphere, even on cloudy days.
UVA rays darken skin color as they penetrate deeply into the skin. Prolonged UVA exposure cause permanent damage on our collagen fiber, leading to wrinkle development and aging.
UVB rays are known to cause sunburn. The skin surface reacts by becoming inflamed and freckled. Recent research shows that excessive exposure to UV rays may even lead to skin cancer.
SPF (Sun Protection Factor) is the sunscreen index against UVB. The number indicates how many times the skin will be protected from getting burnt comparing to skin without any sunblock protection.
PA (Protection Grade for UVA) is an index measuring the effectiveness of a sunscreen lotion against UVA. The number of + indicates how many times the skin is protected from skin darkening.
PA+ provides 2-4 times protection against skin darkening.
PA++ provides 4-8 times protection against skin darkening.
PA+++ provides 8 times or more protection against skin darkening.
Now, here's my review of SunPlay Sunblock. Take note that I tried on SPF 47 PA+++ Powdery White and SPF 50 PA+++ Clear Water for daily use, before my makeup. Then, I used SPF 130 PA+++ Super Block and SPF 65 PA+++ Watery Cool during my 4-day beach trip.
Product Information
The SunPlay Difference:
Highest SPF for maximum sun protection. Lets you have 130x MORE fun in the sun!
Watery Liquid Formulation
o Japanese formula
o Non-greasy, non-sticky
o Feels as light as water.
o Absorbs quickly into skin. Does not leave heavy white residue.
Hypo-allergenic and won't clog pores. Great for both face and body use.
I love them because…
they're travel friendly. The bottle is so compact, making it easy to slip inside my vanity bag.
my skin doesn't feel sticky, even right after sunblock application.
they're not greasy.
they don't feel heavy on the skin. It's as if I didn't apply anything on.
they have unique water-like formula.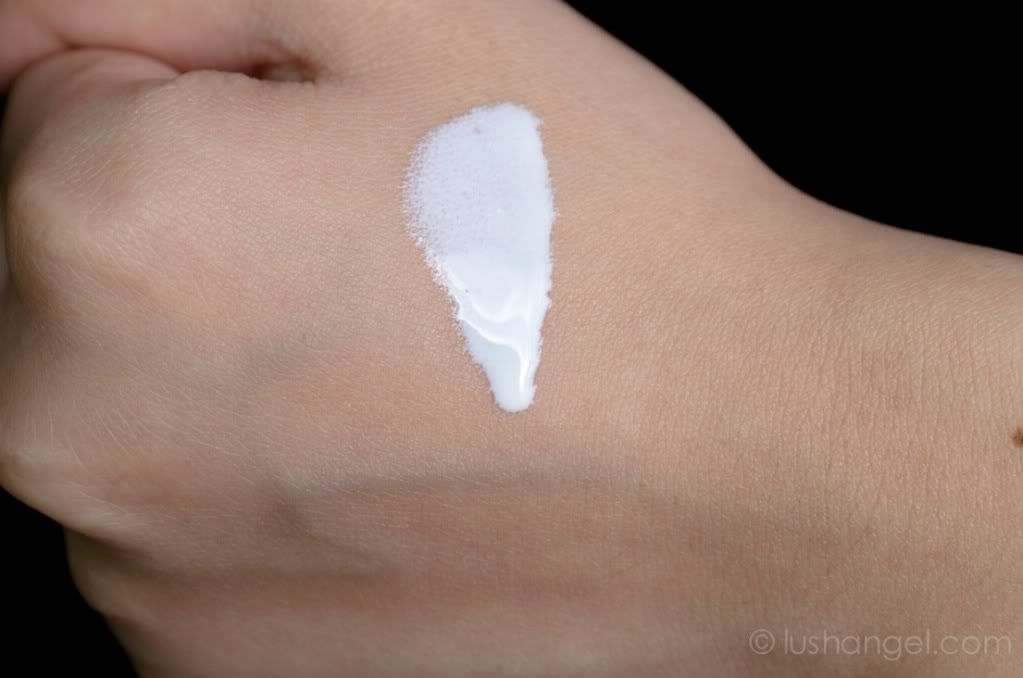 they have different variants- SPF 130 PA+++ Super Block, SPF 65 PA+++ Watery Cool (for sports and outdoor activities), SPF 50 PA+++ Clear Water (for daily use), and SPF 47 PA+++ Powdery White (for daily use).
they are safe to use for both face and body.
they have clear finish. As expected, there is still white cast when using higher SPFs, but it's far less compared to other sunblocks.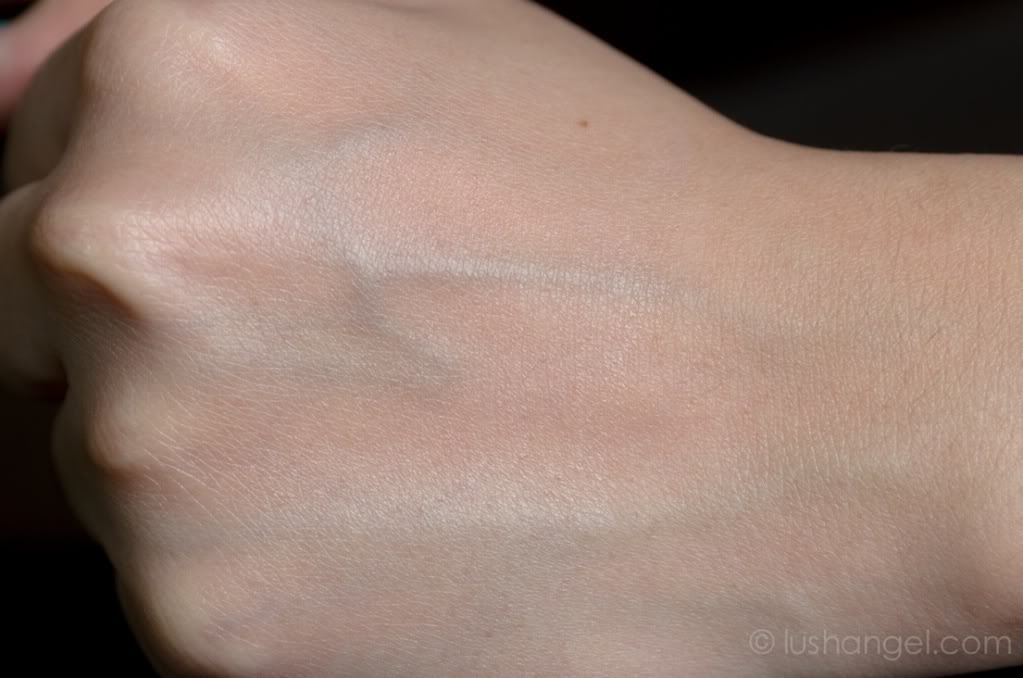 they are easily absorbed by the skin.
I didn't get any allergic reactions, irritations or pimples.
I find them really effective, especially the SPF 130 PA+++. I wouldn't say I didn't get dark, but considering my sun exposure during my beach trip, I should be really dark by now. Even my friend who tried out SunPlay SPF 130 PA+++ didn't get dark too much. Also, we didn't get any sunburn! Take note, we went cliff diving at 12nn until around 4:00pm!
I can use them underneath my makeup, especially the SPF 47 PA+++ and SPF 50 PA+++.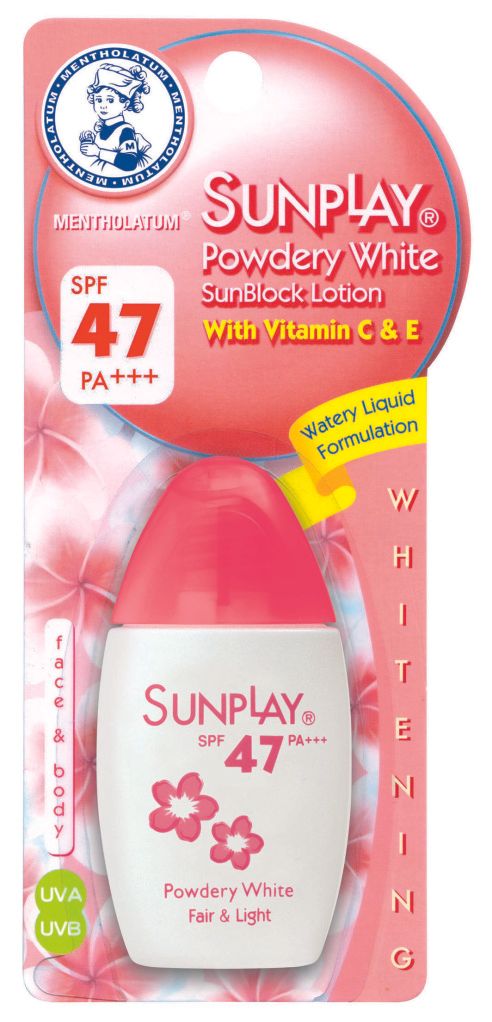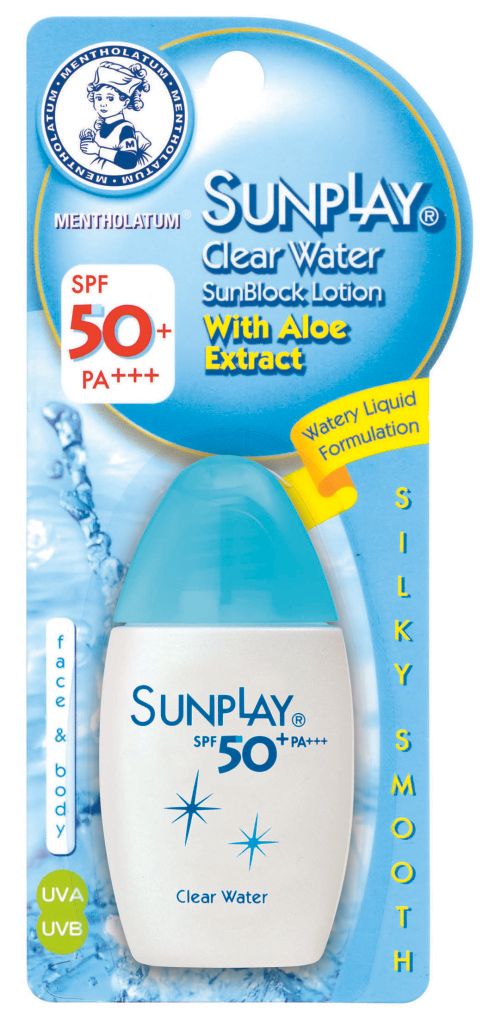 I wish…
they come in different sizes.
they are economical to use. Since they have watery formula, I tend to use more product.
they are cheaper. A small bottle (about 50ml) of SPF 65 PA+++, SPF 50 PA+++, or SPF 47 PA+++ costs PHP 349, while SPF 130 PA+++ is PHP 399.
they have a non-scented variant. Some people with sensitive skin prefer unscented skincare products. It's good to note though that their existing variants all have pleasant smell, without the usual "sunblock lotion" scent.
Application Tips
Cleanse, tone and moisturize before applying sunblock on your face.
Shake the sunblock bottle first before using.
Squeeze product on your fingertips to easily control product usage.
Spread the sunblock evenly on your skin. Make sure not to skip any part or you might end up having blotchy skin after sun exposure.
Apply sunblock 20 to 30 minutes before sun exposure to ensure that the lotion has completely been absorbed by the skin.
Don't forget to reapply sunblock every 2 hours.
Overall
SunPlay SPF 130 PA+++ Super Block and SPF 65 PA+++ Watery Cool impressed me. My friend and I used both in our 4-day beach trip. We barely got dark and we didn't get any sunburn. Just to give an idea how much sun exposure we had, we walked along the shore under the heat of the sun and even went cliff diving from 12nn to 4pm!
I also love the fact that SunPlay Sunblocks aren't sticky. They are comfortable to wear even for daily use. I can wear those with lower SPFs under my makeup since they have clear finish.
The drawback that can turn off some is the price. They are less than PHP 400, but they probably contain just about 2/3 of other sunblocks. But for a product that really works, I think it's worth the price.
If you're headed to the beach or any outdoor activities, I would strongly recommend SPF 130 PA+++ Super Block! It can be your ultra shield from the sun!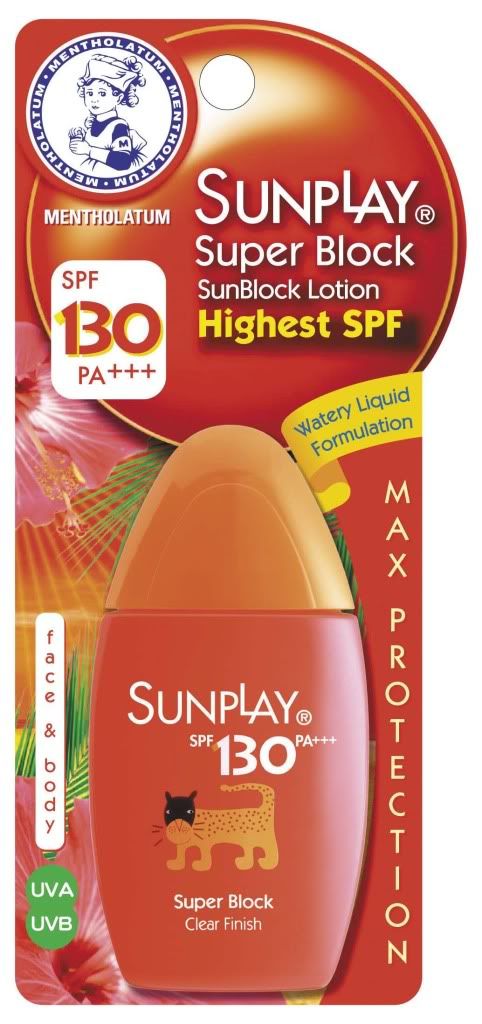 Before I end this post, SunPlay has an ongoing contest- Design your own surfboard! Get a chance to win a special SunPlay gift pack. Head over to their Facebook page for more details.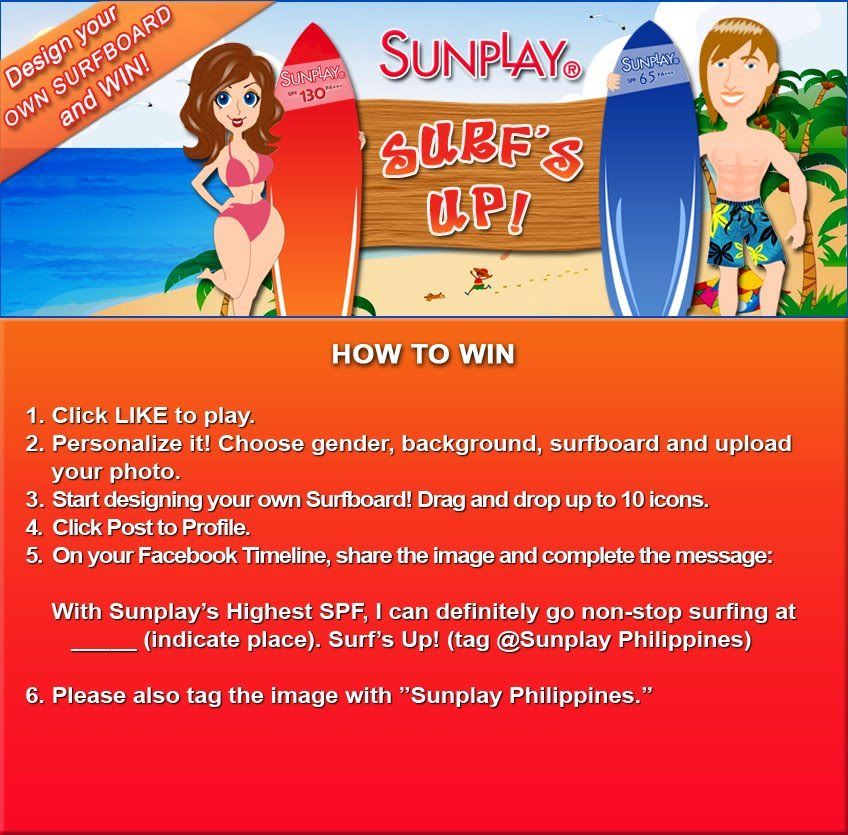 SunPlay is available in Watsons and SM Department Stores.