If you follow me on Instagram and Twitter, I shared a photo of this paper bag. I can't thank my friend enough for tugging this along all through out her Euro trip. Thank you, Kellyn! 😀 She even brought home the paper bag! Haha! Well, it breaks her heart to leave it behind since it was from the first Prada store- Galleria Vittorio Emanuele in Milan. Awww… Now, I can't let go of it as well. LOL! 😀
Anyway, for those who have been reading my blog, Prada Tessuto Gaufre Tote or as I simply call it, Prada Ruched Tote, may sound familiar. Well, yes because you've probably read/ seen it in a bag reveal and in my Blue Long Sleeve Dress outfit. I'm not revealing the exact same bag. Just sort of. Haha! Well, listen to my story first. I have some explaining to do as some of my friends have been reacting violently. LOL! After using that black Tessuto Gaufre Tote a few times, I thought its size fits my mom better. Besides, I realized it's about time I give my mom something really special. True enough, I surprised her! 😀 So there, that made me think of getting another- in a different style and color. 😀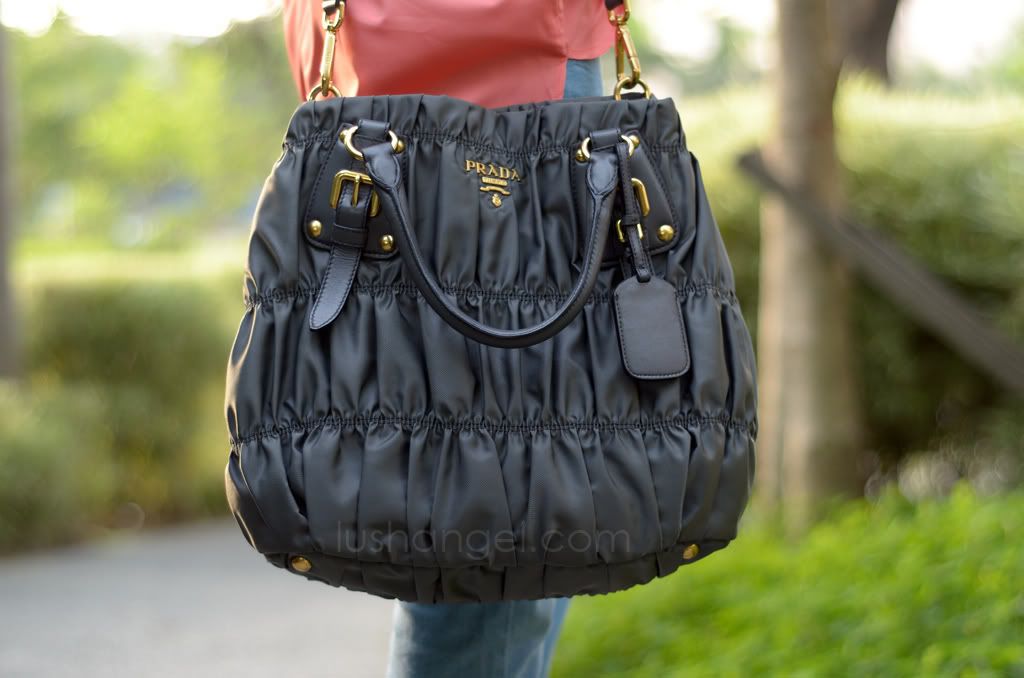 I love classics- reason why black has always been my default color when buying bags. I just try my best to avoid it to have some variations. And since I'm still keeping my black ruched tote with gold chain (as seen HERE) and since I don't have grey yet, I settled for this color- Slate Grey.
If you look closely from the previous one that I had, this has rounder edges. I find it more girly than the rectangular one. Also, in terms of weight, this is a lot lighter.
It has snaps for those times I need to load more stuff in it.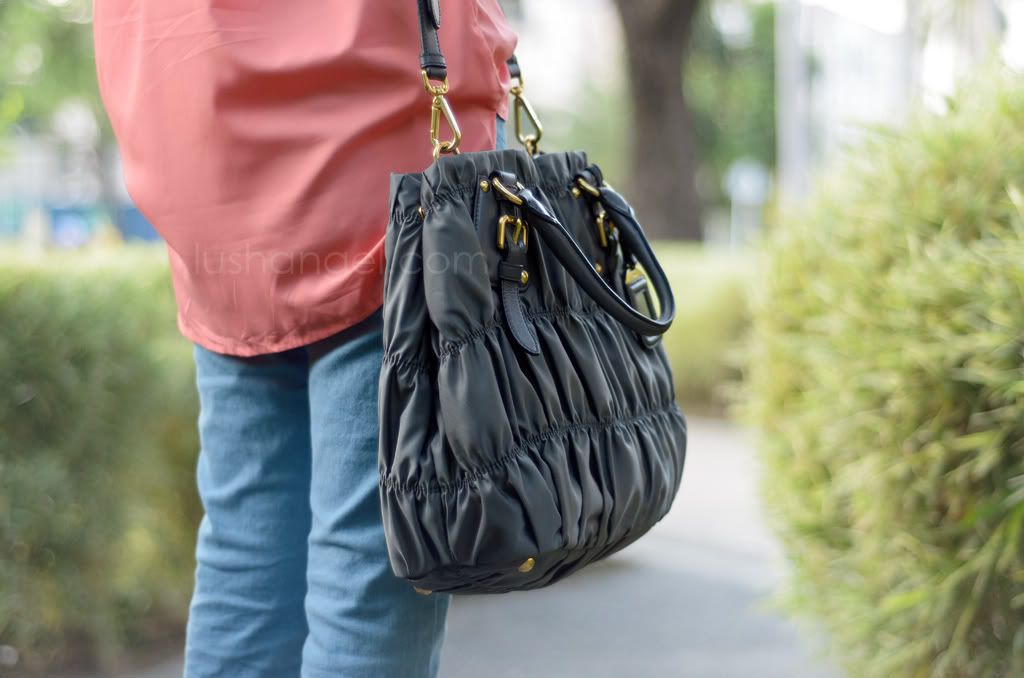 I love the fact that I don't have to worry about leather scratches. The downside of a mostly fabric bag though is the possibility of having stains. Yes, extra care is still needed.
If there's one thing I prefer from the rectangular style, it's the zip closure. This has snap closure instead.
In terms of pockets, both styles have one zipper and two cellphone/ credit card pockets, which I really appreciate. I don't have to go through all my things when I need my phone. 🙂
For those who are O.C., like me, one thing that can bother you with the Tessuto Gaufre Tote is the belt-like detail. The leather tends to curl up when you just let the bag sit and slouch. This can leave a few lines on the leather. It's normal, but some may not like the sight of crumpled-looking leather.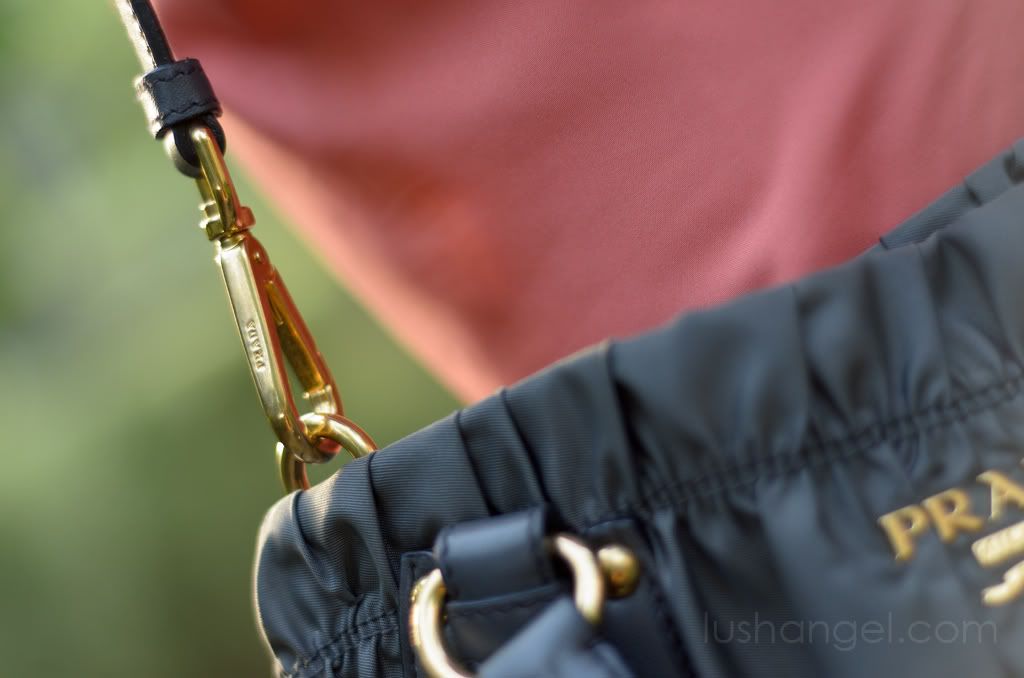 It has removable adjustable shoulder strap.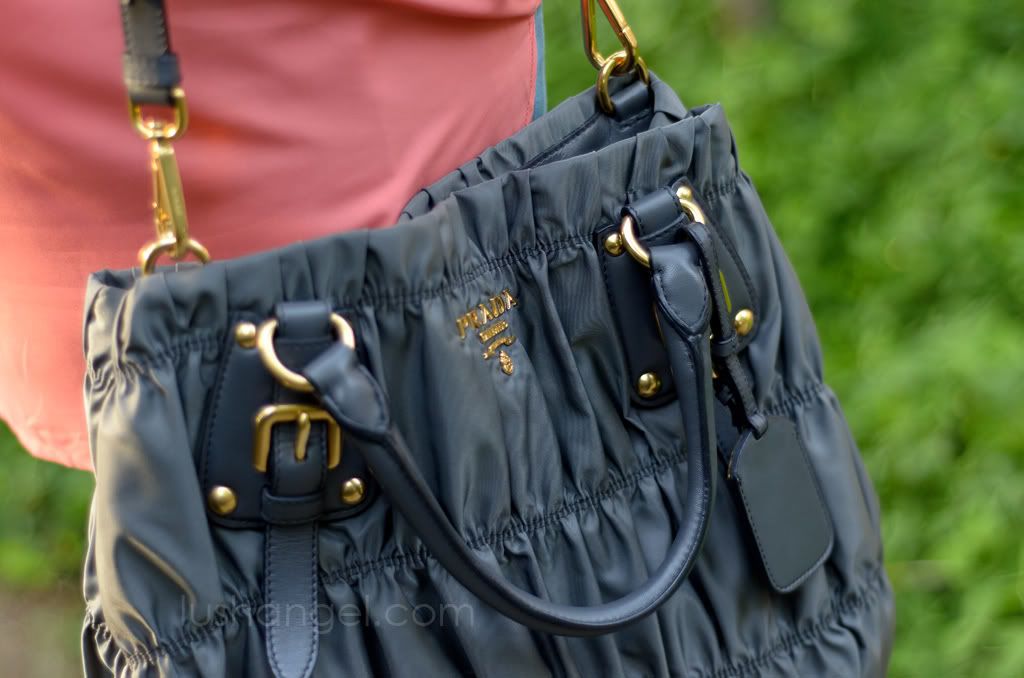 Prada Tessuto Gaufre Tote comes in various styles. If you're also looking into this model, this is BN1792. It's currently priced at EUR 850.