If you read my post about my sweet experience with Shu Uemura and my makeup tutorial using the Chocolat Donna shadows, I'm sure you'll agree with me how yummy and sinful the palettes look. This is the main reason why it took me a while to review it. I couldn't dip my finger to swatch the shadows! I even tried to avoid dipping my brush on the gold design just to preserve it. LOL! Is there more to its looks? Let's see…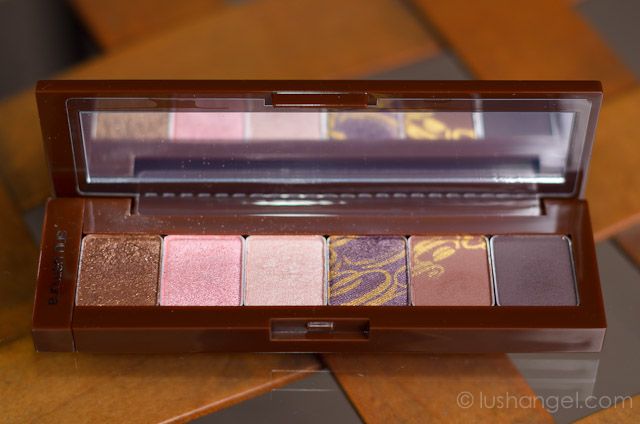 Product Information
Choco-inspired six eyeshadows are assorted in the limited-edition refillable custom case quad, which design is inspired by a box of luxurious chocolates.
Available in 3 palettes: Orange & Pistachio Palette, Raspberry & Mocha Palette, and Mint & Vanilla Palette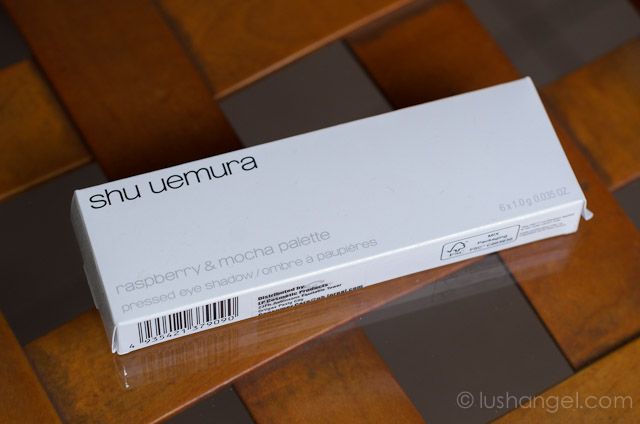 I love it because…
its refillable case is super yummy, like a chocolate bar. You can also reuse the case for Shu Uemura's blush or full-sized shadows.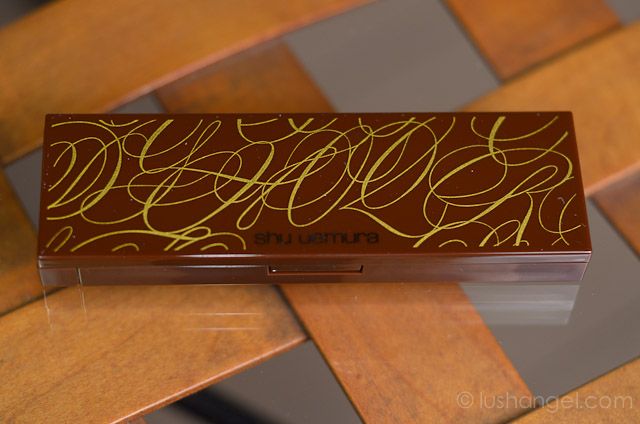 two of the shadows have that very pretty gold graphic design. It made the palette look even more elegant.
all the shades are very pigmented. A little goes a long way.
it's a mix of matte and glittery shadows.
the last five colors are finely milled, while the bronze (first pan) is packed with huge glitters.
the last five shadows are easily blendable.
the glittered bronze shadow makes my eyes instant glam when patted on the lids.
I can do day and night looks with this palette.
I get six shadows in one palette with excellent color selection.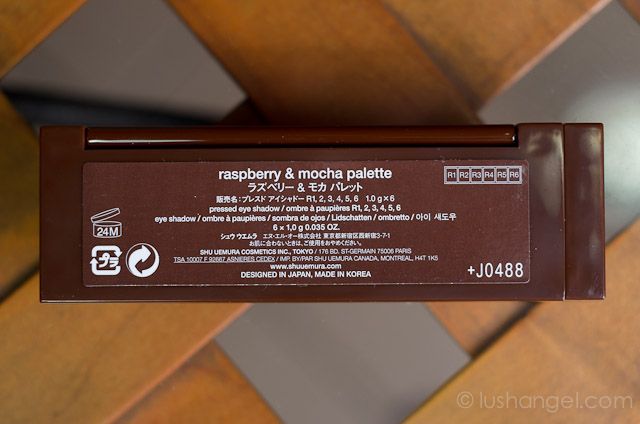 the shadows are long lasting, especially with a good eye primer.
the matte dark brown shadow (last pan) can double as an eyeliner.
I wish…
it's available all year round. Chocolat Donna Eye Shadow is a limited edition palette.
there are no fall outs, although this is expected with glittery eye shadows. Most fall outs actually come from the bronze shadow (first pan). See tips below on how to lessen and remove fall outs.
it's cheaper. At first glance, it can look pricey at PHP 4,000, but you actually get 6 colors in one palette. Shu Uemura's Color Atelier eye shadow palette costs PHP 3,875 with only 4 full-sized shadows. Take note though that each pan in the Chocolat Donna palette has 1 gram, while a full-sized pan has 1.4 grams.
Application Tips
Pat on some loose powder under the eyes to catch any fall outs. Brush them off with a fan brush once you're done with eye shadow application.
You can also hold a facial tissue under the eye to catch the fall outs.
Use an eye shadow primer to avoid creasing.
For the glittered bronze eye shadow (first pan), simply pat the brush on the lids. A sweeping/ brushing motion could cause some glitters to fall out.
It's always better to start with a little amount of color and gradually add more until you achieve your desired shade. Remember, these shadows are pigmented so a little goes a long way.
Pat the glittered bronze shadow on top of another powder eye shadow or cream shadow for an instant glam look.
Overall
I love the versatility of this Shu Uemura Chocolat Donna in Raspberry & Mocha. I can do simple to glam looks with one slim palette. Although the glittery shadows can have fall outs, especially the bronze, I don't mind at all. I can easily deal with them through the tips I shared above. I really love how pigmented all the colors are. I find this palette worth the investment considering its packaging and the quality of the shadows.
I recommend Shu Uemura Chocolat Donna shadows to those who are into limited edition palettes with really pigmented colors. Those who love neutrals can go for this Raspberry & Mocha palette. Those who want a bit of color could go for Orange & Pistachio or Mint & Vanilla. The color combinations are so pretty! You can't go wrong with any of them. They're all chocolatey sweet and sinful! 😀
Swatches
Shu Uemura Chocolat Donna Raspberry & Mocha Palette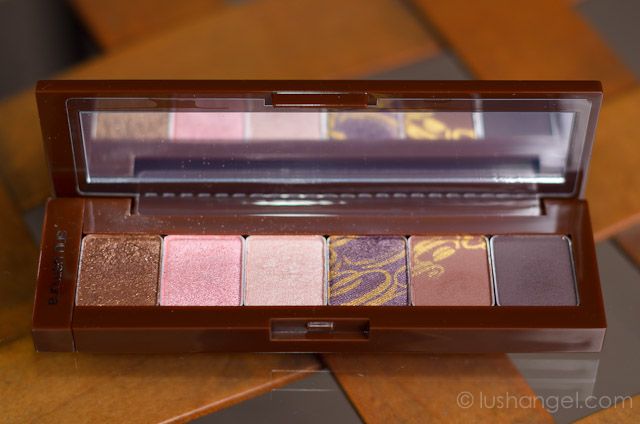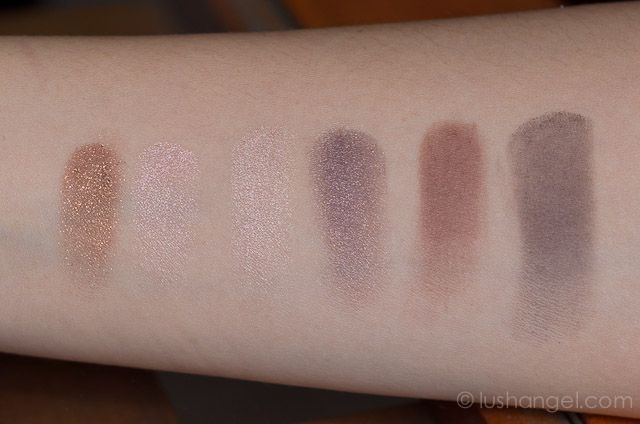 Here's one look I created with Shu Uemura Chocolat Donna Raspberry & Mocha Palette: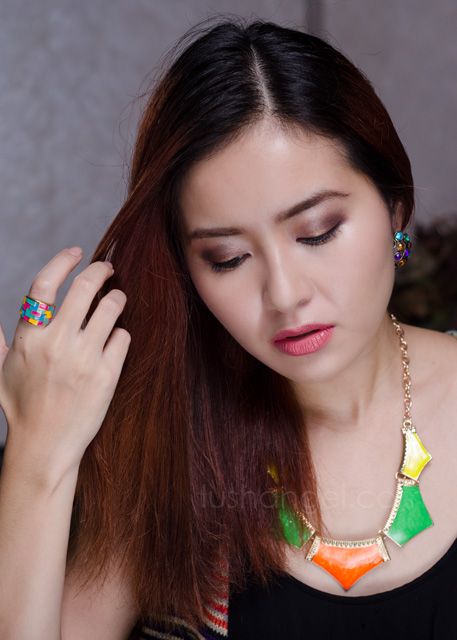 How I did this look? Here's a makeup tutorial: https://lushangel.com/2012/09/19/fotd-raspberry-and-mocha/
For instant beauty, fashion, travel, foodie, or random updates from me, LIKE lushangelblog on FACEBOOK, FOLLOW  lush_angel on TWITTER and lush_angel on INSTAGRAM.