Who wouldn't want brighter, fresher, younger, and more beautiful eyes? Having dull and dry skin around the eyes can make you look stress and old. Of course we don't want that, which is why eye creams are our best friends. Sometimes though our eye creams may not be enough as we are exposed to environmental damage almost everyday. Our skin around the eyes is 40% thinner than anywhere else on our face, so pollution molecules can penetrate 5x faster than facial skin. This can lead to premature visible signs of aging such as fine lines, puffiness, dark circles, dryness and uneven skintone. As Estee Lauder continue to be a cosmetic leader in "skincare repair" and following the success of Estee Lauder Advanced Night Repair Synchronized Recovery Complex, they now unveil the newest Estee Lauder Advanced Night Reapir Eye Serum Infusion to address these concerns.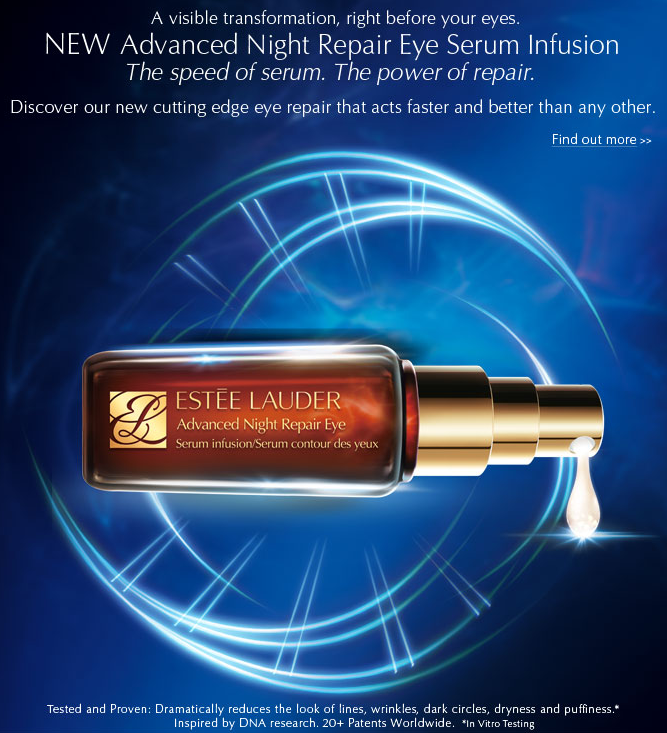 Estee Lauder Advanced Night Reapir Eye Serum Infusion is a super-potent, fast-penetrating repair serum with all the repair benefits of Advanced Night Repair, made specifically for the delicate eye area in a new lightweight, refreshing texture. This potent eye serum infusion is formulated with advanced repair technology shown to help inhibit up to 100% of ozone damage after exposure to high level of ozone. The result is a dramatic reduction of every key visible sign of aging, including fine lines, wrinkles, puffiness, dark circles, dryness and uneven skintone. Boasting over twenty patents worldwide, this serum is intensely hydrating and helps to keep the entire eye area looking radiant, rested and silky smooth.
This powerful eye serum banks on three powerful, high-performance technologies:
Anti-pollution technology: Comprehensive repair technology including encapsulated Alkyl Guanine Transferase (AGT) helps to continuously repair the appearance of damage to the eye area caused by every major environmental assault including ozone, pollution and UV rays.
Exclusive Chronolux™ Technology helps support the natural synchronization of skin's repair around the eye area at exactly the right time. Consequently, signs of aging that can first appear around the eyes are reduced over time.
Prevention and hydration: A high concentration of soothing anti-irritants plus a proprietary blend of antioxidants and high levels of proven Hyaluronic Acid work together to create the optimal environment for the natural protection and repair of the delicate eye area, thus helping reduce the look of dark circles, puffiness and crepiness around the eye.
Initial Review
I've already tried Estee Lauder NEW Advanced Night Repair Eye Serum Infusion last night and it's amazing how lightweight it is for a serum. The serum's texture gave instant smoothness around the eye area. I also noticed the immediate hydration around the eyes. I don't need much of the product too as I only used up one pump of the serum. Of course I'll be doing a full review on this, so stay tuned for that.
Estee Lauder Advanced Night Repair Eye Serum Infusion is already available in Estee Lauder counters at PHP 3,300 (US$ 62).
Here's a video of Estee Lauder Advanced Night Repair Eye Serum Infusion
For instant beauty, fashion, travel, foodie, or random updates from me, LIKE lushangelblog on FACEBOOK, FOLLOW  lush_angel on TWITTER and lush_angel on INSTAGRAM.