And since we're already talking about nails in my previous post, let me share with you a summer photo contest by St. Nails Nail Spa. Get a chance to enjoy ultimate pampering session for free! 😀 Prizes at stake are Hand & Foot Paraffin with Mani & Pedi, Hand and Foot Spa, and Classic Mani & Pedi.
Simply avail of any St. Nails services from April 8 to May 15 to qualify for the Summer Photo Contest. Take a picture of you and your nails in your own Summer Get-Away in any place you plan to spend summer. The photo should show how you can enjoy the season with your summer ready nails. The get-away can be a local or international trip or just at the comfort of your own home. You may also include your friends or family in the photo. Like the official St. Nails Facebook Fan page at http://www.facebook.com/st.nails.spa. Upload your photo on the Fan Page and write a creative caption using the phrase "HALO-ed at St. Nails" There is no limit with the number of words in the caption.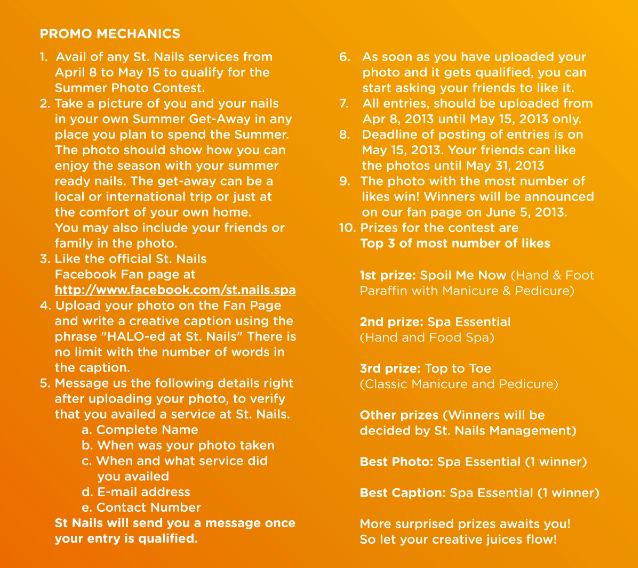 It's easy right?! Prettify your nails now at St. Nails and take photos right away! 😀 Good luck! 😀 For more information, just visit St. Nails Nail Spa Facebook fan page!
For instant beauty, fashion, travel, foodie, or random updates from me, LIKE lushangelblog on FACEBOOK, FOLLOW  lush_angel on TWITTER and lush_angel on INSTAGRAM.