Last Friday, October 31, my parents and I had our Halloween dinner at Serendra. Yah, our Halloween dinner… Hehehe! It has already been a tradition in our family to celebrate Halloween together. We were supposed to eat at Mamou. A lot of people have been telling my mom how delicious their food is. But for some reason every time we plan to eat there, we never push through it. And last Friday was not an exception! When we got to Serendra, Mamou was closed. My mom's second choice was Thai Silk, which I totally did not like the last time we ate there. We then tried our fave, Chelsea, but we had to wait for 30 minutes to be seated!!! So we then ended eating at Abe. At last, our resto hopping ended here!
If you remember my previous post regarding Fely J's Kitchen, Abe is his loving wife. So you can somehow predict that their menu is somewhat similar.  And since we were not big eaters, we only ordered 2 main dishes and 1 appetizer. From previous experience here in Abe, their servings are quite big. We ordered Green Mango and Bagoong Salad, Binukadkad na Plapla, and Kare-Kare a La Bistro Burgos. By the way, sorry about the pictures since I only used my camera phone. 🙂
Green Mango and Bagoong Salad is simply the plain green mango peeled and sliced, topped with homemade salted shrimp paste (bagoong). Well, good thing it is only Php 95.00 because I don't understand why it is called salad in the first place. I really thought it is the usual Ensaladang Mangga, which includes chopped green mangoes, onions, tomatoes, and shrimp paste. When our order arrived on our table, it was just the plain, good, old, green mango and bagoong! So bottom line, I was disappointed with it!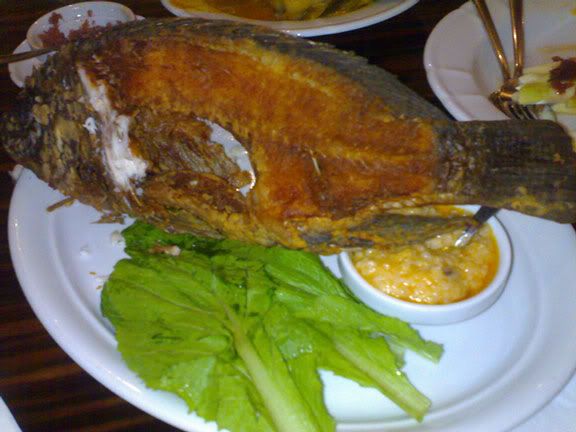 Next is the Binukadkad na Plapla, which is actually an original of Bistro Remedios. It is a biggie tilapia (fish), fried until it becomes really crispy. This is one of their specialties. We have tried this before and my mom who does not like fish loves it! So yeah, it is that yummy! 🙂 It is priced at only Php 325.
Lastly, the Kare-Kare, which is a Filipino favorite. It is made of ox tail with peanut sauce. And the taste??? I'd give 5 out of 5! I loved it! But the quantity??? Hahaha! It is quite small compared to their other dishes. I'd say it is a dish good for only two people, priced at Php 475.00.
Actually, one can rarely go wrong when dining in Filipino restaurants.  Our foods have a distinct taste but more often than not, they are usually very appetizing, which is why foreigners in the country never fail to taste our old time favorites. 🙂