Remember this post about Royce' chocolates? Oh, what a shame! Since their opening last December 6, 2008 at Rockwell Power Plant Mall, it was only last Friday that I was able to visit Royce'. And when I got there, look what I saw…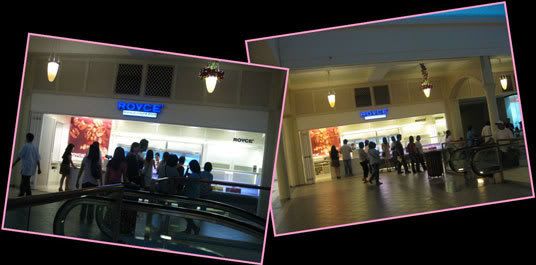 Tons of people! Passers-by tend to stop and buy. And of course, the chocolate lover as I am did the same thing- stop, look, taste and buy!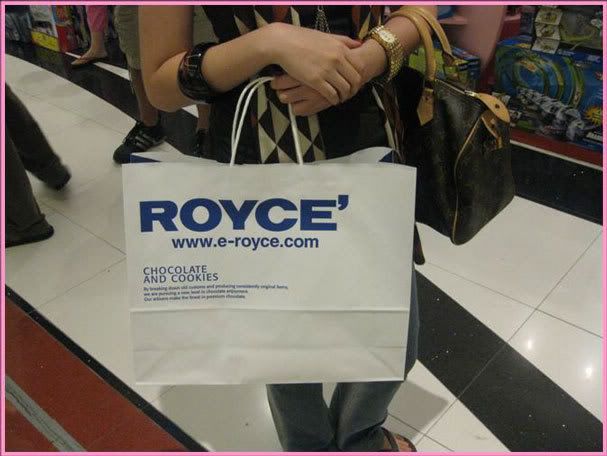 Oooh, sucha big paper bag for a box of chocolate!
In fact, I didn't wait to get home to taste it! After having dinner at Rockwell, I opened the paper bag, the aluminum bag that keeps the chocolate from melting, the paper packaging, the box, and finally the plastic! Whew! It seemed like they did't want me to eat the chocolates. Every time I opened a layer of packaging, my eagerness to have it just kept on increasing. LOL! Okay, I know I'm so easy to please. I sooo love sweets!
After 10 minutes, look at what happened to the 20 squares…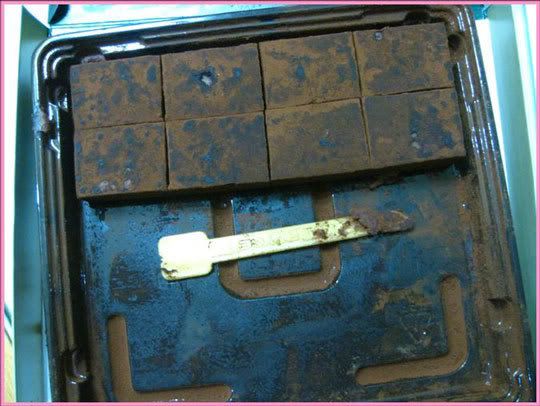 It became 8! Wait, before you judge me… I didn't eat all 12 squares okay! 5 of us were eating! For those who haven't tasted Royce' Nama chocolates, you might think I ate too little for a chocolate lover like me. Well, Royce' Nama chocolates are extraordinary chocolates. It's covered with cocoa powder. Once you popped it inside your mouth, the chocolate melts and the creamy cocoa butter in it bursts. Yummy! And besides, you really have to savor every square of Royce' Nama chocolates since one box costs Php 580! A lot more expensive than buying them in Japan.
By the way, their bestseller is the Royce' Nama Champagne Chocolate. It is very, very delicious! The store in Rockwell actually offers taste test for every kind of Nama chocolates they sell, although those are really, really tiny bits that you don't get to fully taste the champagne. The Pierre Mignon champagne they use can only be tasted once you chewed one whole square. Oh, and I have yet to try their milk and dark chocolates! 🙂 I can't wait for my next visit. 🙂