One of the things I bought during the last sale in Rockwell is a book. Yah, a book! I don't read much or more of- I don't have time to read anymore that's why I was influenced by Flair Candy to just listen to the audio book of Twilight. Hahaha! Just a side comment- I'm sooo hook on listening to its audio book and I've reached the point of listening to it when I'm driving alone! I'm getting more in love with Edward as I imagine him saying his lines. Waaaah!!! Psycho! I have influenced a number of my friends to listen to the audio book as well. LOL! Because of the convenience of this audio book, I must admit that it's a lazy man's thing. Hahaha! Anyways, going back to my new book… Since I don't have time to read, it is surprising for me to buy one! But the moment I got hold of it, I knew I had to take it to the counter! It was the third to the last copy left at Fully Booked and it was on sale! So what book is it?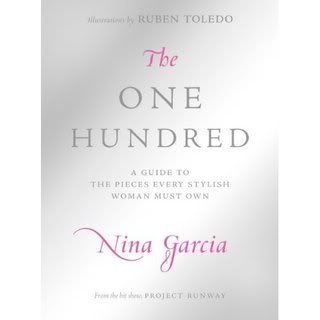 LOL! I know, it's nothing biggie to the bookworms. Hahaha! But for a fashion lover like me, it is something! A must-have, I must say! Too bad I wasn't able to get hold of Nina Garcia's first book, which is The Little Black Book of Style, since it runs out of stock so quickly! Although I guess that book is somehow similar to The One Hundred, but of course I have yet to read that too! So what's this book all about?
First of all, The One Hundred is written by Nina Garcia, a former fashion editor of Elle and a Project Runway celebrity. This book is about the one hundred things that can be considered staples from A to Z. Things that do not go out of style. In short, the one hundred must-haves! The One Hundred is also a good read for those who are looking for the right fashion pieces to invest in. And Nina made everything easy for the fashionistas like us! She shares with everyone the brands she fancies for, ways to wear different kinds of clothing, and where to buy those staples she recommends. But okay, just a heads-up, some of the things in Nina's list may be debatable. As the author said, each one of us may have our own list of one hundred must-have items. In fact, she hopes that this book would serve only as a guide to develop our own style. We should have our own one hundred list as well. Remember, each of us has our own style and we should express ourselves uniquely! 🙂 Why don't you grab this book as well to see how lovely her thoughts are? Don't worry, it is sooo easy to read! And the illustrations by Ruben Toledo are sooo cute! 🙂
P.S. Can I just mention what she considers must-haves for the Investment Bag category: The Chanel 2.55, Louis Vuitton Speedy, The Jackie O, and Hermes Birkin.
So Fashion Juice, I think we have to start saving up for the last one huh?! Can we start ordering for us already? Besides, it will take years to get our orders, right? Oh by the way, after sending me pictures yesterday, Hermes Birkin is now a must-have in my list! Hahaha! Or let me rephrase that- a must-have in my dream list only! Bwahahaha! 🙂 The last one is more like it! LOL! 🙂