I just realized I haven't really posted anything yet about color blocking. It has been a fashion trend for sooo long now, I know! What a shame! 🙁 Actually, I had tons of photos on color blocking that didn't make it here in my blog. Yes, I do take time to sort my pictures (okay, more of my photographer… haha!). If the lighting or the quality of photos is too bad, he scraps them out right away. And yes, it doesn't matter how much I love the outfit and how much time we've spent to shoot it. Haha! Yeah, he is kinda strict! LOL! 😀
Anyway, here's an outfit that features the famous color blocking trend. 😀 I wore this at a dinner with the lovely beauty bloggers.
I went for a green-pink combo. I believe, it's not a usual combination. I would usually pair pink with black or white, but I wanted something different that day, for some reason. I thought of pairing my hot pink skirt with another bright color- not as vibrant as my skirt though. I tried on this green ruffled top and surprisingly, I find it cute. 🙂 What do you think? 😉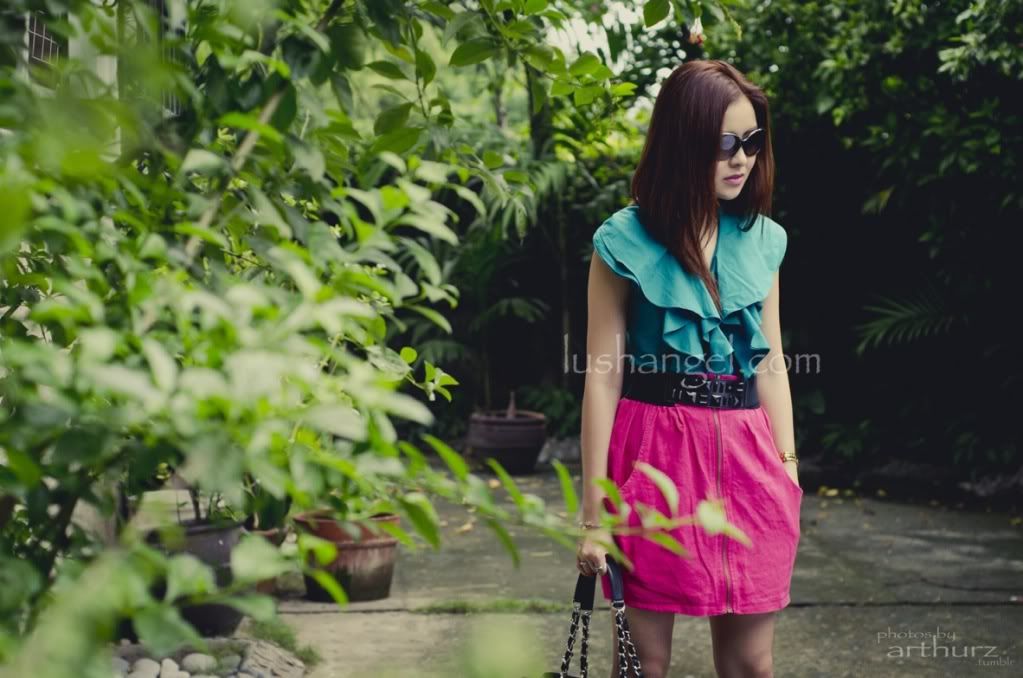 I clinched a belt to give me some waist and to break the colors of my outfit.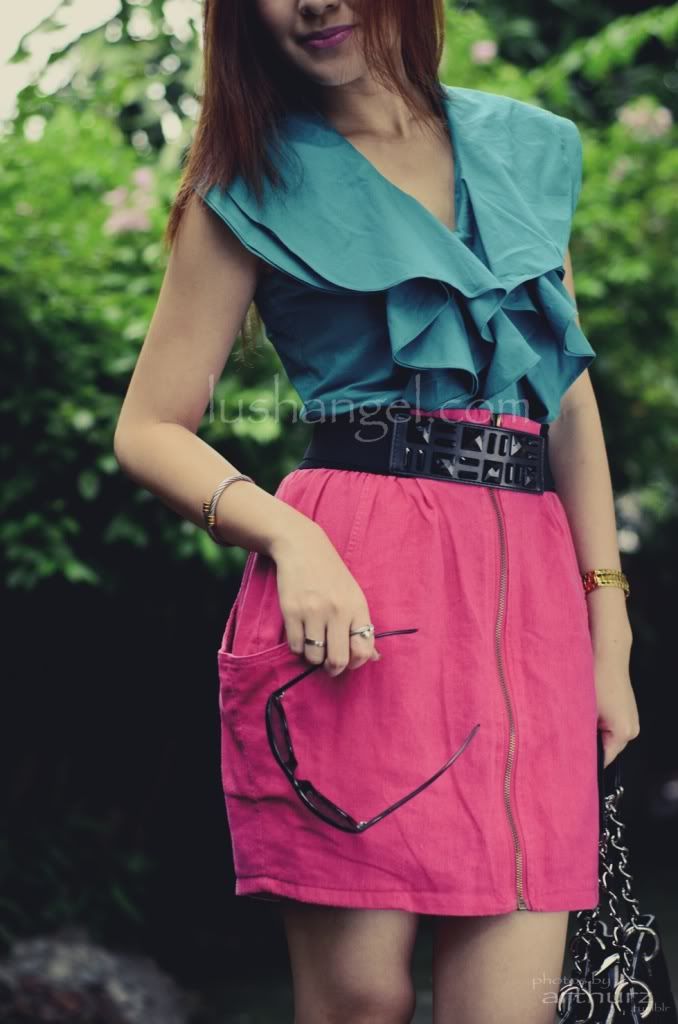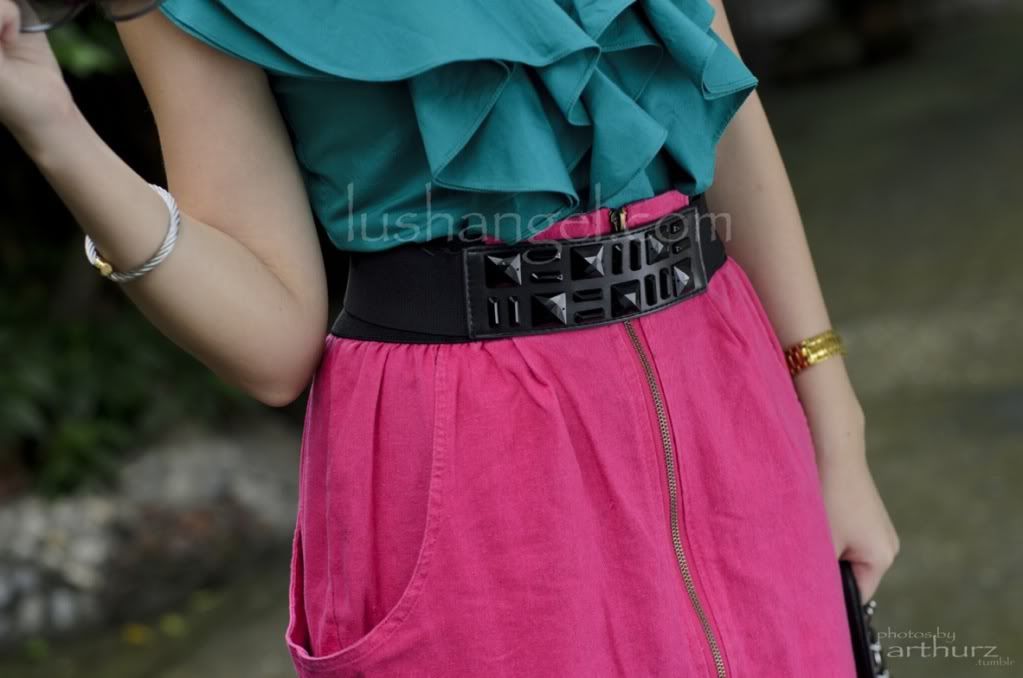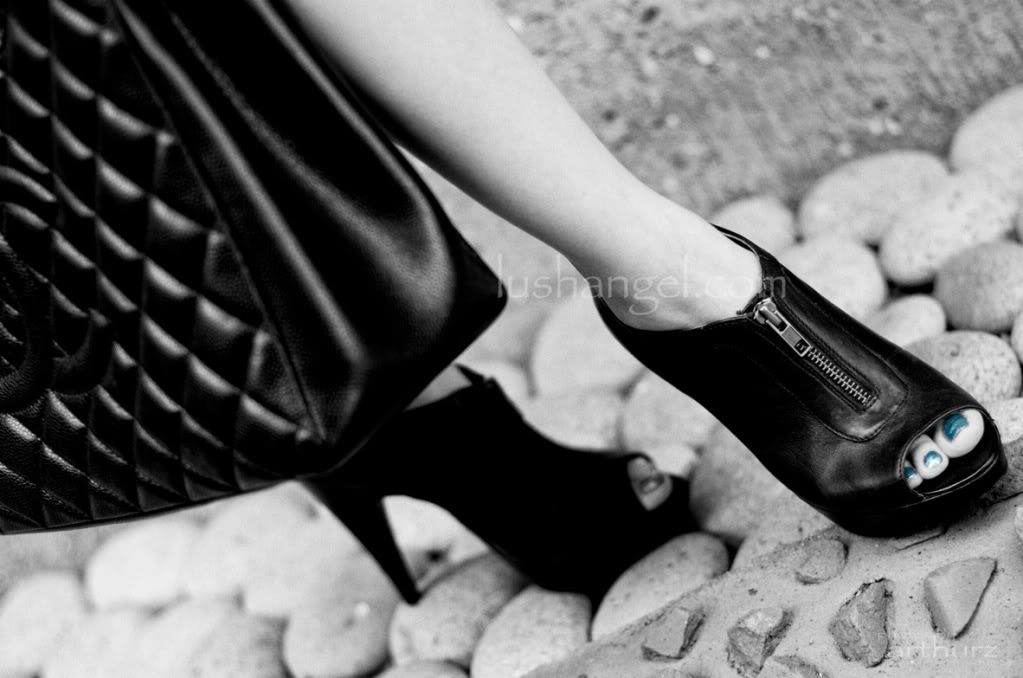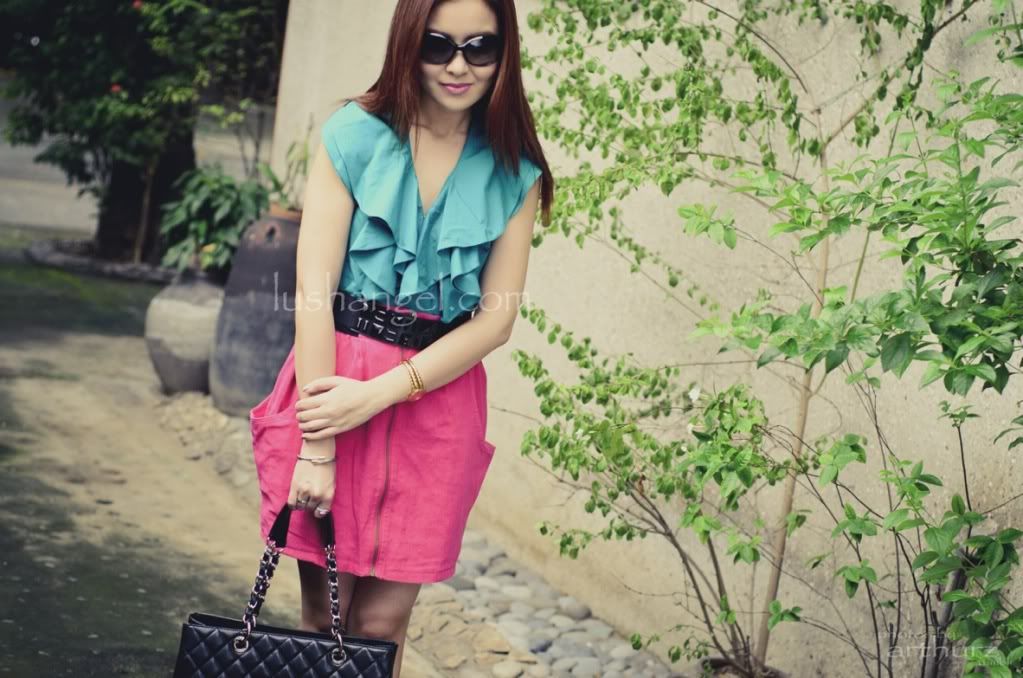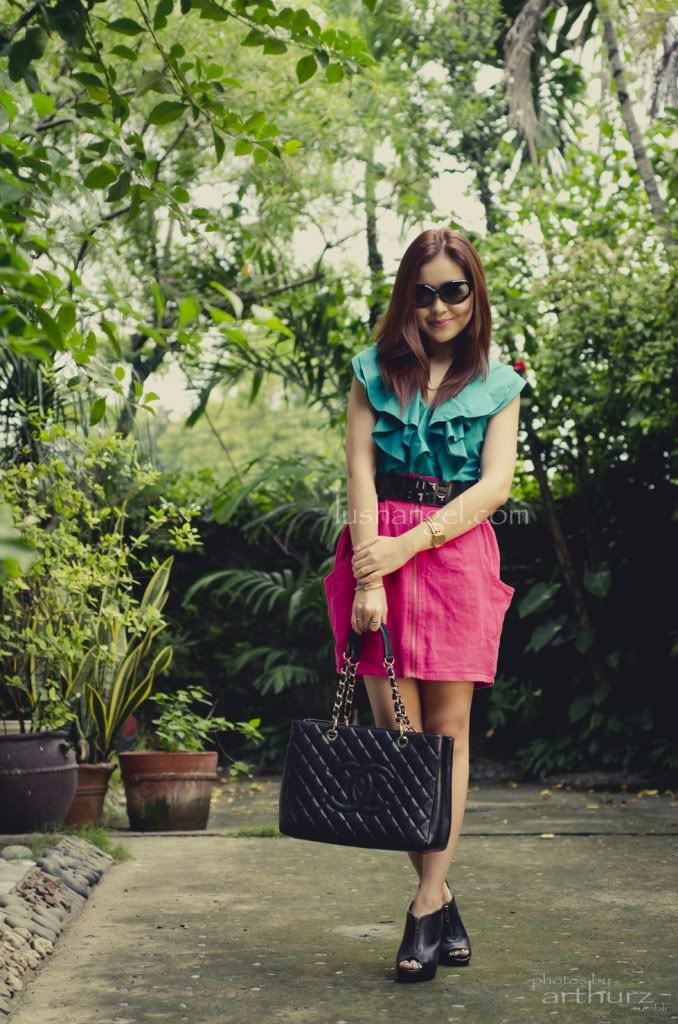 Blouse: Tyler
Skirt: K.A.T. Collection
Belt: R.A.F. Plains and Prints
Shoes: New Look
Bag: Chanel GST
Shades: Prada
Watch: Gucci
Bracelet: Charriol
For my face that day, I opted for a clean look.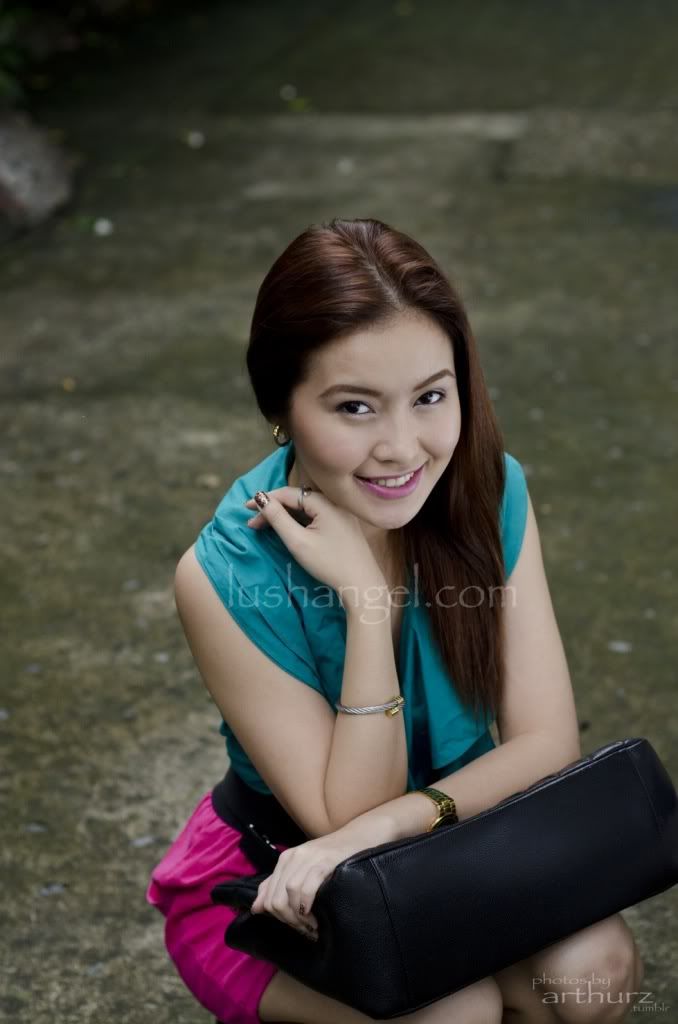 I went for neutral shadows since everything seemed to be bright already. I was also in a hurry that day, so I thought of giving my liquid foundation some rest. I just used a powder foundation with medium coverage.
For my cheeks, I used 2 shades of blush- one to blend with my contour and the other on the apples of my cheeks.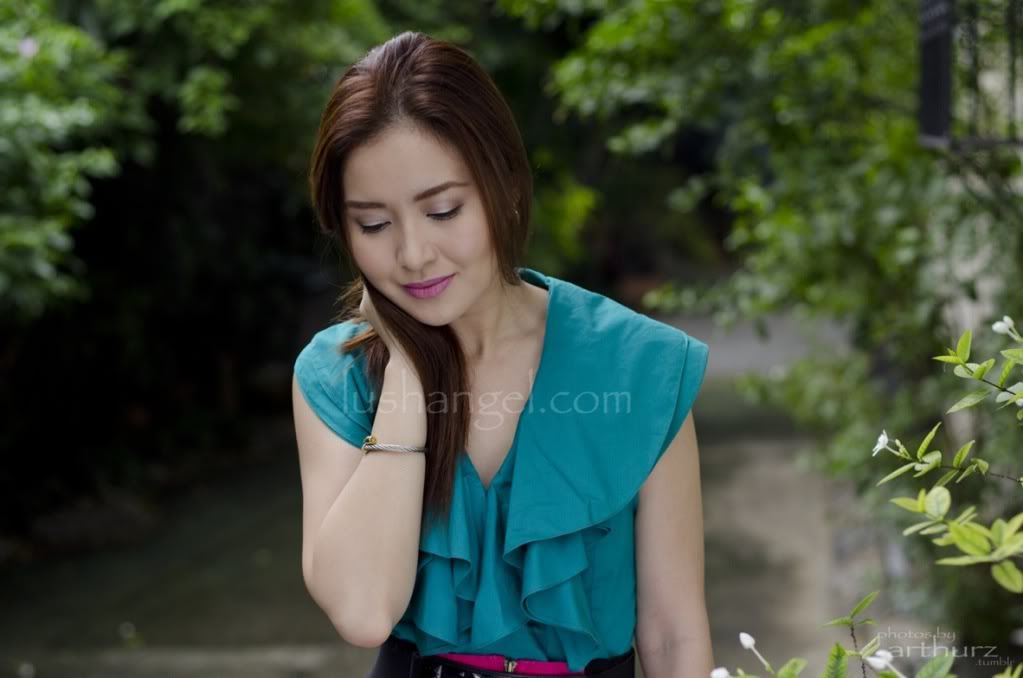 Face: Shu Uemura Powder Foundation, Make Up For Ever Concealer, Lancome Flash Retouche (under eye)
Cheeks: Make Up For Ever Sculpting Kit, L'Oreal 02 Rosy Cheeks, Shu Uemura Glow On Blush
Brows: The Body Shop Brow & Liner Kit and MAC Brow Set Girl Boy
Eyes: NYX Aloha (lids), NYX Iced Mocha (crease), MAC Espresso (outer V), MAC Crystal Avalanche (brow bone), Revlon ColorStay eyeliner, Kanebo Gel eyeliner, Revlon CustomEyes Mascara
Lips: MAC Pink Nouveau