If you've seen this wedge before, it's probably because…
One. You've seen me worn it in my outfit post. More details about my outfit below in my Tanjong Pagar post.
Two. It looks like the popular wedge from D&G.
Three. It looks like Jeffrey Campbell's Mariel wedge.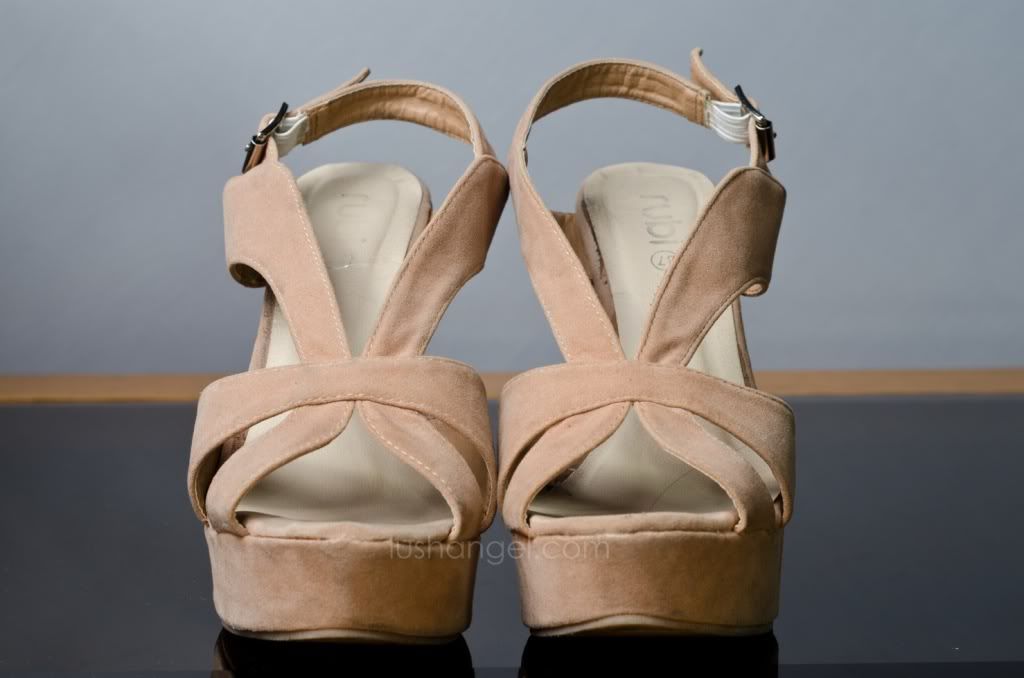 Well, this pair really looks like D&G and Jeffrey Cambell. I've been drooling on them for quite some time now. Then, on the first day of my Singapore F1 trip, I chanced upon a Rubi store and saw this pair. I controlled myself thinking I won't need it since I already have so much shoes that I haven't worn. But really, can ladies have so much shoes??? 😀 Still, I left the store empty-handed. Hooray for me! 😀 (Yeah, right!)
The next morning, I received a text message asking me to do some sudden "business" thing. Oh gawd, I was on vacation! I didn't bring any heels and I don't have the clothes I was asked to wear. Eeek! I don't have enough time to look for a certain kind of outfit and shoes. If I'd have to buy, I wanted something I really like- something I'd still be wearing even after that "business" thing. Panic mode. Good thing I remembered this pair of wedges I saw the day before. It's good enough to make me look tall, so I rushed to Rubi. I snagged the last pair of my size and off I went to hunt for my outfit. See, I told you in my outfit post here that I "needed" to get it. LOL! This pair was heaven sent to me! 😀 Plus, it gave me luck! I was given 2 projects that day. 😀 Well of course, I wouldn't say it's because of the shoes. I strongly believe that everything is a blessing from God. It just so happened I was wearing this new pair, so I find it lucky. LOL! I have that tendency to associate luck with what I wear. It's just my thing. Hehe! 😀
Anyway, what made me love it even more is that it's ultimately comfortable! The wedges may look a bit high, but I can wear them all day! I shopped around and went for a night out with it- literally the whole day! It's just like wearing my wedge flip flops from Colin Stuart, but with more height. And the color? It's just so perfect for my small collection. I have too much black shoes already. Thankfully, they have it in tan.
The best part has yet to be revealed. The price. It's not D&G nor Jeffrey Campbell. It's from Rubi, the accessory brand of Cotton On. So how much was I able to snag this pair?
SGD 45 or around USD 35! 😀
Oooh… I just love great bargains! 😀