I'm sure most of the ladies out there are familiar with the Belle de Jour Power Planner. I, myself, have been a fan. Looking at my previous entries, I even blogged about them circa 2008! I can clearly remember how every kikay girl in the office would wish for their monito/monita to give them a BDJ Planner. Obviously, I'm one of those girls! Then, come mid-December, most ladies would already have the planner on their tables! Ahhh, now I miss having a planner… I think I'll have to get one for the upcoming busy-busy 2013. Anyway, Viviamo Inc., the makers of Belle de Jour Power Planner, came out with BDJ Box. It's a beauty product discovery subscription service for women.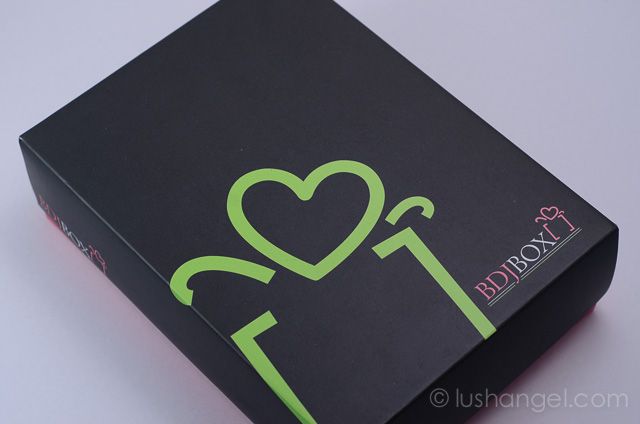 My first BDJ Box arrived at my doorstep recently. The November box is specially made for the travelers. BDJ handpicked the best products we can bring as we travel- from skincare, to proper hygiene, to fragrance. I have quite a few trips lined up already so this came in right on time! 😀 Thank you BDJ Box! 😀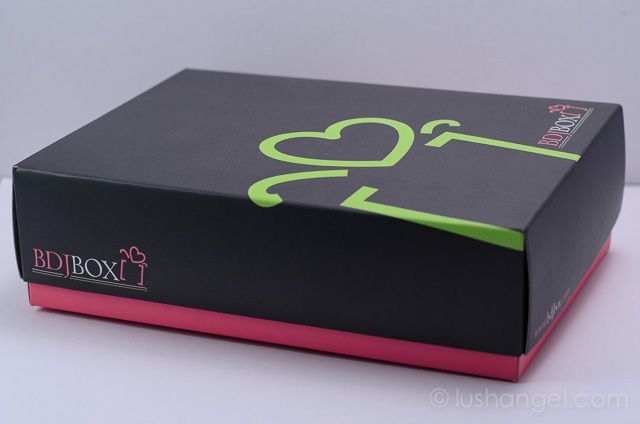 I love how they packaged the samples. It looked very festive!
Here's an overview of the products inside the box…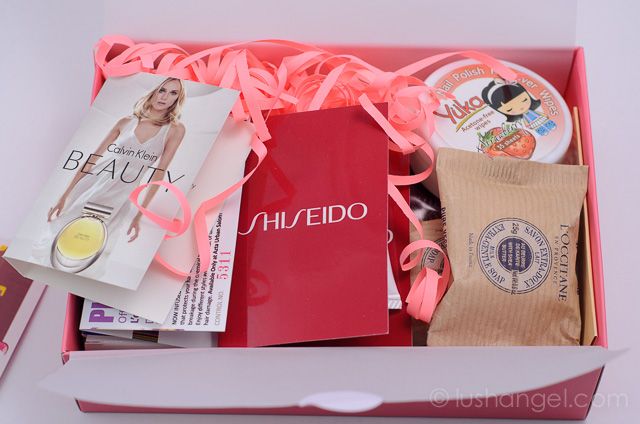 Full size Physiogel Hypoallergenic Intensive Cream
(50ml is PHP 517)
With innovative Derma Membrane Structure (DMS) technology, cermaides and lipids mimic your own sin's lipid layers. Locks in moisture for 3 days, even with washing!
I haven't tried Physiogel's Intensive Cream, but from its description, I should definitely bring this in my upcoming trip this week! I just checked the weather and it's pretty cold. I need this to combat dry skin!!!
2 samples Shiseido Extra Gentle Cleansing Foam
(150ml is PHP 1,850)
Formulated with Yuzu Seed Extract, which balances skin moisture. A little goes a long way. Experience a luxurious lather.
1 sample Shiseido Benefiance Wrinkle Resist 24 Day Cream
(50ml is PHP 3,100)
Japanese women are known for taking extra care of their skin. Shield skin against UVA and UVB radiation and defy aging. Contains breakthrough mukurossi extract which inhibits wrinkle-triggering.
Shiseido is also known for their skincare. It's one of the brands I trust. Although a sample tube can only last you a week, you can already see the difference it can do on your skin.
Full size Garnier Overnight Whitening Peeling Cream
(20ml is PHP 99)
With the pollution in the Philippines, there's a need to protect skin against dullness and darkening. Naturally peel off skin overnight and even out your dark spots.
2 samples Garnier Light Complete Whitening Cream
(50ml is PHP 229)
May be used as a makeup base or substitute for face powder as it gives a matte finish. Anti-dullness, anti-dark spots, and anti-breakouts!
I've heard a lot of good reviews about Garnier. I've only tried their eye roll on. It's time to check out their other products!
Sample Calvin Klein Beauty Perfume
(100ml is PHP 5,498)
Spritz on this sophisticated scent to evoke sheer confidence and beauty.
I really appreciate sample fragrance since it's easy to carry it around, especially when travelling.
Sample L'Oreal men Expert Hydra Energetic Multi-Action 8 Cleanser

Vitamin C, Caffeine and Magnesium boosts hydration and beats fatigue.
This is one of the facial cleansers my man uses so this tube automatically goes to him!
2 pcs Nippon Cleansing Sponge
(10-piece pack is PHP 325)
Just add water! Use the moist sponge to gently wipe your make-up off. Use daily with your facial wash to slough off dead skin!
Nippon Cleansing Sponge can actually be used for the face, body, or even to clean your brushes!
Sample Dentiste Plus Whtie Vitamin C and Xylitol
(Full size is PHP 395)
Unlike other regular toothpastes, this has 14 kinds of premium natural extracts. Xylitol, CDX (Cyclodextrin Complex) and other premium ingredients. The world's 1st nighttime toothpaste is clinically proven to inhibit bacteria growth.
I haven't tried this toothpaste yet, but the natural extracts make me curious!
2 samples L'Occitane Extra Gentle Milk Soap
(250g is PHP 595)
It's soft, delicate, clean scent is unlike any other soap. Lathers really well and lasts a long time. Shea butter soothes your skin and smells amazing.
L'Occitane Extra Gentle Milk Soap is one of my fave body soaps! It can be a bit pricey compared to other bath soaps available in grocery stores, but it really leaves my skin soft and smooth. I also love its refreshing scent.
Full size with 35 sheets Yuka Non-Acetone Wipes
(Full size is PHP 68)

Conveniently remove polish with these acetone-free wipes. Non-drying and no cotton needed! No mess, no spills!
I haven't heard about the brand, but it's something worth trying. With its packaging, it would be easy to remove chipping and unsightly nail polish when on the go.
The box also includes gift cards:
L'Oreal Professionel iNOA Hair Color and x-tenso vouchers
Strip Upper Lip Waxing voucher
Shiseido free product sample, quick facial and 15% discount vouchers
L'Occitane 10% off voucher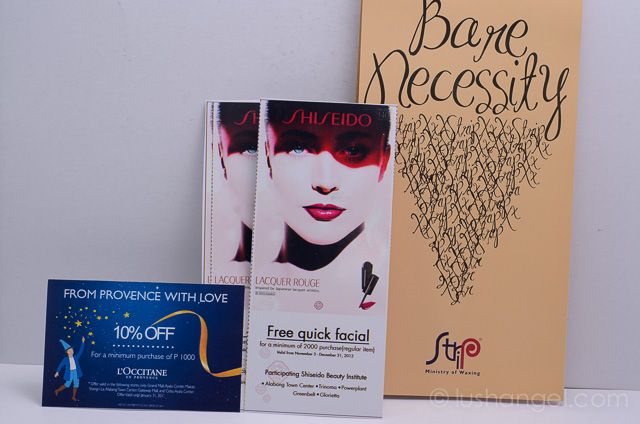 Last but not the least, BDJ Box included 5 stickers to remind you and your friends that "You make this place beautiful". 😀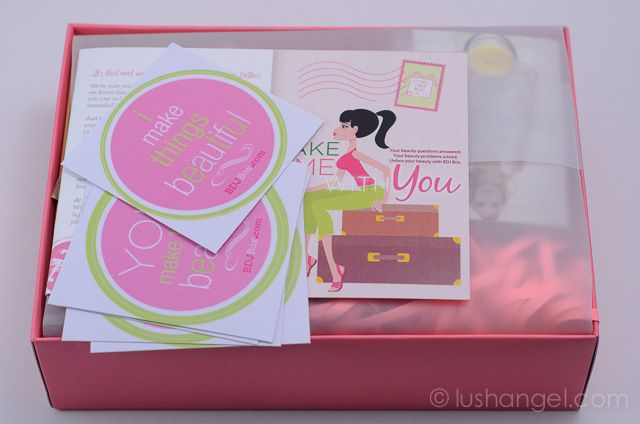 I'm happy how packed BDJ Box is, mixing deluxe and affordable brands, for just PHP 480 a month. Although some samples can be very tiny, it's well compensated by the full-sized products.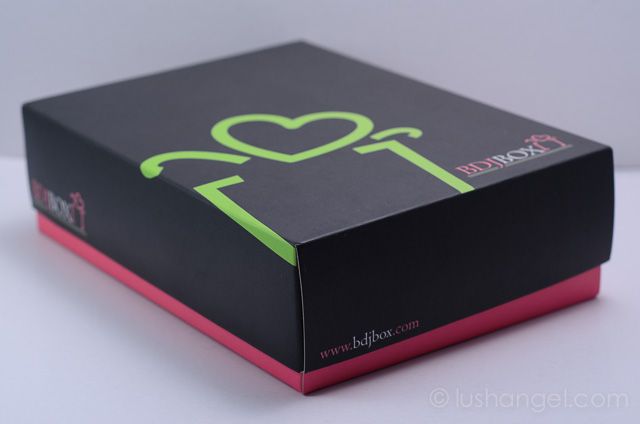 For more information on BDJ Box, visit www.bdjbox.com. Follow them on Facebook and Twitter (@BDJBox) too!
For instant beauty, fashion, travel, foodie, or random updates from me, LIKE lushangelblog on FACEBOOK, FOLLOW  lush_angel on TWITTER and lush_angel on INSTAGRAM.