The first time I saw Shiseido Camellia Compact was during the makeup workshop with Angela Boh, as I shared in THIS LINK. It was love at first sight! The camellia design on the outer packaging, compact case, and powder's surface is really pretty! Shiseido's trademark camellia motif has been part of Shiseido's culture. Aside from being a beloved plant in Japan, camellia was the favorite flower of Shinzo Fukuhara, Shiseido's first president. The camelia logo first appeared in 1915, after Shinzo designed the prototype. The camellia has stood as Shiseido's signature symbol of beauty for almost a century. 2012 marked the 140th anniversary of Shiseido and the Camellia Compact is the embodiment of the brand's belief in the evolution of beauty, featuring the iconic camellia motif. Let me give you an in depth review of this lovely compact.
Product Information
Distinctive design. Exquisite powder. Sumptuous shades. Wear colors of this unique compact individually for a beautiful blush or highlighter, or blend shades together to create a variety of exquisite looks. Enjoy it's smooth texture with a velvety, dewy feeling during application.
Powder's surface, compact and outer packaging all feature Shiseido's cherished camellia motif in celebration of Shiseido's 140th Anniversary.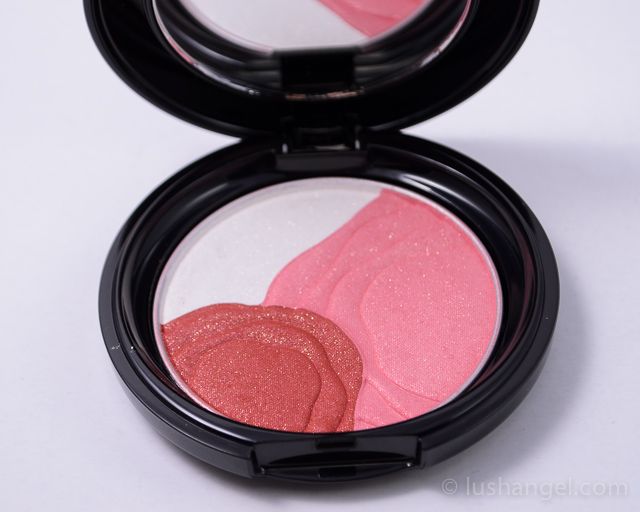 I love it because…
the camellia design on the powder's surface, compact case, and box is one of a kind!
it comes in 3 beautiful shades (Rich Rose, Spring-Petal Pink, and Icy-Cool Platinum), which can be used individually as a blush or highlighter, or blend the shades together.
it's a perfect blush compact for day to night. For day, I personally love mixing Icy-Cool Platinum and Spring-Petal Pink for a nice flush on the cheeks or simply swirl my brush on all three colors. For night outs and for photos, I use the Rich Rose for a deeper and more obvious color.
the colors are very pigmented.
the compact will last me forever! Since it has very good color pay off, I don't need much for the colors to come out.
it goes well for most skin tones.
the powder has a nice shimmer. It gives that "glow from within" effect, without the oily looking shine.
the powder is finely milled.
the colors are easy to blend. Too much of Rich Rose though can be harder to blend. See tips below how to avoid this.
it's long lasting.
it's dermatologist-tested and non-comedogenic.
I wish..
it's not limited edition. The Camellia Compact is part of Shiseido's Fall-Winter 2012 Collection.
it's cheaper. Although pricing is as expected at PHP 1,998 since Shiseido is a luxury brand.
Application Tips
You are free to use the colors individually- Icy-Cool Platinum for highlighting the cheek bones, nose bridge, and brow bone, Spring-Petal Pink as natural blush, and Rich Rose for a deeper shade of blush.
When used as a blush, I still prefer mixing all the colors by lightly swirling my blush brush around the compact.
Don't forget to tap off excess powder on the brush before application. Rich Rose can be a bit tricky to apply. It can look too harsh when you have too much of it on your brush. If you can see that you have too much red shade on your brush, lightly dab on a clean tissue first.
If you accidentally applied too much blush, get a clean brush and blend. You can also brush some powder foundation on top to tone down the color.
Overall
I really appreciate how I can create variety of looks with this compact. It's really a must-have in every beauty kit. I can use the shades individually for a nice blush or highlighter, or blend the shades together. I'm even more in love when I mix Icy-Cool Platinum on my blush. The added shimmer gives me that lovely glow.
I recommend Shiseido Camellia Compact to those who love blush-ons. It's an all in one compact since you can use it for day or night makeup. It's for those who are looking for high-quality, pigmented, and long-lasting cheek color.
Swatch
Icy-Cool Platinum, Rich Rose, Spring-Petal Pink

using all three colors together
For a makeup tutorial on my photo above, visit my FOTD: Purple Glam post.
To get instant updates from Shiseido Philippines, add them up on Facebook (ShiseidoPH) and Twitter (ShiseidoPH).
For instant beauty, fashion, travel, foodie, or random updates from me, LIKE lushangelblog on FACEBOOK, FOLLOW  lush_angel on TWITTER and lush_angel on INSTAGRAM.