Looks can be deceiving. When I share my outfits here in my blog, do you honestly think what you see is what you get? Hold on, let me get this straight. I'm not hiding anything from you. Alright, maybe a little… but it's really something intimate and, in my honest opinion, something that should not be shared to everyone. Trust me. What is it? Undergarments. Now you get me, huh?! Hehe! But seriously, what do they have to do with my outfits? As Wacoal would say, "Style starts with what's underneath". You'll get what this means as you read through.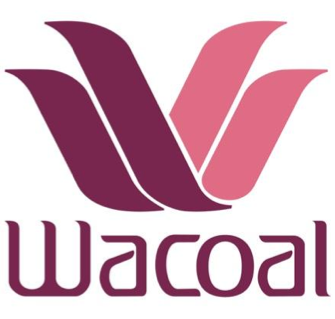 Undergarments are something we wear everyday, but most often than not, neglected by a lot of people. Why? One, because of the notion that it's not seen anyway. Two, because women are not properly educated. The truth is, we can bring out the best in what we wear when we have the proper undergarments. Yes, we wear it underneath our clothes, but with the perfect fit, support and comfort of undergarments, we can look our best in what we wear. Still don't get me? Take for example bulging fats at the back or sagging breasts, do you think we can still do something about them? Yes, it is inevitable that as we age, our body also changes. The hard fact is we can never stop it, but we can slow it down. Ageing can never be an excuse in wearing the wrong undergarments. I'm sorry to say, but some of the bulges we see when we wear our outfits are due to the wrong undergarments we use. The good side of it, we can easily correct them! Oh, and do you know that aside from having a healthy lifestyle (balanced diet, regular exercise and avoiding alcohol and smoking), you can slow down body ageing by wearing the right undergarments that provide support according to body shape? That's right! Big thanks to Wacoal for sharing these helpful facts.
Do you know that there's such a thing as "Spiral Ageing Pattern"? Wacoal Human Research Science developed this Spiral Ageing principle, wherein women undergo three major physiological changes associated with aging throughout a 30-year period from 16 to 46. With these as turning points, women experience major changes in their physiques. Here's a diagram.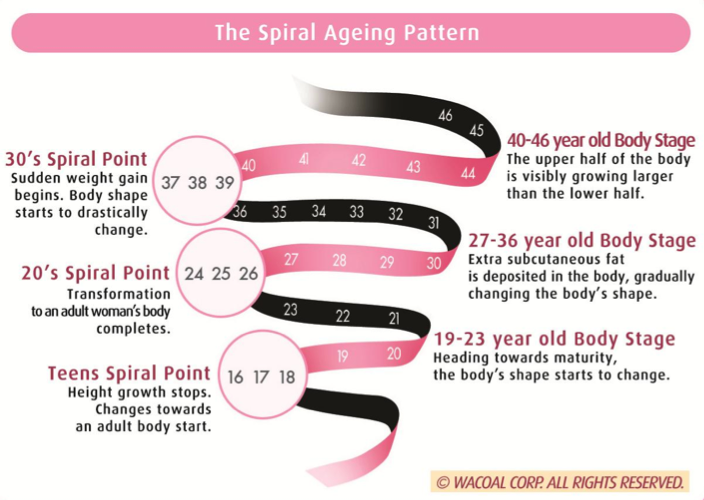 For better illustration, here's a woman's body through different ages: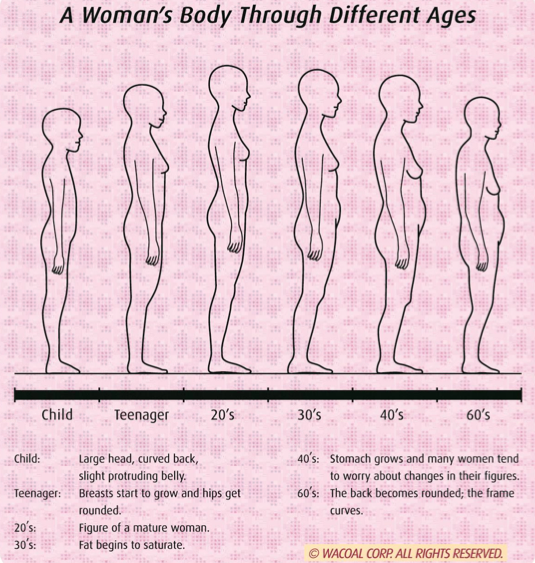 Now, my next question, do you choose your undergarments on size alone? I'd be honest, I used to. I thought that as long as it's my size, it would perfectly fit me. Well of course, the style and material also matter, depending on my outfit. Never did I buy my undergarments based on the actual needs of my body shape though. These informative facts from our friends from Wacoal opened my eyes. Let's all hope we're still at Stage 0. LOL! 😀
Stage 0– Women in this stage should choose brassiere that emphasizes the shape of their breasts, waist and hips. Do not wear bras that are too tight nor too loose. It should fit perfectly to help preserve the body shape.
Stage 1– Women in this stage should choose brassiere that will provide lift and support; such as bras with underwire, pads, and side panels with reinforced fabric or resin bone.
Stage 2 & 3– In addition to bras with underwire, pads, and side panels with reinforced fabric or resin bone, women in this stage should also choose brassieres with wider straps and side panels. These provide support not only for the breasts, but also for the shoulders and the back.
Similar to brassiere, the functional bottom should be chosen to match the changes of an aging body. Even if the size doesn't change, because of the changes in shape and softness with aging, the fitting of the functional bottom will be different. Something that fits your body not only fits beautifully, but is also comfortable and isn't painful.
Choose the functional bottom that fits your daily use. Measure and know your correct size. Check your silhouette, comfort and ease of movement by trying it on and stretching lightly. Practice wearing it correctly everyday after purchasing.
Certain functional bottoms can support everyday walking (walking using good posture and long quick strides) and help in toning the leg and hip muscles. Consult with a specialized adviser for choosing one from all those that fit you perfectly.
Therefore, in a gist, a brassiere made for a body shape at Stage 0 shouldn't be worn by a woman with a Stage 3 body shape. You may have the correct size of undergarments, but the style/ kind might not be, giving you bulges at the wrong places. You have to wear the right undergarments in order to be body beautiful at any age. Not only will your clothes look good on you, but also, you can delay body ageing with undergarments that perfectly fit your body shape.
Thankfully, Wacoal made everything easy for us. They have different undergarments tailor-fitted to different age groups. They have undergarments made for 20's (Stage 0), 30's (Stage 1), and 40's (Stage 2 & 3). For the 20's, they bring out the fun, carefree, individual-mindedness of the young through colors and styles. For the 30's, the collection is a bit more sophisticated to give them the boost they need to take on the world everyday. At your 40's, you must be savvy, influential and elegant, therefore, Wacoal has undergarments that define curves and provide the best silhouette. Take note though, it doesn't mean that if you're in your 20's, you must only choose undergarments from that specific age group. Of course, it still depends on your needs and body shape. Wacoal has a whole lot of undergarments to choose from, no matter what age you are. Even I got confused when Wacoal invited the bloggers in their office. I was overwhelmed that I suddenly wasn't sure what I needed for my body shape. The nice people from Wacoal were very helpful. 😀 Thank you Wacoal! You'll actually see me wearing one of their gifts in an outfit post. Here's the catch, I won't hide or cover! Oh my, does this mean I'm baring it all?! No more secrets?! Well, you'll have to check it out soon! LOL! 😀
Anyway, I hope this post helped all the women out there, the way it opened my eyes to the perfect undergarments. So the next time you buy, keep in mind that it's not all about the size. You must remember that it must have the perfect fit to your body shape, with the right support, comfort and durability. Having the perfect undergarment can delay body ageing and, most importantly, can bring out the best in you. Women can definitely have a beautiful body at any age with Wacoal.
How about you, do you choose your undergarments based on size alone?
To know more about the perfect underwear for you, visit www.wacoal.ph.