Don't worry, I'm not going to explode. My outfit has nothing to do with tanks and cannons. I just had my outfit shots taken with the tanks and cannons at PMA, Baguio. 🙂
This is supposed to be a summery outfit with my bright coral pants and fringe top. Unfortunately, wearing sleeveless inside the PMA grounds isn't allowed. No kidding! I was surprised as well! Before they let our cars get in their premises, a guard peeped through our window. I thought it was just some regular check. I didn't know that the inspection included the outfit. I just find it odd that sleeveless isn't allowed, but ladies in shorts and mini skirts can roam around. Anyway, this explains my jacket despite the summer heat.
Well, it's still Baguio. It gets cooler late in the afternoon and evening, so I really brought a light jacket with me. It's a cropped washed denim jacket, with floral prints on its pockets. It's such a cute twist to a supposedly masculine kind of apparel.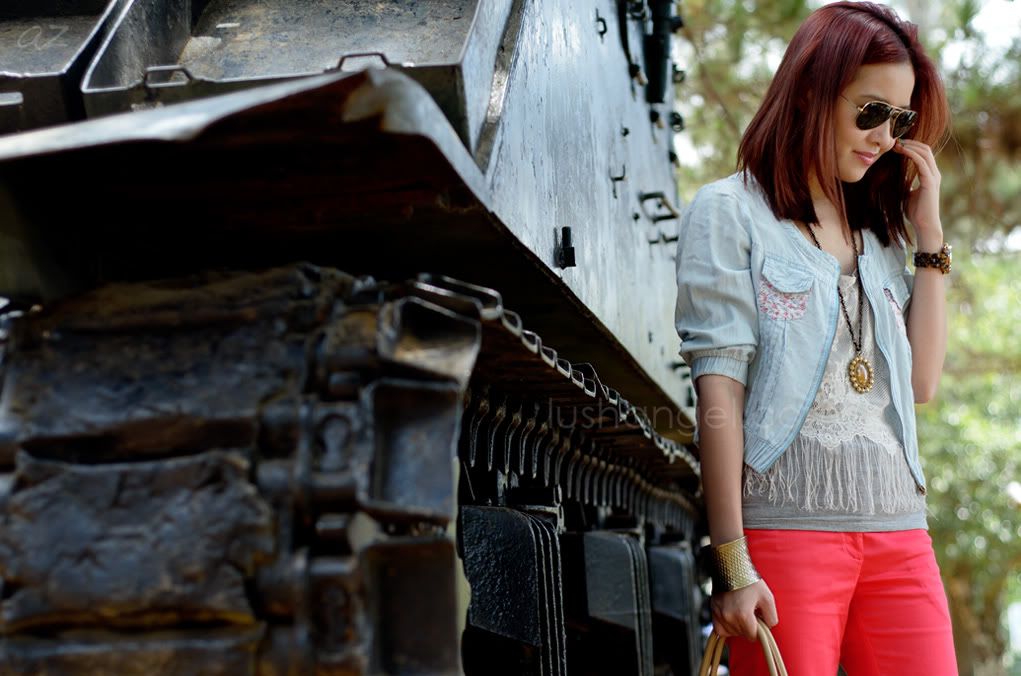 The lace fringe top has been my fave these days. I find it very versatile to wear- casual, night outs, or even at the beach.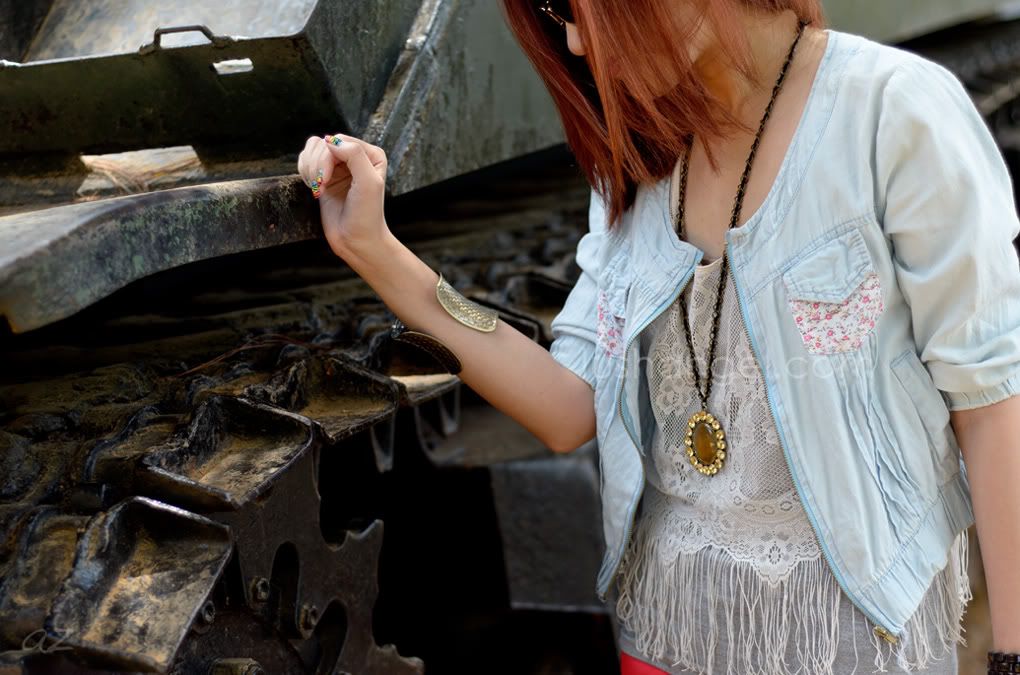 No matter how hot it is, I don't feel like wearing shorts everyday. In times like this, it's either I wear light colored pants or bright ones that scream summer. 😀 My eyes have been drawn to coral shades this season. 😀
I kept my accessories plain and simple with just one long necklace and a cuff, both from Pinkbox. I try to avoid piling up accessories with this kind of heat. I can't stand too much metals sticking on my skin. Hehe!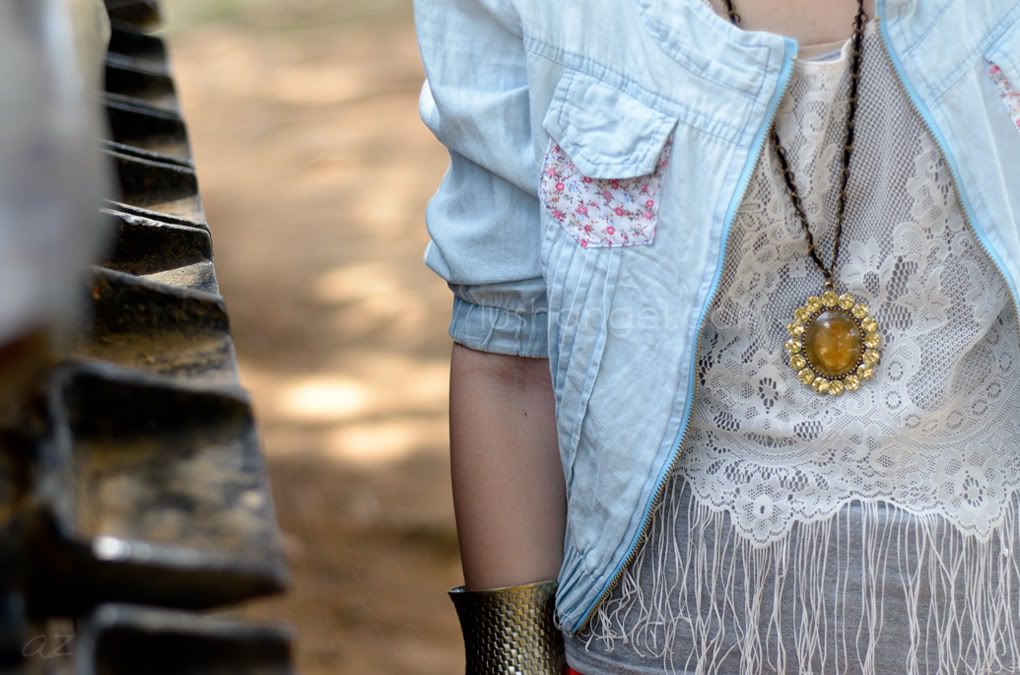 I toned down the colors of everything else and just let my pants do that "pop of color". Okay fine, and my hair as well!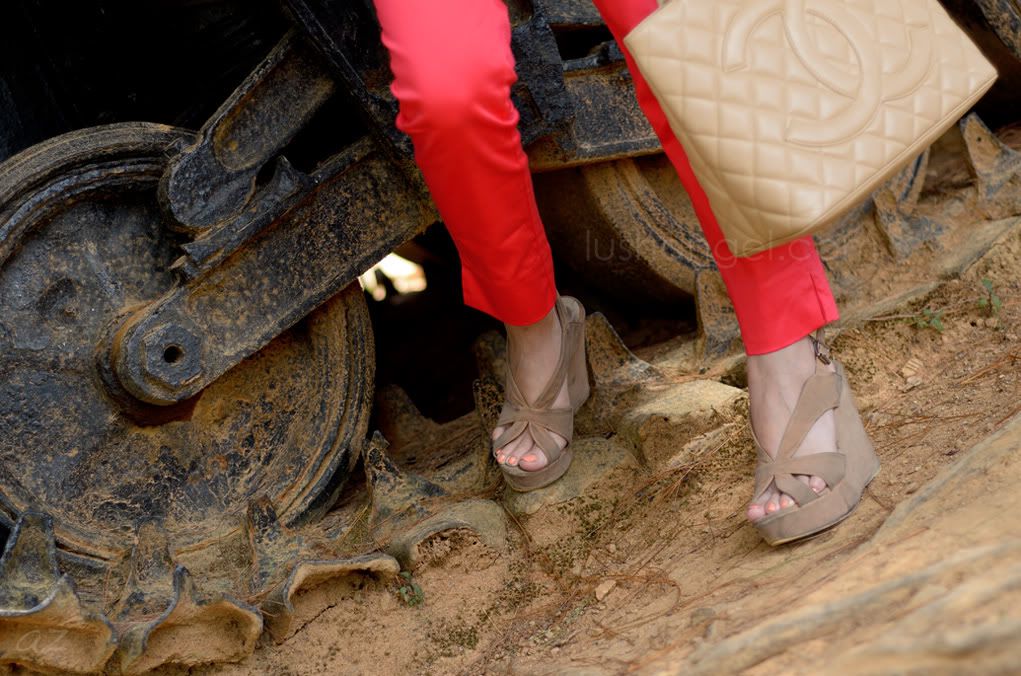 Here are more photos…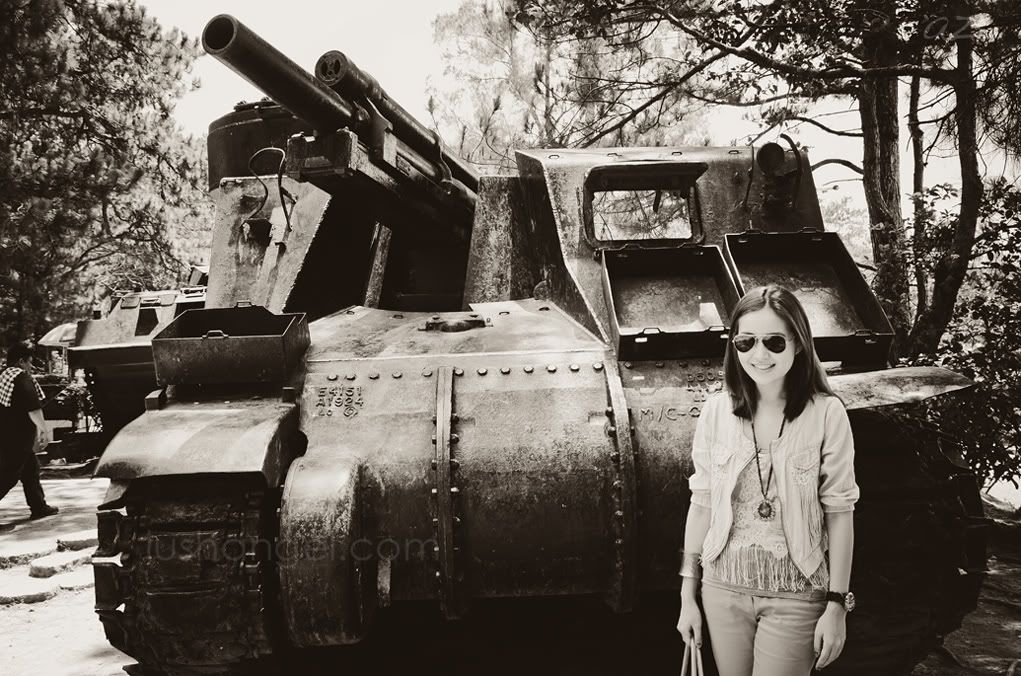 The crazy me trying to step on the cannon in heels just for a pose…
Of course, Baguio is a flower capital so pictures of bright and colorful flowers around is a must!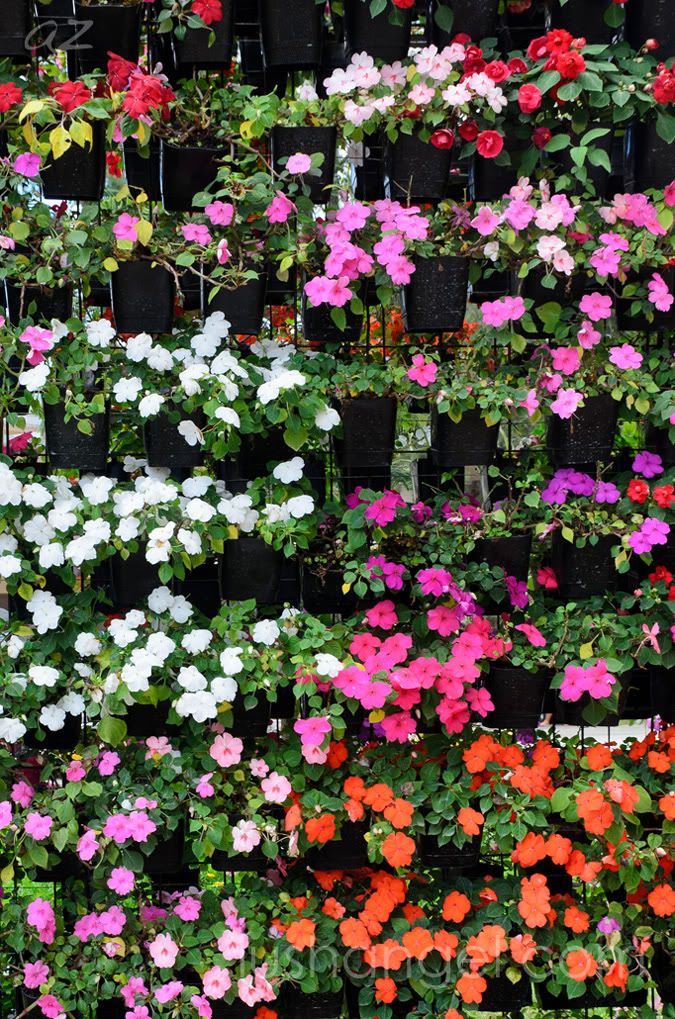 really cute shapes and shades of flowers…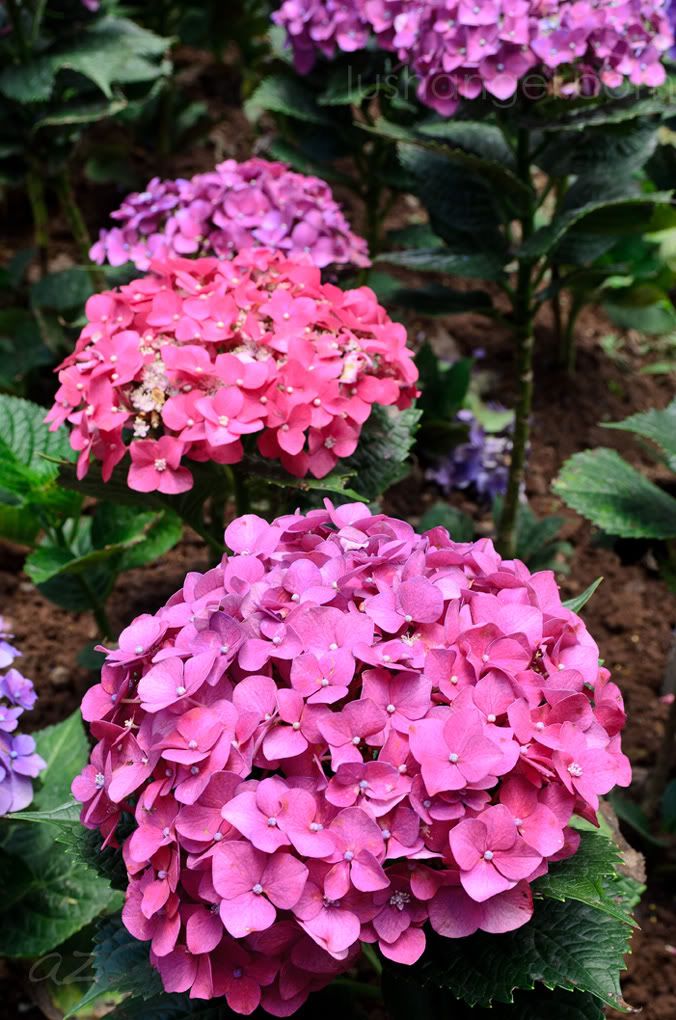 And because this is an outfit post, let's go back to my face once again… LOL!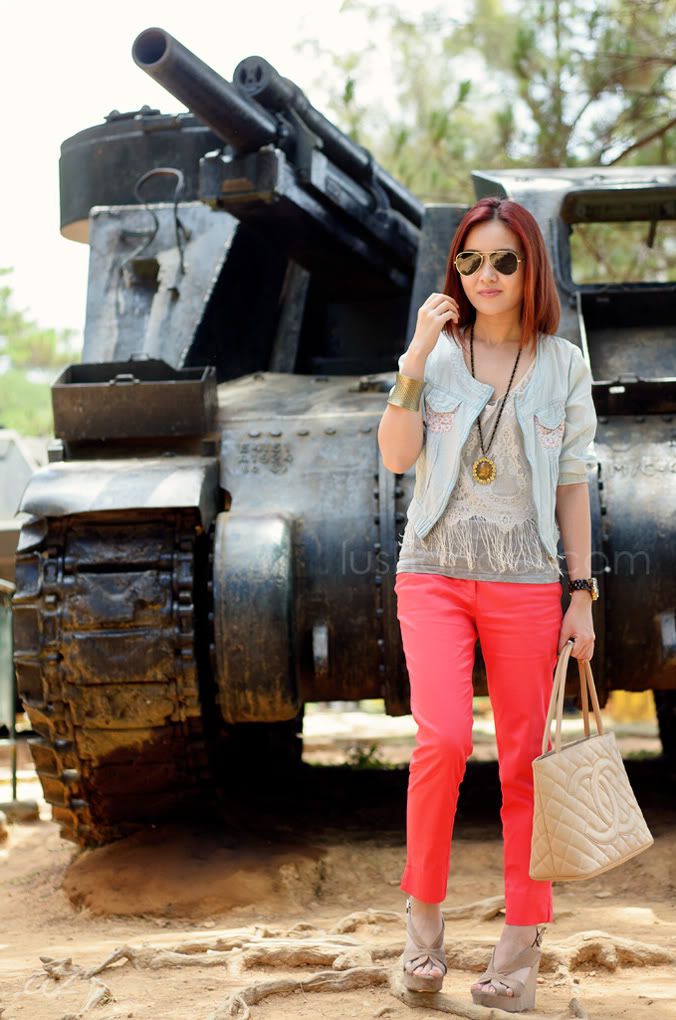 Pants: H&M
Lace fringe: H&M
Tank top: random
Jacket: Lush Angel
Bag: Chanel Medallion Tote
Wedge: Rubi
Sunglasses: Ray Ban Aviators
Necklace: Pinkbox
Cuff: Pinkbox
Watch: Michael Kors